This Apple Pie Monkey Bread is very easy to make. Great for breakfast or an afternoon snack with coffee. With refrigerator biscuits, caramel sauce, and pecans, it's absolutely delicious.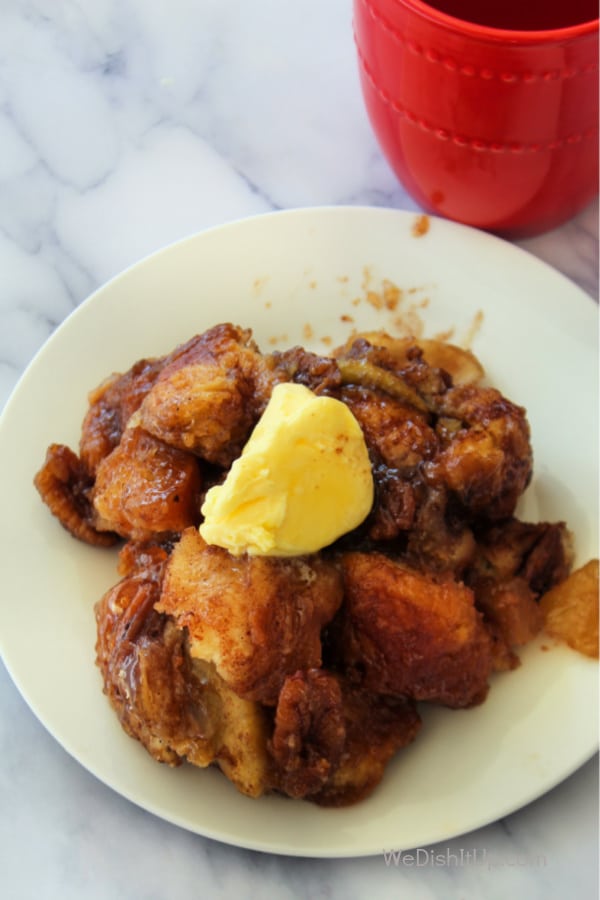 Apple Pie Monkey Bread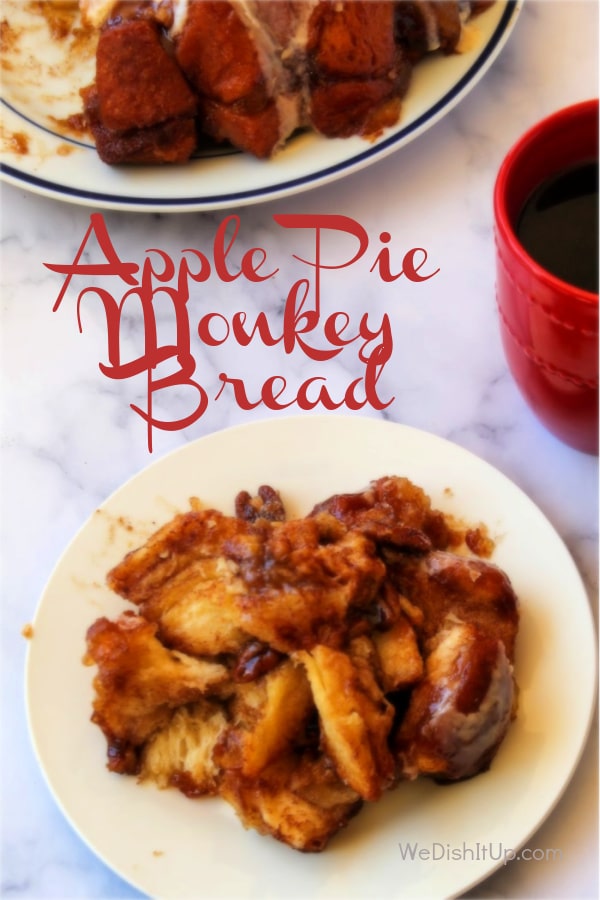 Apple Pie Monkey Bread on Plate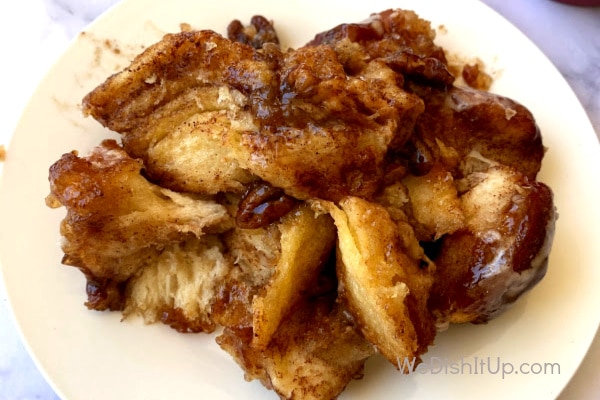 I love using refrigerator biscuits or crescent rolls to make quick breakfast pastries. In the past I've shared Super Easy Raspberry Danish, and Caramel Pecan Rolls.  This Apple Pie Monkey Bread is so good and very easy to make. With apple pie filling, caramel sauce and a vanilla glaze. It is great to make the night before and be ready to grab in the morning. However, it is best straight out of the oven.  Slathered in butter, ooey-gooey, sticky, finger-licking good. Whether you are having it alone with a cup of coffee or as a side with an omelet or bacon and eggs, its fantastic.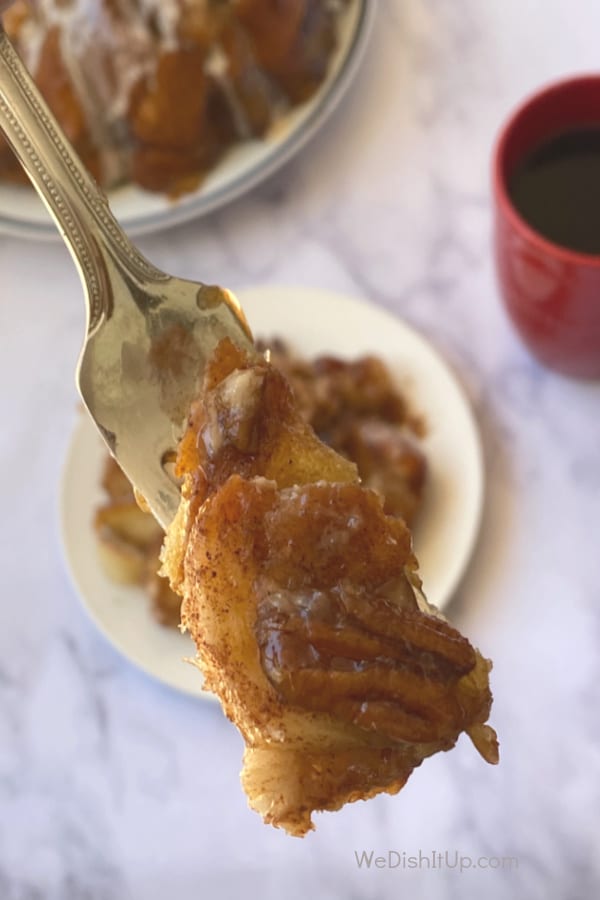 This nice simple recipe is great for serving a crowd. Throw it together for a Sunday brunch or take it to a pot luck. You are sure to be the hit of the party.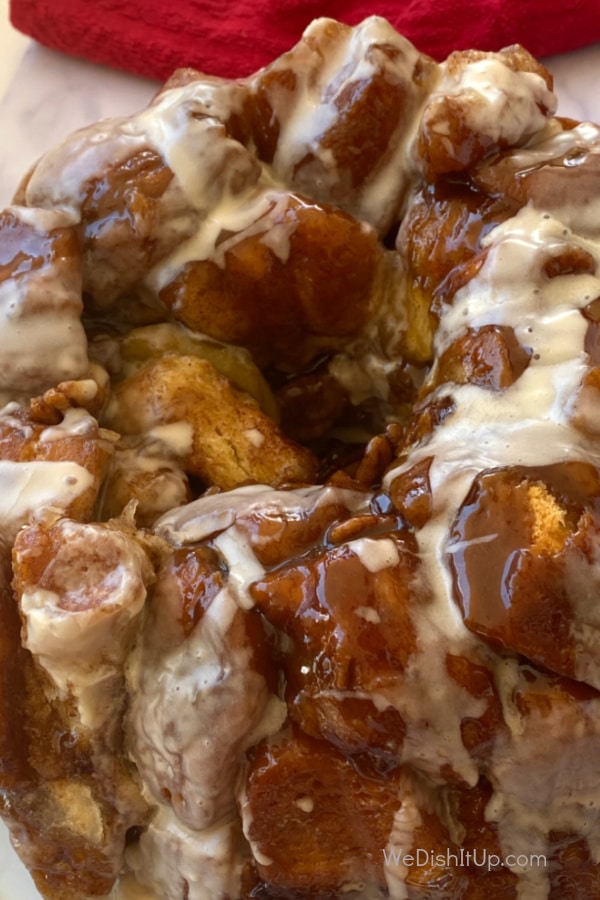 I usually use a bundt pan to make this monkey bread, however, it can be made in any pan, a loaf pan or cake pan will work great. You will need refrigerator biscuits ( I use Pillsbury http://pillsbury.com), white sugar, brown sugar, cinnamon, apple pie filling, and optional pecans. For the caramel sauce, you will need butter and brown sugar. for the vanilla glaze, you will need powdered sugar, heavy cream, and vanilla extract.
How to Make Apple Pie Monkey Bread :
INGREDIENTS :
Refrigerator Biscuits 
Brown Sugar
White Sugar 
Apple Pie Filling 
 Cinnamon
Pecans
CARAMEL SAUCE :
VANILLA GLAZE :
Powdered Sugar 
Heavy Cream 
Vanilla Extract
DIRECTIONS :
Preheat oven to 350
Spray bundt pan with nonstick spray or lightly grease.
In a small  bowl, mix sugar, brown sugar and cinnamon.-Set aside
Separate dough into biscuits and cut into quarters.
Toss dough pieces in a bowl to coat and place half in prepared pan.
Spoon half of the apple pie filling over biscuits, sprinkle half the pecans over biscuits
Place remaining biscuits on top, spread remaining apple pie filling and pecans
Make Caramel Sauce:
Add Brown sugar and melted butter together in a bowl -pour the sauce over Biscuits
Bake until golden brown-let set for 5 minutes - invert on to plate or platter
Make Vanilla Glaze 
Stir together powdered sugar, heavy cream, and vanilla extract-drizzle over bread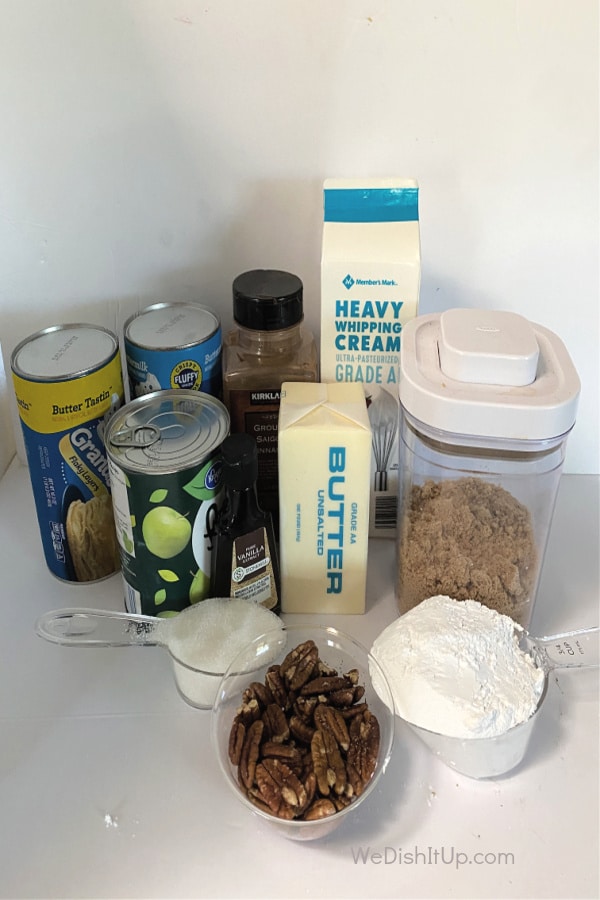 Monkey Bread Ingredients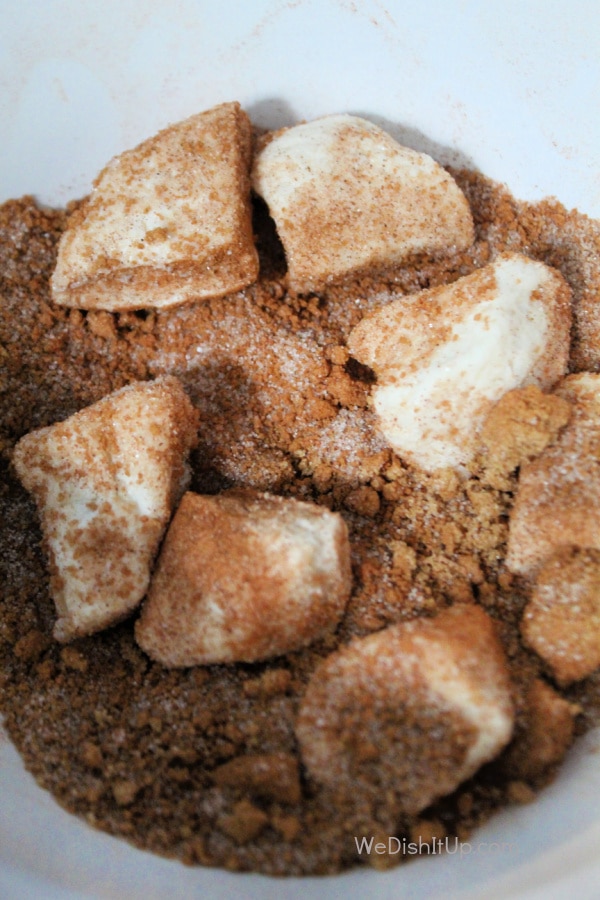 Biscuits in Cinnamon Sugar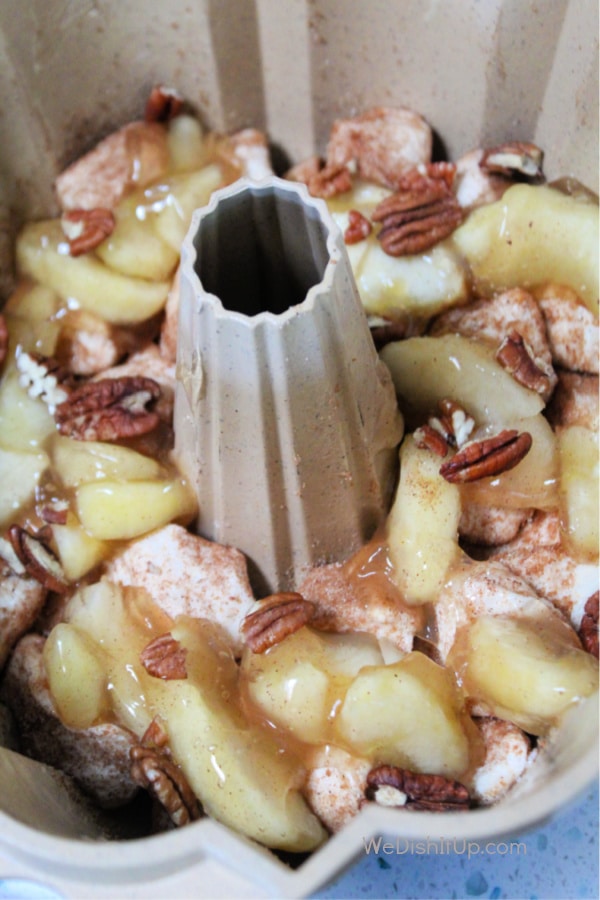 First Layer of Biscuits and Apple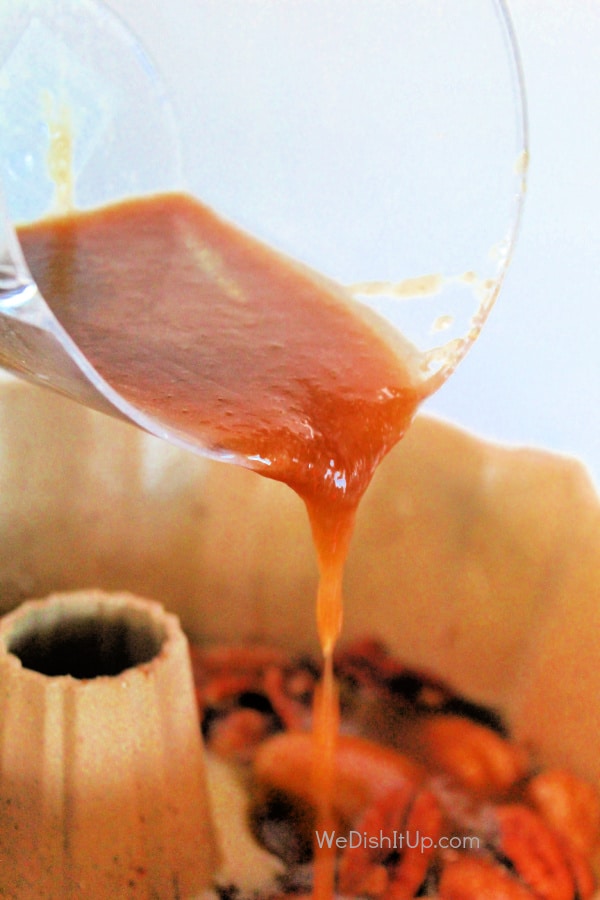 Pouring the Caramel Sauce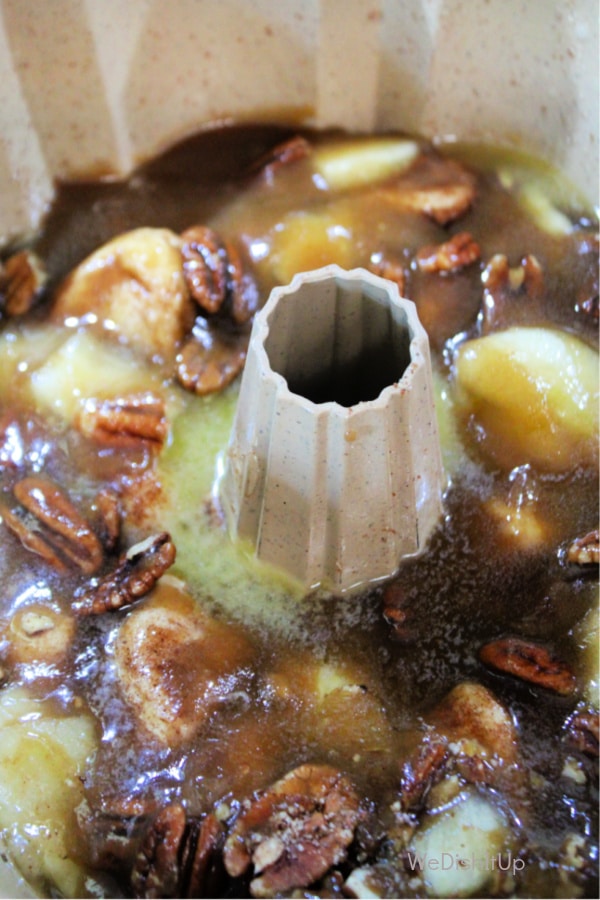 Ready For The Oven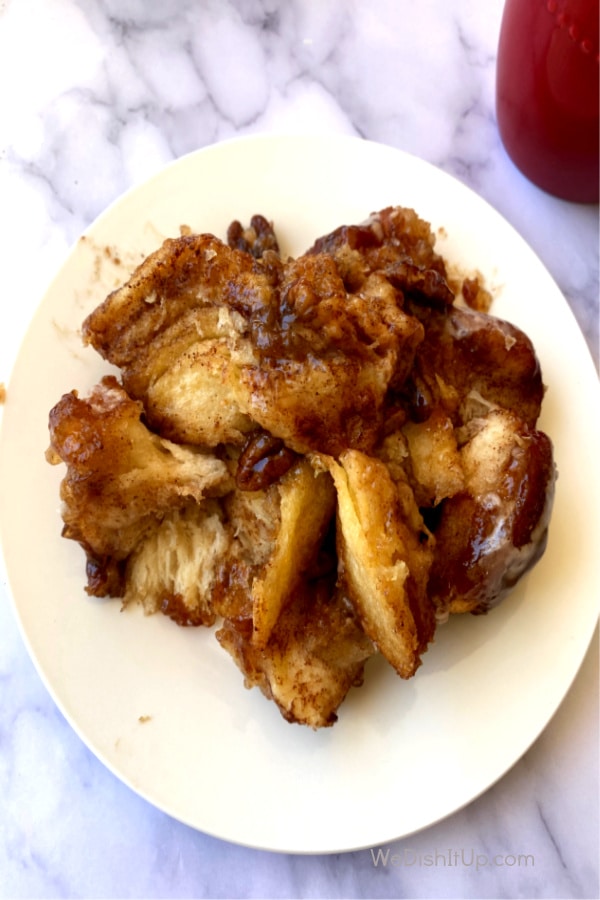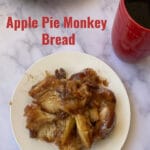 Print
Apple Pie Monkey Bread
Biscuits, Caramel Sauce, Pecans, Vanilla Glaze
Ingredients
2

Cans

Refrigerated Biscuits

1

Can (20 oz)

Apple Pie Filling

¼

Cup

Brown Sugar

¼

Cup

White Sugar

3

tsps

Cinnamon

¾

Cups

Pecan Halves or chopped

Optional
Caramel Sauce
1

Cup

Brown Sugar

¾

Cup

Melted Butter
Vanilla Glaze
¾

Cup

Powdered Sugar

3

Tbsp

Heavy Cream

1

tsp

Vanilla Extract
Instructions
Spray bundt pan with nonstick spray or lightly grease.

In a small  bowl, mix sugar, brown sugar and cinnamon.-Set aside

Separate dough into biscuits and cut into quarters. Toss dough pieces in a bowl to coat and place half in prepared pan.

Spoon half of the apple pie filling over biscuits, sprinkle half the pecans over biscuits

Place remaining biscuits on top, spread remaining apple pie filling and pecans
Caramel Sauce
Add Brown sugar and melted butter together in a bowl -pour the sauce over Biscuits

Bake until golden brown-let set for 5 minutes - invert on to plate or platter
Vanilla Glaze
In a small bowl whisk Powdered Sugar, Heavy Cream and Vanilla Extract