This Robusto Italian Pasta Salad is zesty and delicious. . With bottled Robusto Italian dressing , pasta, cheeses , pepperoni , olives, onions and peppers. You are going to love it.
This Robusto Italian Pasta Salad is a recipe from my good friend Dorothy. For many years she has always brought it to any pot luck or picnic. It is always a big hit . Therefore, I decided to make it this year for our Memorial Day Picnic. Some other big hits at our family picnics are The Best Potato Salad With Mustard and Egg and Moms Easy Classic Macaroni Salad With Egg. However, the dessert table always has some great choices also. Easy Lemon Blueberry Dump Cake , Easy Mile High Strawberry Jell-O Pie , and The Best Peach Pie to name just a few. Do you have a favorite salad or dessert that you like to share?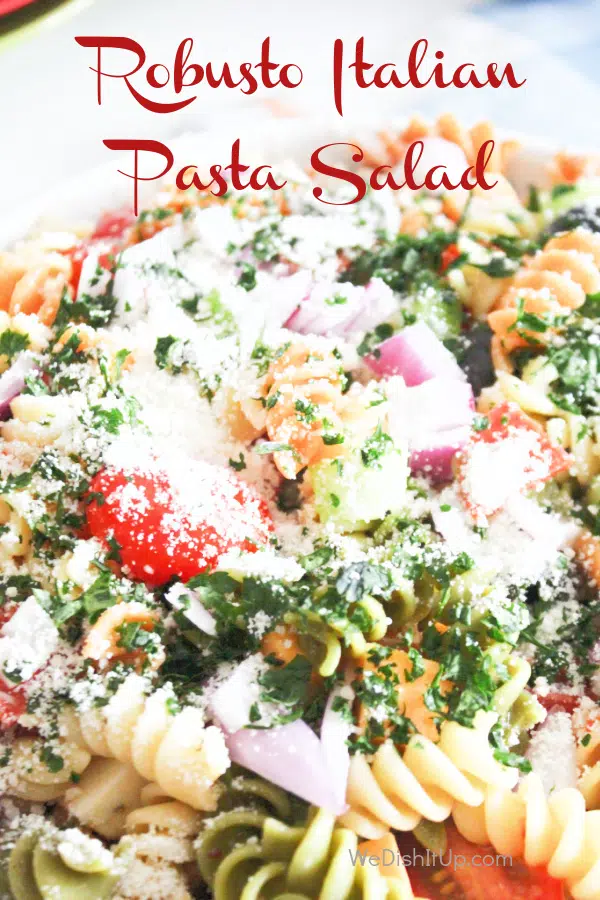 What kind of Pasta Do You Use For Pasta Salad ?
Any pasta will work. However, I like to use the colored rotini to make the salad more colorful.
Could I use a different dressing?
You absolutely could make your own dressing or a creamy Italian tastes great as well. Personally, the Robusto Italian is my favorite
Can You make ahead ?
Yes it is great to make up to a day ahead. However, toss the dressing on at the last minute.
How long will left over Italian Pasta Salad keep?
If refrigerated ,it should be fine for 3 or 4 days no problem.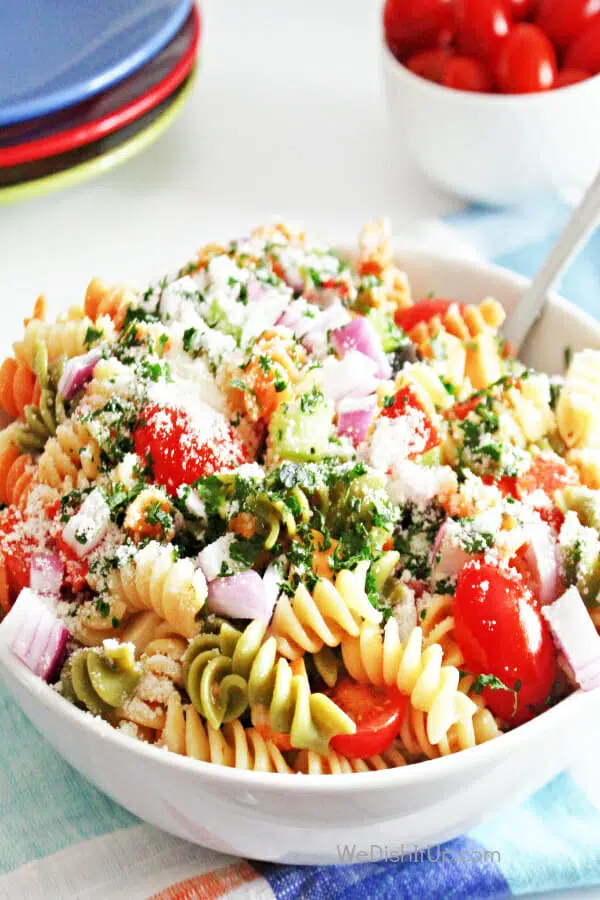 How to Make Robusto Italian Pasta Salad :
Ingredients Needed :
Rotini Pasta
Wishbone Robusto Italian Dressing
Red Onion
Green Pepper
Black Olives
Pepperoni
Cherry Tomatoes
Cheddar Cheese
Pepper Jack Cheese
Parsley
Parmesan Cheese
Salt and Pepper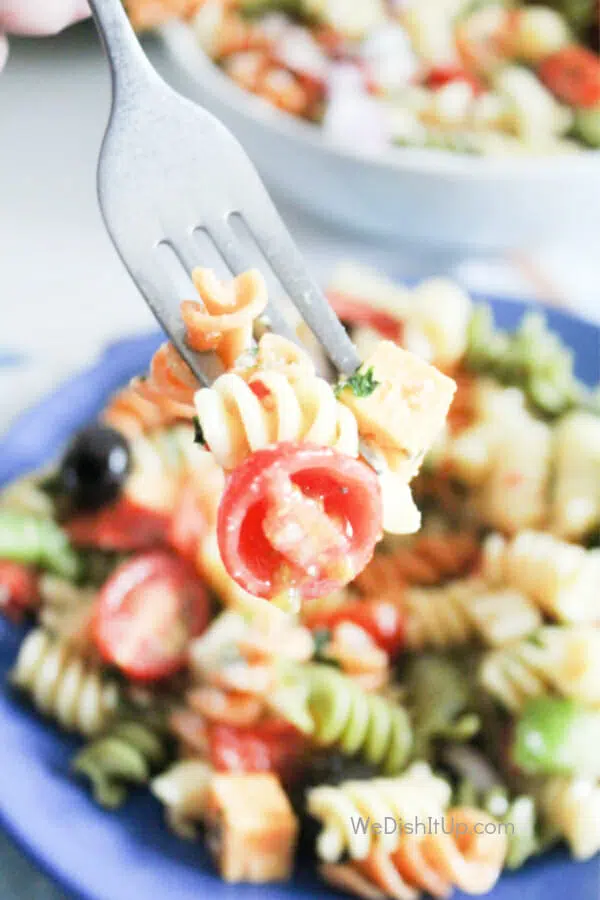 If you are looking for a creamy version of pasta salad. May I suggest this Hidden Valley Ranch Recipe ? -https://www.hiddenvalley.com/recipe/bacon-ranch-pasta-salad/. It also is delicious. Isn't everything delicious with Ranch? My Daughters put Ranch on everything.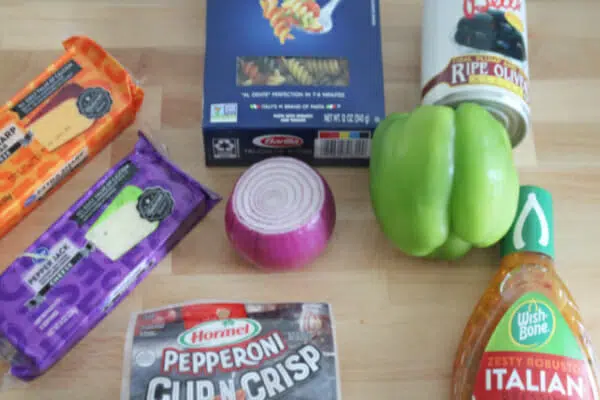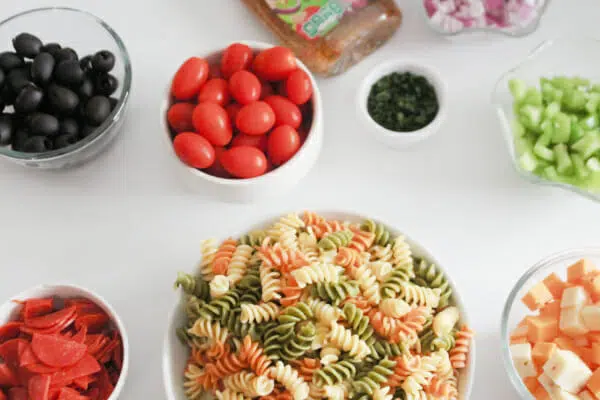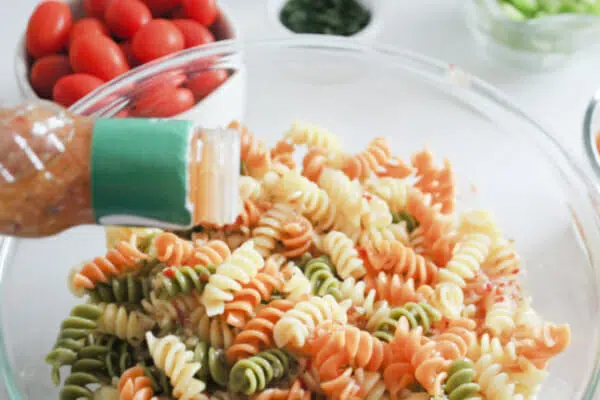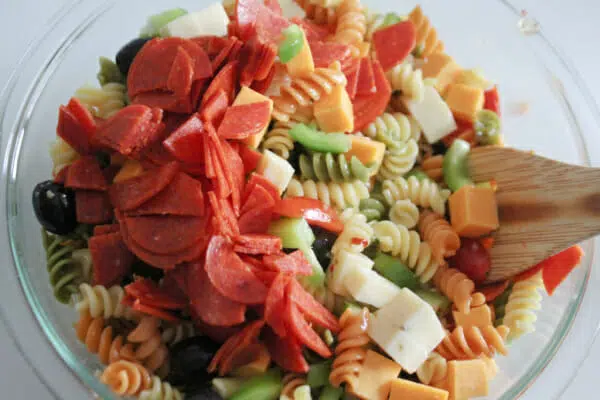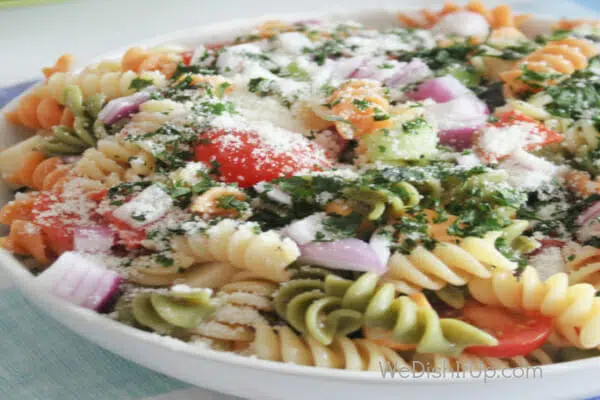 Suggested Swap Outs or Add Ins :
Mozzarella Cheese is a good option.
Salami or Summer Sausage is a great substitute . Instead of Pepperoni
Pepperoncini Peppers are a great add in.
Extra herbs such as oregano, basil or Italian Seasoning.
Green Olives are great .
Other Great Recipes You May Like :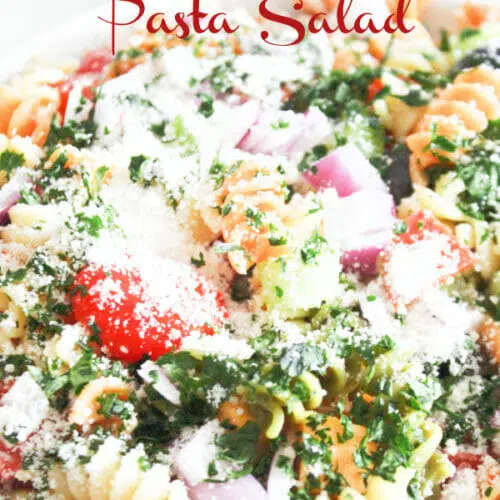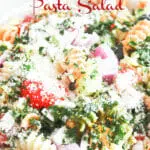 Print
Robusto Italian Pasta Salad
Pasta, veggies, cheese, and Italian dressing mixed together and topped with parmesan cheese and parsley
Equipment
Mixing Bowl, serving bowl , spatula

stove, large pan, knife, cutting board
Ingredients
1

Box (1 lb.)

Colored Rotini Pasta

Or pasta of choice

1

8 oz. Bottle

Wishbone Robusto Italian Dressing

Or dressing of choice

8 oz.

Pepperoni

Sliced in half or quartered

½

Red Onion

Diced

½

Green Bell Pepper

Diced

2

cups

Cherry Tomatoes

Sliced in half

1

cup

Cubed Cheddar Cheese

1

cup

Cubed Pepper Jack Cheese

½

cup

Black Olives

Sliced

¼

cup

Parmesan Cheese

2

tbsp.

Chopped Parsley

Salt and Pepper to Taste
Instructions
Cook Pasta to Al Dante as directed on box

Dice and slice vegetables and cube cheeses

Put Pasta in a Mixing Bowl - Toss with ⅓-1/2 cup of the Dressing

Stir Veggies , Pepperoni and Cheeses into Pasta

Add remaining dressing , toss well

Top with Parmesan Cheese, Parsley and Salt and Pepper
If you try this Pasta Salad Recipe, please come back and let me know. Let me know if you made any changes and how it came out. I love to read all of your comments.