Easy Back To School Cupcakes are delicious. These cupcakes are so easy and fun. They start with a cake mix and topped with homemade buttercream frosting.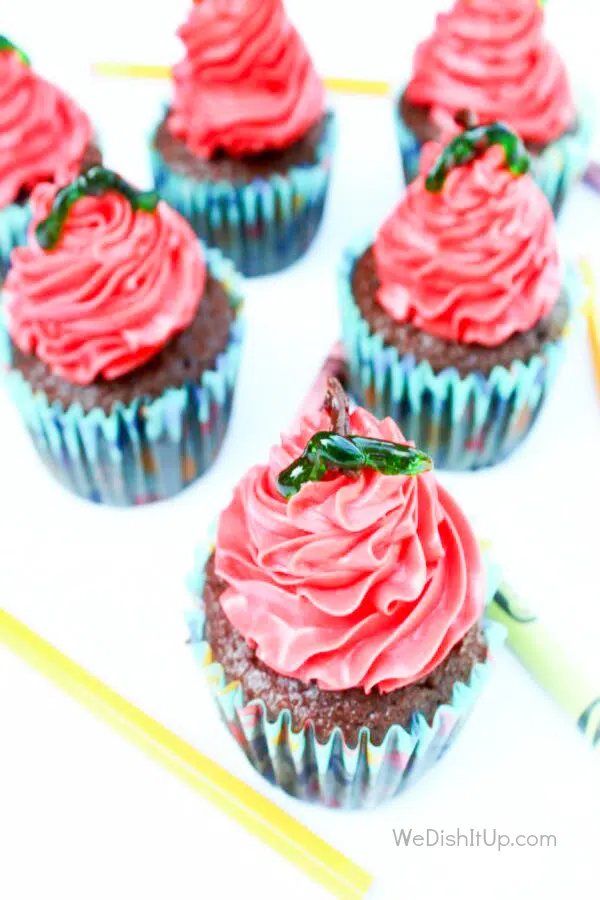 I can not believe my grandkids go back to school in a week. Where did summer go? Seems we haven't had nearly enough swim days at grammas. Summers are way too short here in Ohio. My 2 oldest grandsons are going to second grade. WOW! Seems they should still be wearing diapers. The twins are at home with their GiGi (their other grandma) for one more school year. They are anxious to go to kindergarten.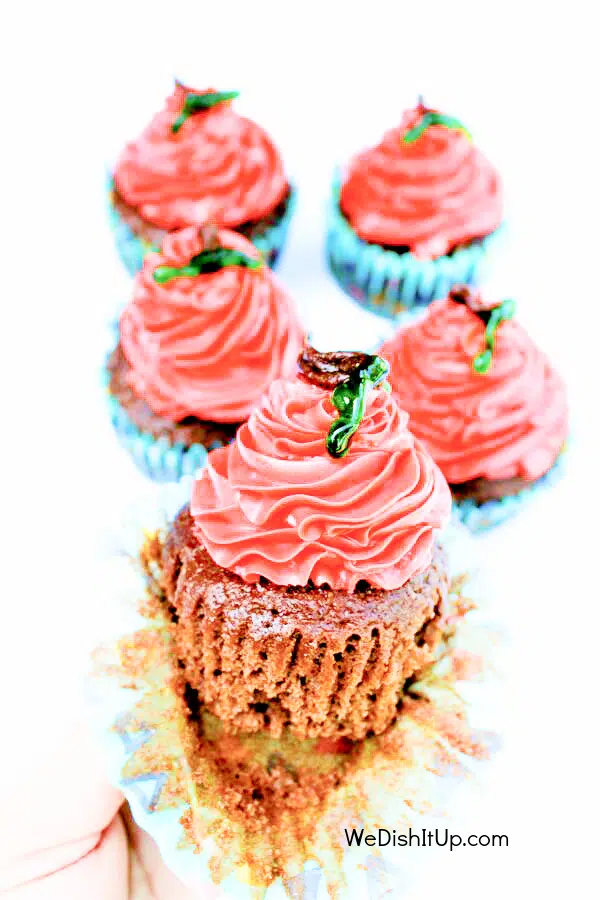 The grandkids love to come to grandmas in hopes of not only going in the pool and playing in the playroom but catching grandma baking.
They all love to catch me making my Soft Oatmeal Raisin Cookies or maybe my Peanut Butter Cheesecake Brownies.
Hopefully, they will be excited when they come over and see that I made them these Easy Back To School Cupcakes.
The cupcakes are so cute, they look like an apple for the teachers.
How To Make Easy Back To School Cupcakes:
Making these cupcakes are so easy. You will need a boxed cake mix of choice with the required ingredients (usually oil, eggs, water). I used Betty Crocker Super Moist Chocolate. Your favorite buttercream frosting, homemade or a tub from the grocery store. Food coloring, a tube of green icing for stems and I used chocolate frosting from a tub and shaped it as a stem.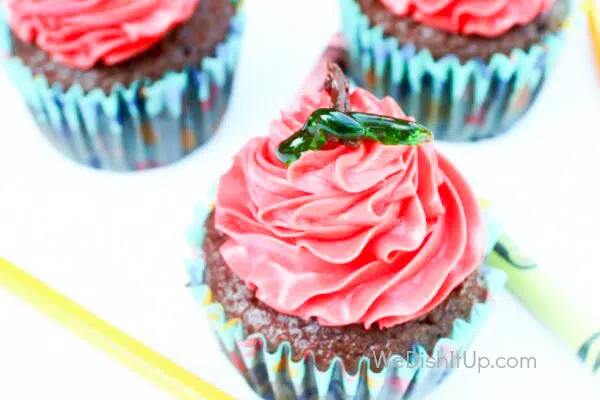 Other Great Recipes You May Enjoy :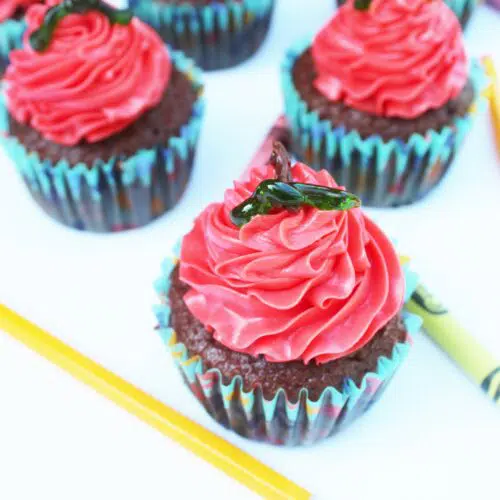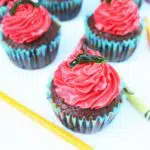 Print
Easy Back To School Cupcakes
Cupcakes with Buttercream Frosting -apple
Ingredients
1

cake mix

I used super moist chocolate

oil

as directed on box

eggs

as directed on box

water

as directed on box

a small amount of chocolate frosting

I bought a can at the grocery Betty Crocker

Butter Cream Frosting

your favorite recipe or store-bought

food coloring

red and a small amount of green or you can use a tube of green for the leaves
Instructions
Make Cake as instructed on the box,

Spoon into 24 regular-sized paper-lined muffin cups, bake as directed as on box for cupcakes

For Frosting Use Your Favorite Butter Cream recipe

Set a small bit aside and tint green or use tube - tint the rest red

Frost the cupcakes red, make your stem out of chocolate frosting or a small piece of chocolate or tootsie roll can be used. Put the stem in the center of cupcake and pipe leaves around with green icing
Please join my email list at the top of the page to be notified when a new recipe is posted.
Please follow me on Pinterest at https://www.pinterest.com/WeDishItUp/