This Pea Salad With Bacon and Cheddar Cheese is a quick and easy-to-make side dish. It makes a great addition to any barbeque or potluck.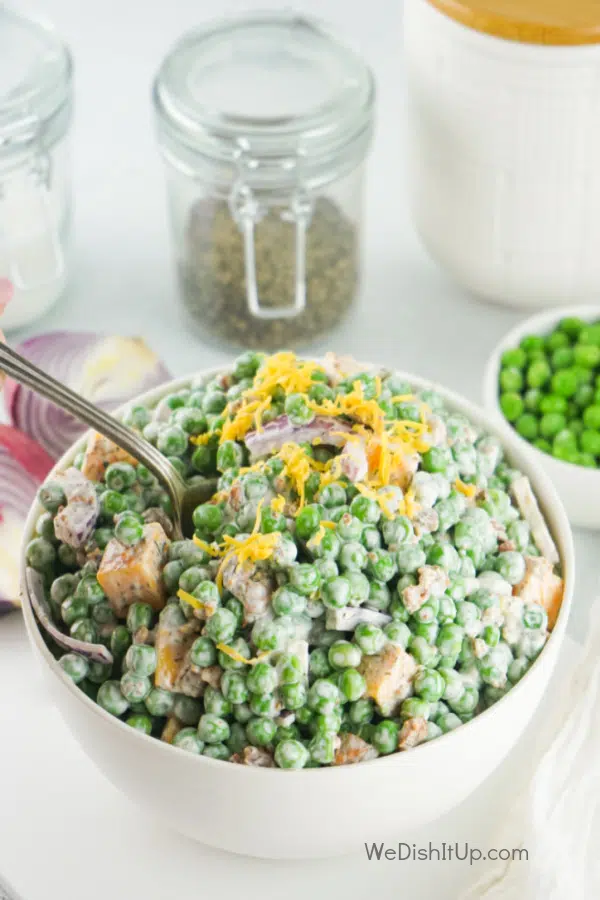 There are many versions of Pea Salad, this one with Bacon and Cheddar is my personal favorite. With mayonnaise and sour cream-based dressing with apple cider vinegar and dill weed to make it a little bit tangy. People love this cold salad and it is usually a big hit. However, if you aren't a fan of peas, some other great options are The Best Orange Jello Fluff, The Best Cherry Pineapple Fluff, or Easy Broccoli Salad With Raisins and Nuts.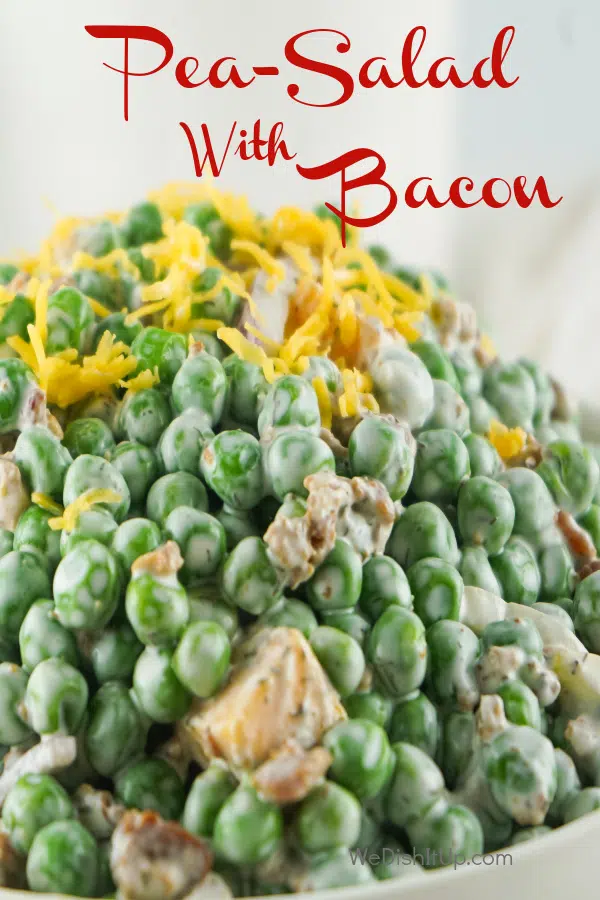 This classic side dish goes great with almost any meal. Try it with Shredded Buffalo Chicken Sandwiches ( Easy Crockpot Recipe) or Pulled Pork BBQ in the Crockpot. It is a great way to get kids to eat veggies, even if they don't like regular peas they may like this.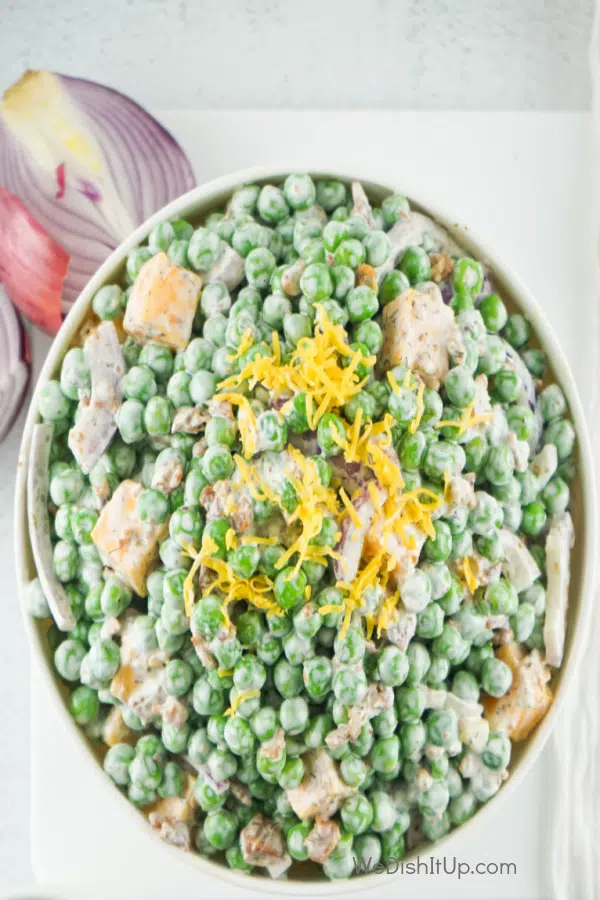 Can Canned Peas Be Used For This Pea Salad?
Yes, they could be but in my opinion, they wouldn't be nearly as good. I think they would get mushy easily.
What Could Be Substituted for Mayonaise?
If you don't like or can't eat mayonnaise, ranch dressing is also very good for the dressing.
Would This Pea Salad Be Good Without Bacon?
Yes, you could substitute Turkey Bacon if you don't eat pork. Bacon could be completely eliminated to make it vegetarian-friendly.
How Do You Store Leftover Salad?
This salad will keep in the refrigerator in an airtight container for 3-4 days.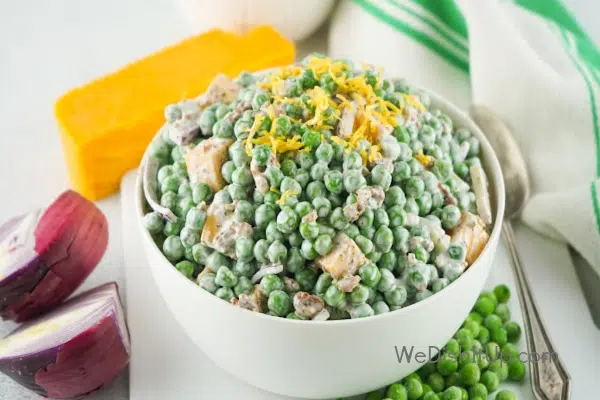 How To Make Pea Salad With Bacon and Cheddar :
INGREDIENTS NEEDED:
Frozen Peas
Bacon Crumbles
Red Onion
Cheddar Cheese
Mayonaise
Sour Cream
Apple Cider Vinegar
Dill Weed
Salt
Pepper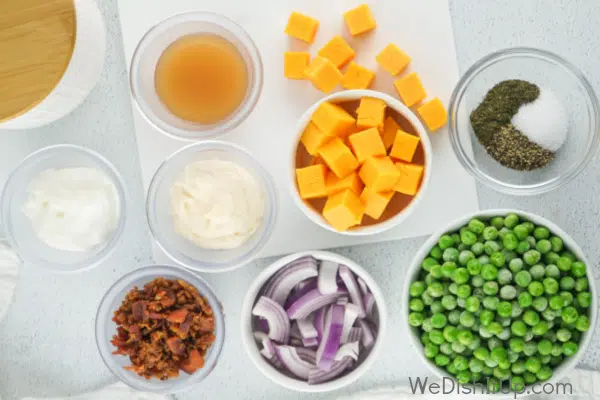 Gather all your ingredients for Pea Salad.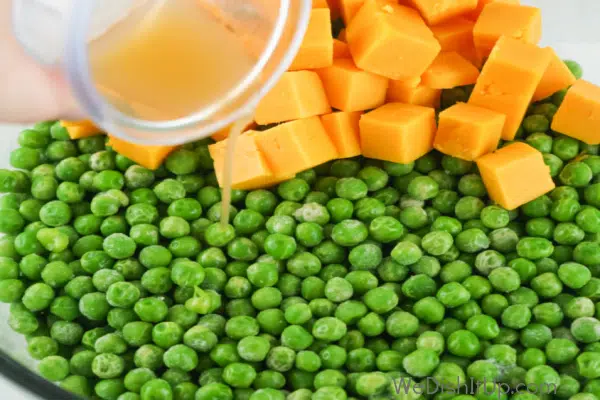 Adding the cubed cheddar and vinegar .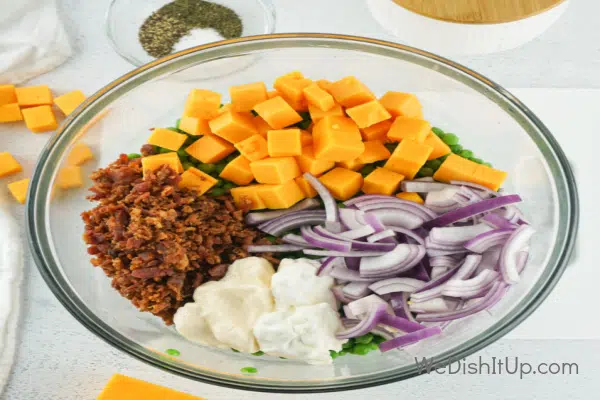 Pea Salad in process. Combine ingredients and mix well.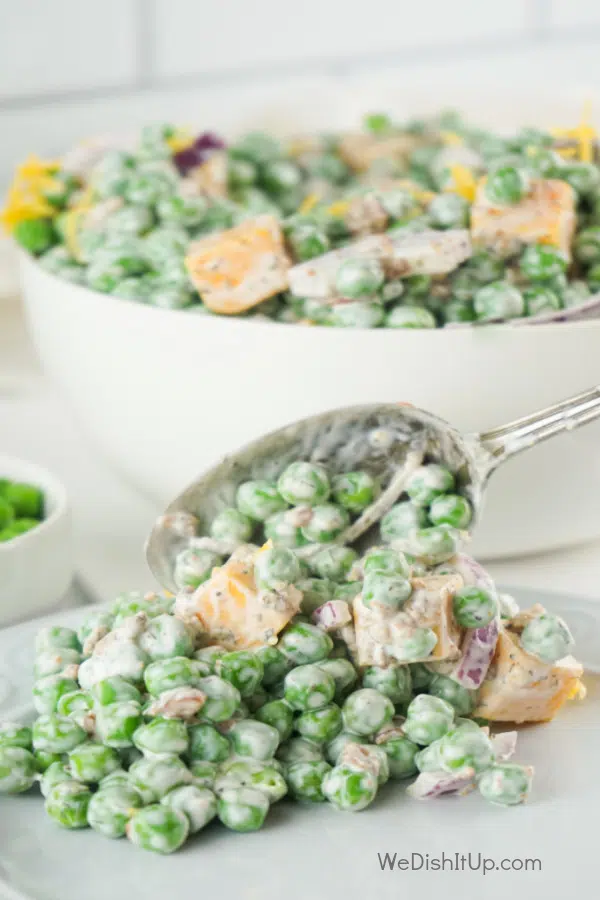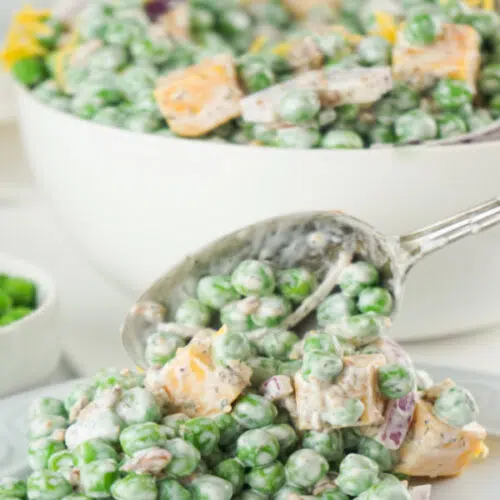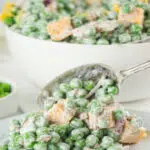 Print
Pea Salad With Bacon and Cheddar
Peas, mayo, bacon, cheddar cheese, red onion
Equipment
Mixing Bowl, serving bowl , spatula
Ingredients
1

32 oz. Bag

Frozen Peas

1

8 oz

Cheddar Cheese

½

cup

Bacon Bits

1

Red Onion

½

cup

Mayonaise

¼

cup

Sour Cream

1

tablespoon

Apple Cider Vinegar

1

teaspoon

Dill Weed

½

teaspoon

Salt

1

teaspoon

Black Pepper
Instructions
Warm peas slightly - not hot.

Cube cheddar cheese and slice the red onion

In a large mixing bowl, put all dry ingredients.

Pour vinegar over the ingredients

Stir in mayonnaise and sour cream

Chill until ready to serve.