Pea Salad With Ham is an excellent choice if you are looking for a salad to take to a pot luck. With frozen peas, chopped ham, shredded cheddar, and red onions. Mix in some mayonnaise and ranch dressing and it is delicious.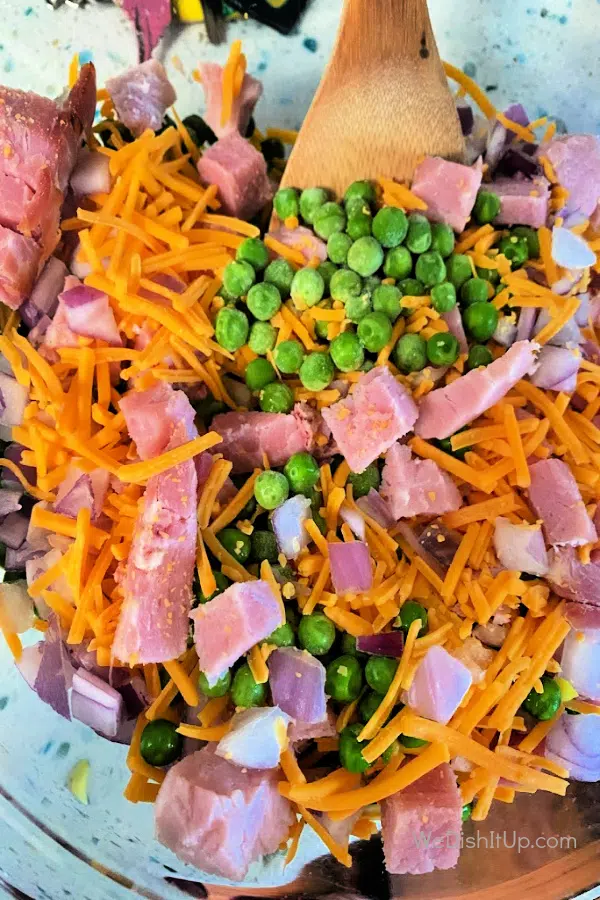 Pea Salad With Ham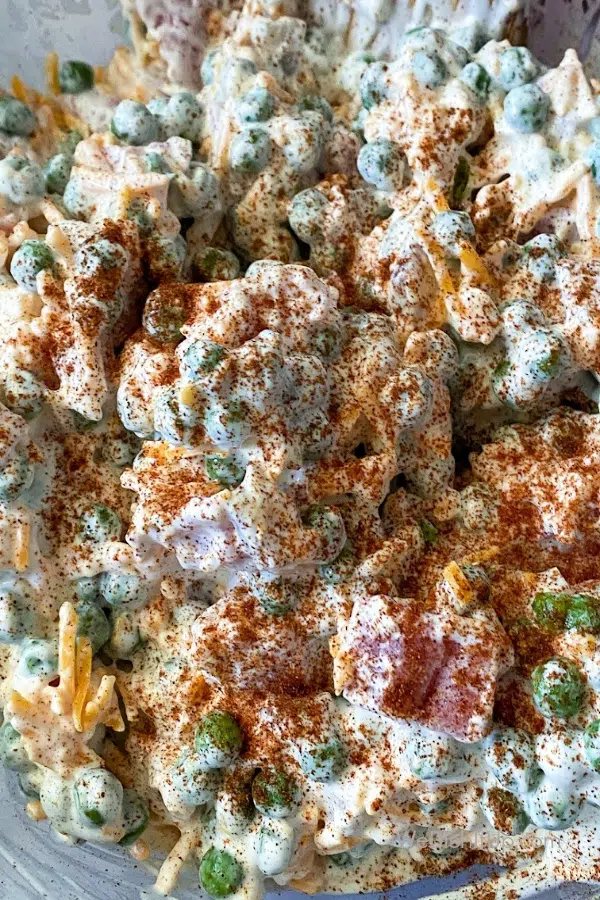 Pea Salad is a great choice if you are looking for a quick and easy side dish. However, if peas aren't your thing, Broccoli Salad With Raisins and Nuts or Creamy Coleslaw with Bacon are also great.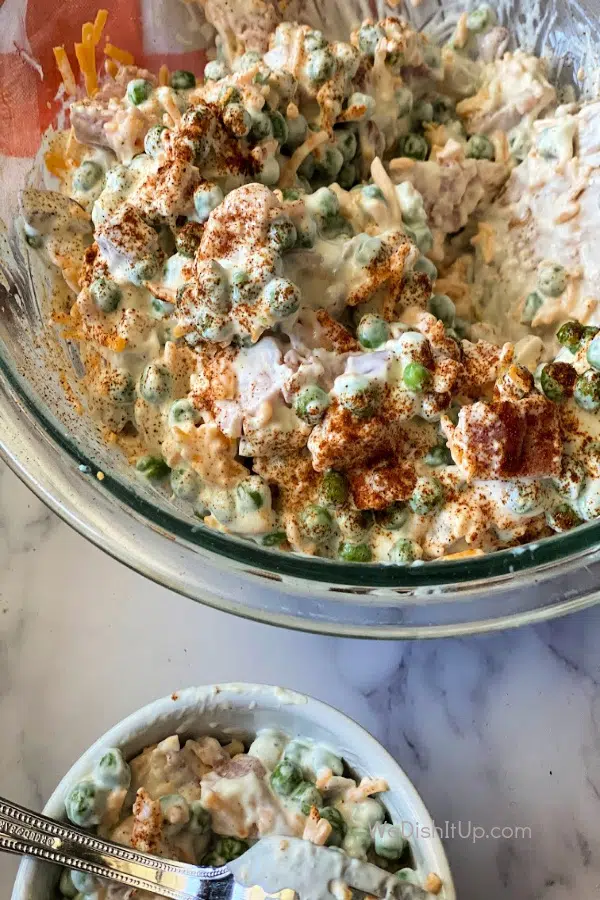 Making this salad was so quick and easy. I used frozen peas, diced ham, diced red onion shredded cheddar. Mayonaisse and ranch dressing make it extra creamy and yummy.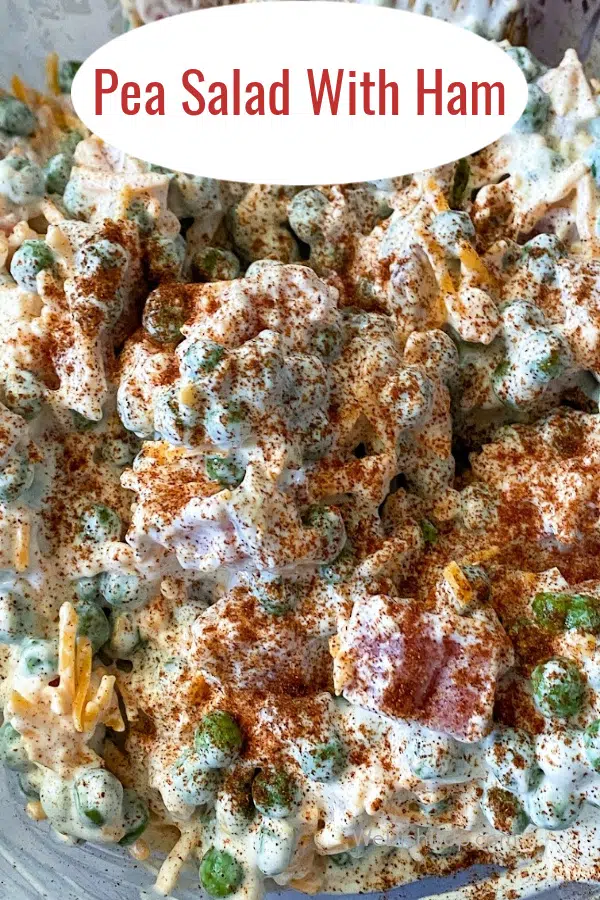 This was the first time I ever made, in fact, I think this is the first time I ever ate pea salad. When I was looking for recipes, there were several versions of pea salad. Some had bacon, some were vegetarian. Most of them were made with mayonnaise or sour cream. I decided to take a little bit from each recipe and come up with my own version. I had ham on hand so decided to use it, my kids all love ranch so I figured why not?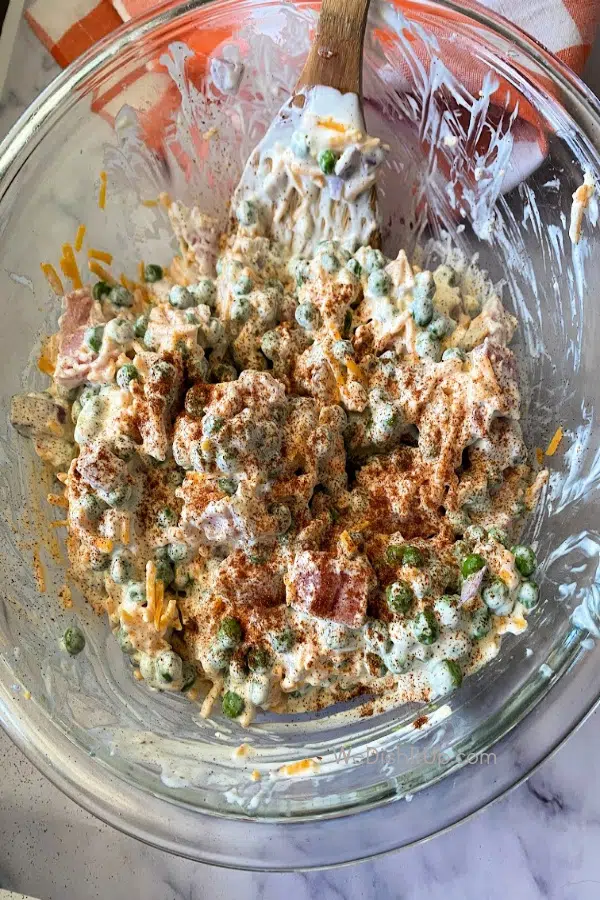 How to Make Pea Salad With Ham :
Ingredients Needed
Frozen Peas
Diced Ham
Diced Red Onion
Shredded Cheddar Cheese
Mayonaisse
Ranch Dressing
Paprika
Directions
Pour frozen peas, diced ham, diced red onions, and shredded cheese in a medium mixing bowl
Mix in mayonnaise and ranch dressing
Sprinkle paprika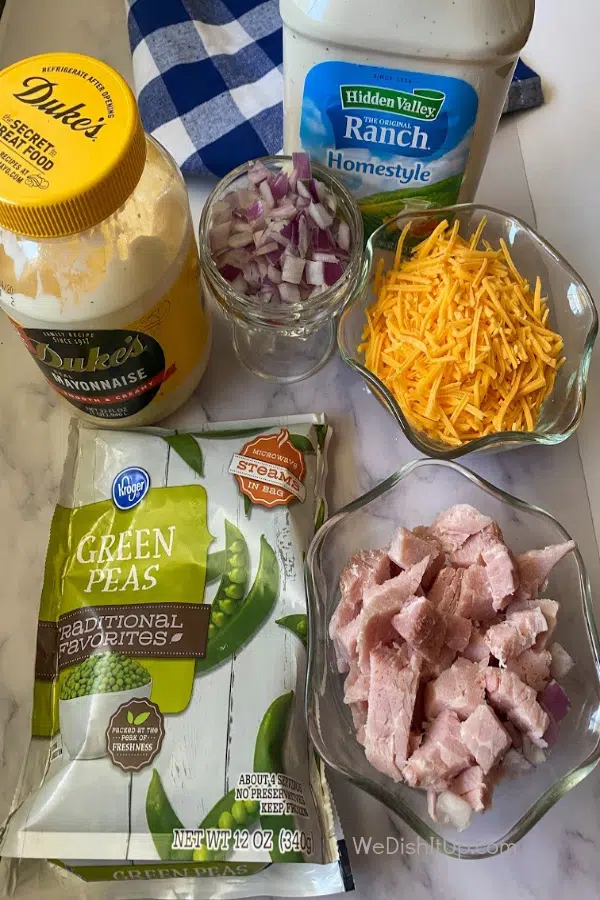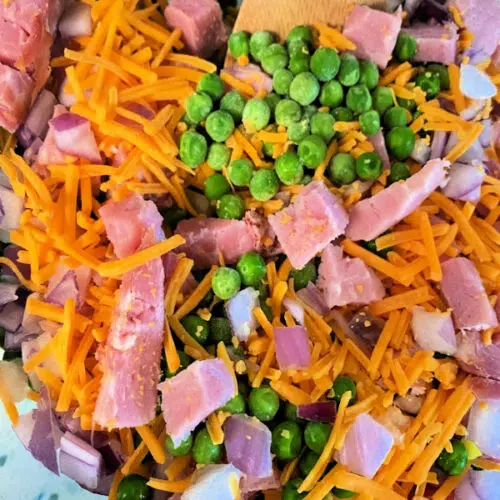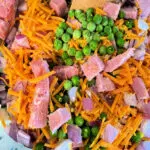 Print
Pea Salad With Ham
Frozen peas ham, cheddar,red onions, ranch and mayonnaise
Equipment
mixing bowl ,serving spoon, cutting board, knife
Ingredients
1

Bag (12-16 oz)

Frozen Peas

1

cup

Diced Ham

¾

cup

Shredded Cheddar

or cheese of choice

⅓

cup

Red Onion

½

cup

Mayonnaise

½

cup

Ranch Dressing

I used Hidden Valley Ranch

Paprika

Sprinkle for Garnish
Instructions
In a medium sized mixing bowl combine peas, ham, cheese, and onion

In a separate bowl whisk together mayonnaise and ranch

With a spatula or spoon fold dressing into the dry ingredients

Sprinkle with paprika and serve
TIPS :
Storage - Will keep 3-4 days in an airtight container under refrigeration
Substitutions - Bacon works great if you prefer in place of ham- If you a vegetarian or just wants a veggie version to leave the ham out.
If you have a picky eater in your house that doesn't like onions (like I do ) leave them out and maybe sub celery for crunch
Looking for a great dessert?
The Best No -Bake Cherry Cheesecake