This Orange Vanilla Cream Fluff is easy to make and you will love it. To make the fluff you will need orange jello, vanilla pudding, cool whip, and mini marshmallows.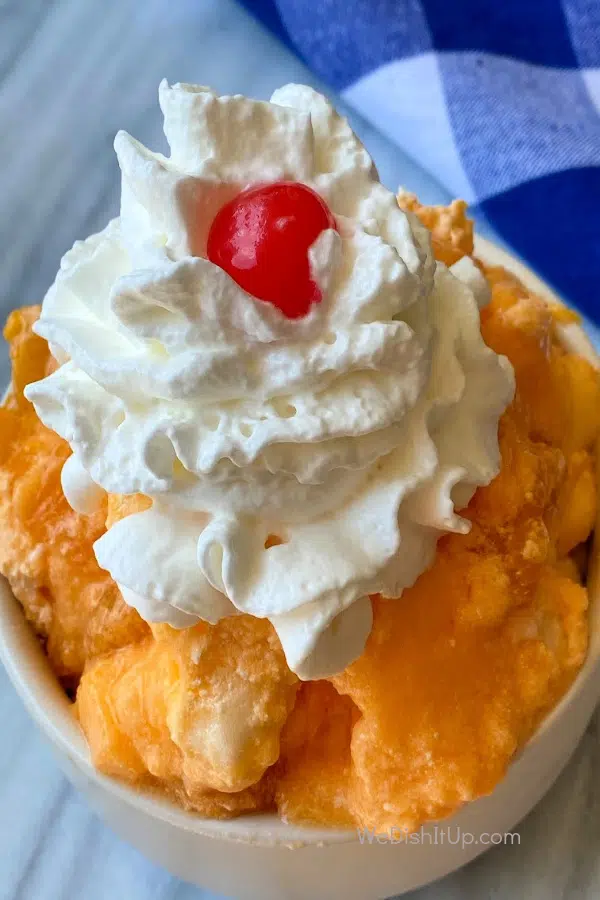 Orange Vanilla Cream Fluff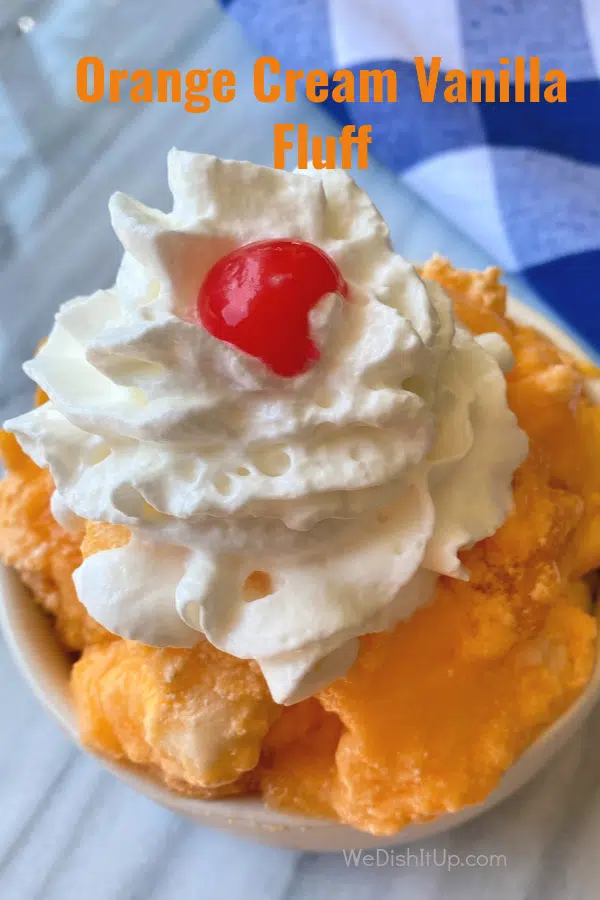 Is there anyone who doesn't love fluff? I don't think so. I mean it is the perfect dish that doubles as a dessert or a side dish. This fluff is similar to Strawberry Fluff Salad or the Caramel Apple Fluff Salad that I have shared in the past. All are great options if you are looking for a sweet fluffy side dish. If you like these you will probably like Fluffy Watergate Salad as well.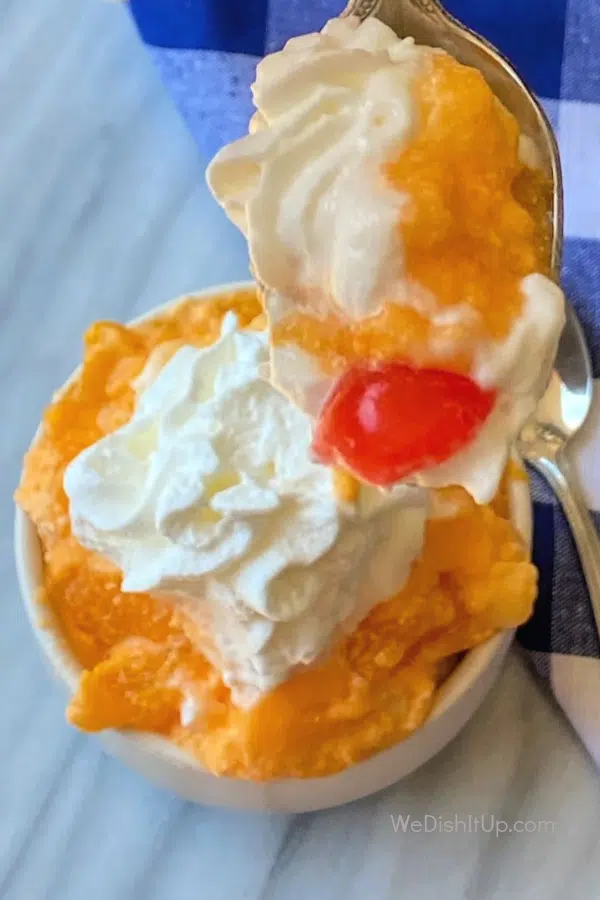 If you are invited to a pot luck or a dish to pass event, fluffs are always a great option. Anything orange cream is delicious in my opinion. I absolutely loved the WW Friendly Orange Cream Pudding Poke Cake that my daughter Courtney shared on my blog. She is definitely a blessing to have always willing to help.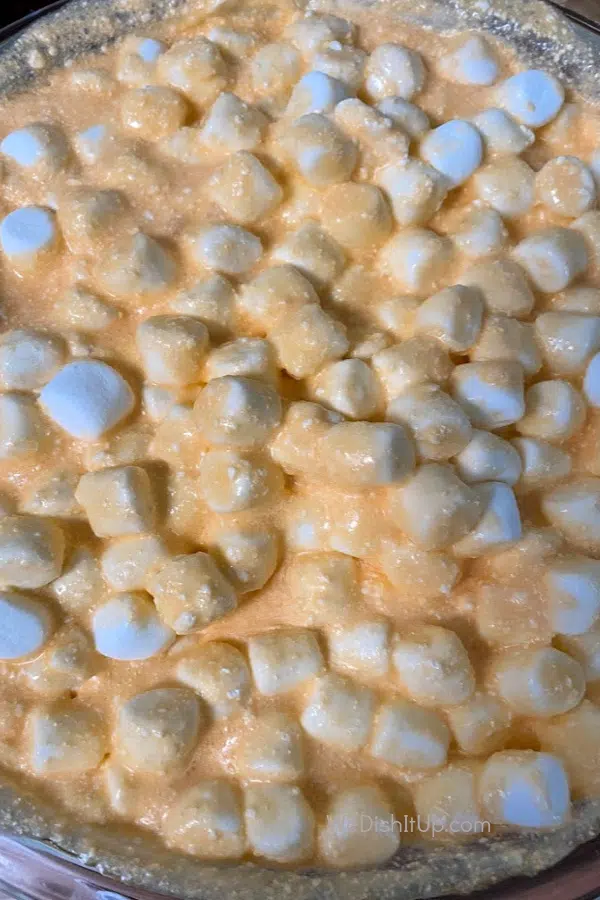 How to Make Orange Vanilla Cream Fluff :
INGREDIENTS NEEDED :
Orange Jello (I used sugar- free)
Vanilla Pudding (also sugar-free)
Cool Whip
Mini Marshmallows
Mandarin Oranges
Vanilla Extract
Water
Redi Whip and Cheri (optional garnishes)
INSTRUCTIONS :
In a large bowl, combine orange Jell-O and boiling water. Mix until dissolved
Add cold water and allow to chill for 15 minutes in the refrigerator.
Slowly whisk in vanilla pudding mix and vanilla extract until smooth and chill for another 15 minutes, or until it becomes slightly thickened.
Fold in Cool Whip, mandarin oranges, and marshmallows. Chill for 1 hour or more before serving.
Garnish with Redi Whip and Cherries
Fluff Ingredients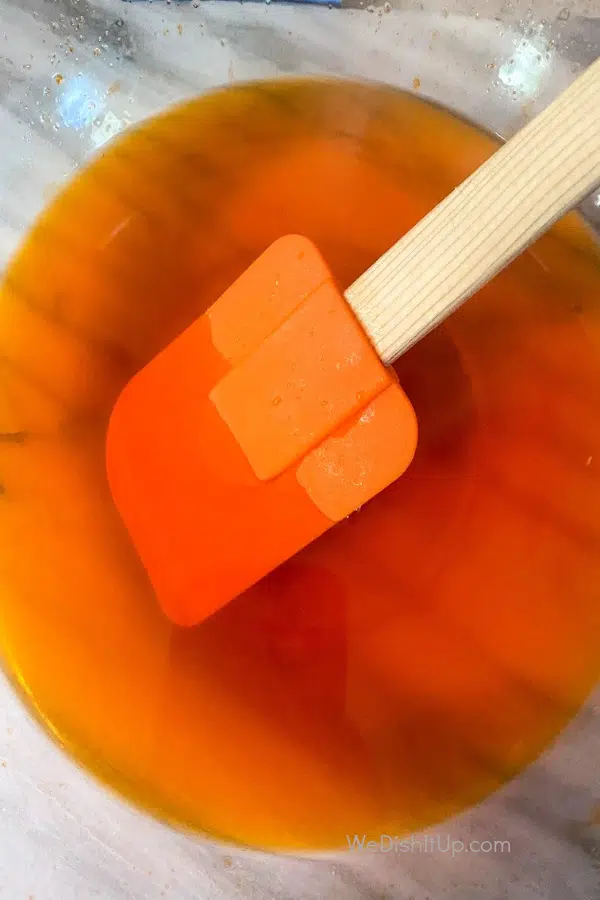 Making The Jello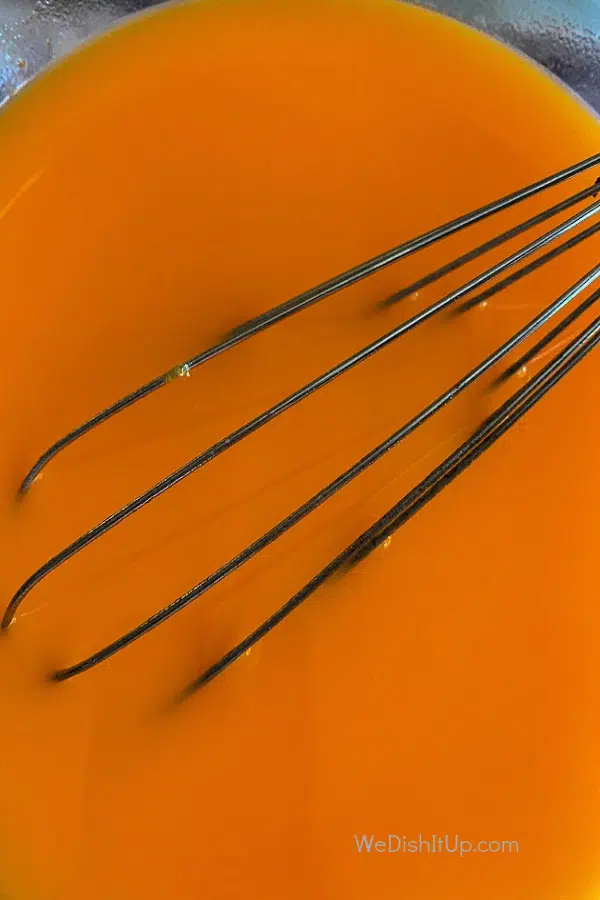 Pudding Added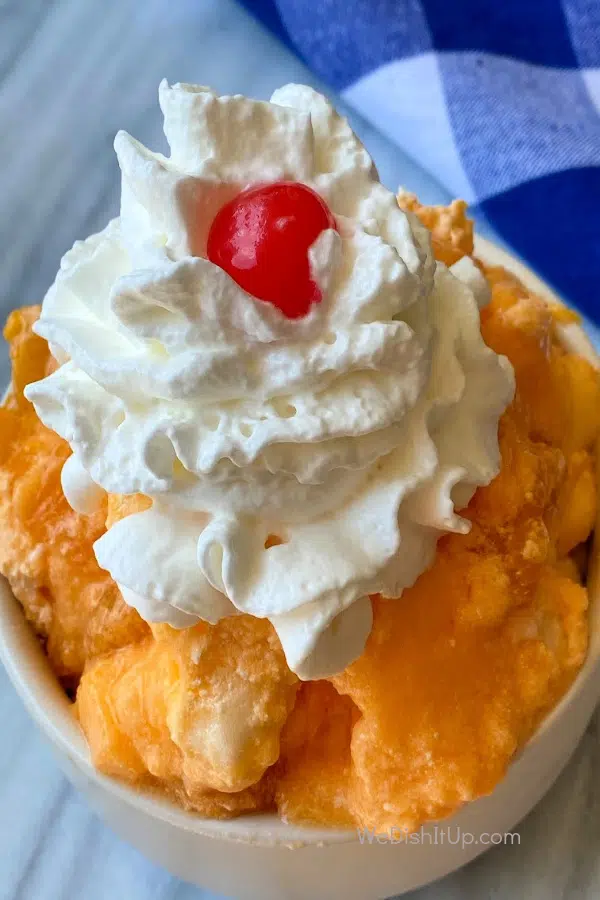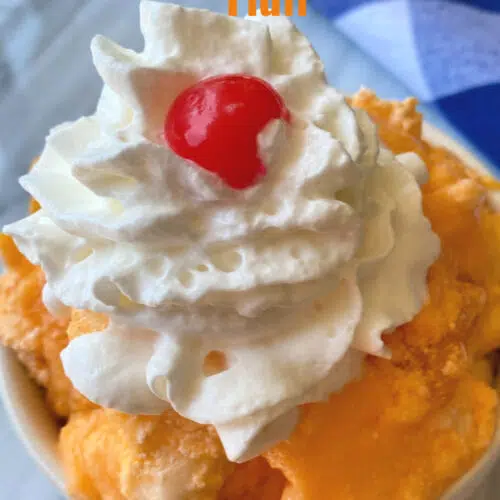 Print
Orange Vanilla Cream Fluff
Orange Jello,Vanilla Pudding,Mini Marshmallows,cool Whip
Equipment
Refrigerator

Mixing Bowl, serving bowl , spatula
Ingredients
1 3oz

box

Orange Jello

I used Sugar- Free

1-3oz

box

Vanilla Pudding

I used Sugar-Free

1

cup

Boiling Water

½

cup

Cold Water

1

tub (8 oz)

Cool Whip

1

teaspoon

Vanilla Extract

1

cup

Mini Marshmallows

1

can (15 oz)

Mandarin Oranges (drained)
Instructions
In a large bowl, combine orange Jell-O and boiling water. Mix until dissolved

Add cold water and allow to chill for 15 minutes in the refrigerator.

Slowly whisk in vanilla pudding mix and vanilla extract until smooth and chill for another 15 minutes, or until it becomes slightly thickened.

Fold in Cool Whip, mandarin oranges, and marshmallows. Chill for 1 hour or more before serving.

Garnish with Redi Whip and Cherries