Extra Creamy Coleslaw with bacon or sometimes called loaded coleslaw is fantastic. Loaded coleslaw got its name because it combines bacon, cheddar cheese, green onions, coleslaw mix(of course you could shred your cabbage and carrots from scratch ) mayonnaise, and some apple cider vinegar.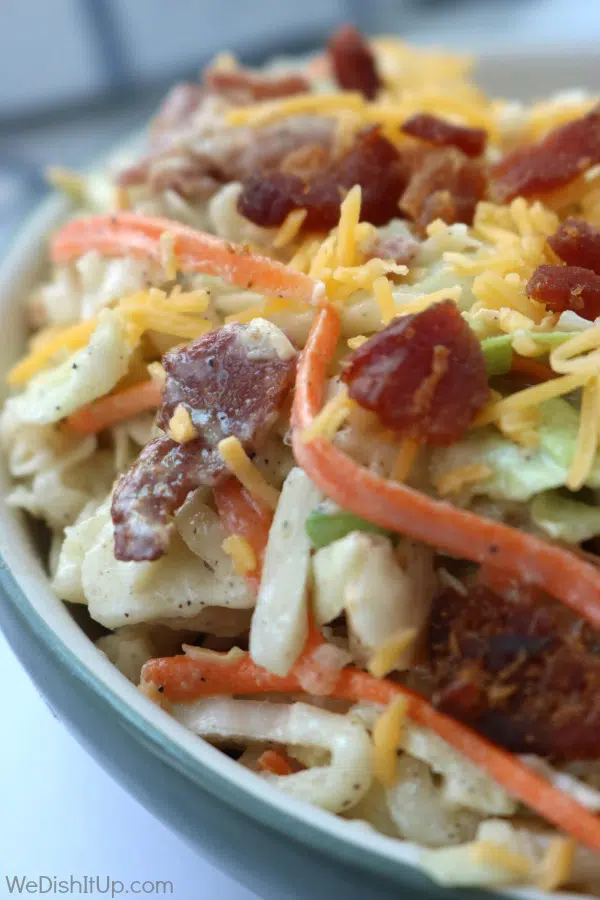 I love most everything with vinegar in it, always have. Traditional coleslaw normally has sugar in the recipe, giving it a sweet taste. When making Creamy coleslaw with bacon, you leave the sugar out. Giving the coleslaw a tart taste. With no sugar added it also makes Creamy Coleslaw with Bacon a great option for the keto or ketogenic diet. My husband and I recently started a low carb keto lifestyle. Eating low carb takes some getting used to but there are some fantastic recipe options out there. Creamy Coleslaw with Bacon being one of them.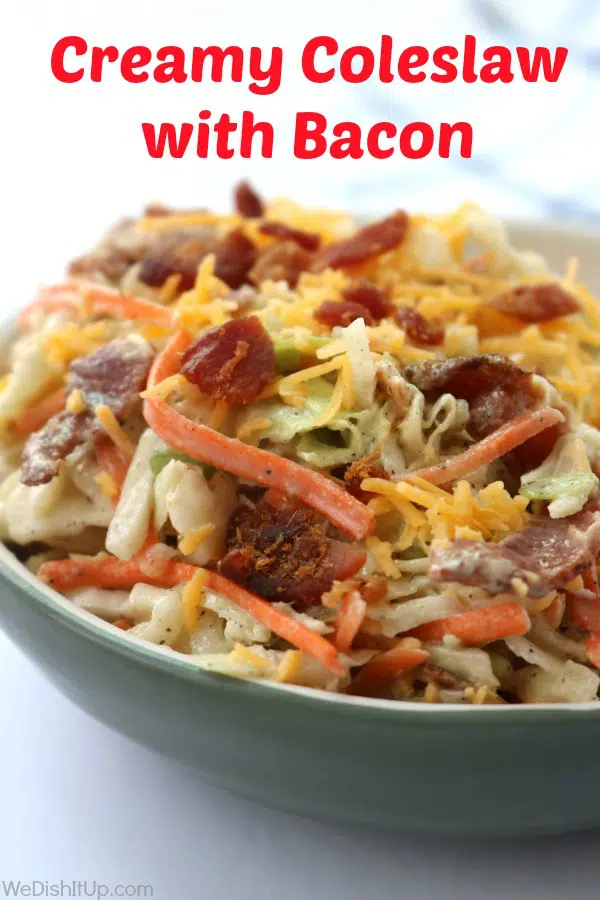 In addition to the Creamy Coleslaw with Bacon, also try my Creamy Garlic Parmesan Mushrooms they are keto-friendly and to die for. Cabbage is always a great vegetable option when doing keto. It is low in carbohydrates and is loaded with nutrition. Also cabbage has many great health benefits. To name a few:
1. Reduces the risk of cancer
2. Balances blood sugar (great for curbing sugar cravings )
3. Reduces inflammation
4. Boosts immunity
5. Protects the brain
6. Improves digestion
7. Great source of vitamins c and k
Everyone knows that apple cider vinegar is all the rage and has a long history of curing everything from a cold to warts. I suggest using organic apple cider vinegar that contains the mother. Apparently, the mother is the magic ingredient.
Apple cider vinegar is also said to help in weight loss, being a little bonus.
How to Make Creamy Coleslaw with Bacon :
For this recipe, you will just need 9 ingredients. Most of which you will already have in your refrigerator or pantry. You will need bacon, mayonnaise, Dijon mustard, apple cider vinegar, salt, pepper, cheddar cheese, coleslaw mix (or cabbage and carrots if grating yourself) and green onions. If you are vegetarian or do keto but don't eat pork (like my daughter), go ahead and leave out the bacon (gasp ! I know). It will still be delicious.
So whether you are making this Creamy Coleslaw with bacon at home for a side dish, or adding some chicken or sausages to make it a main dish I'm sure you will love it. This Creamy Coleslaw with Bacon is also great on a sandwich. Try taking it to a pot luck or a BBQ and you are sure to be the hit of the party with keto and non-keto friends.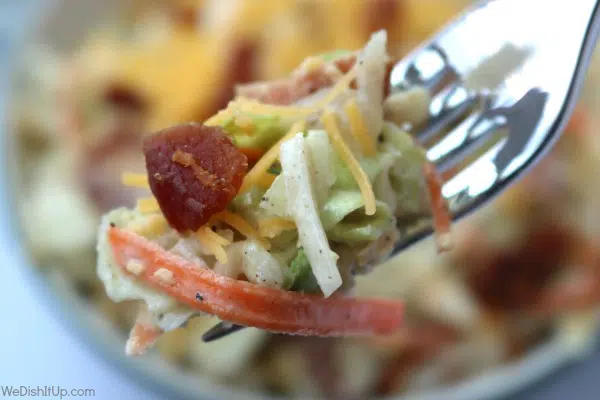 If you are looking for other low carb or keto options, check out some of my favorites: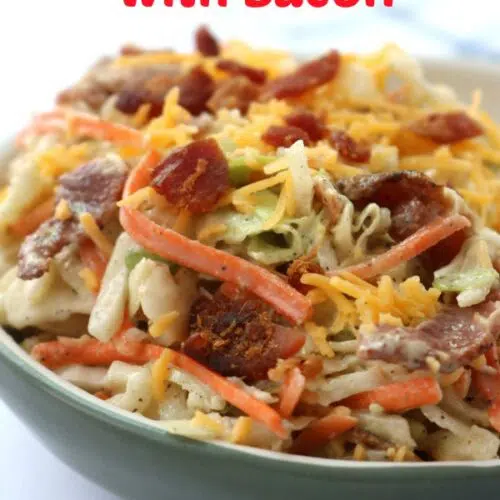 Print
Creamy Coleslaw with Bacon
Cabbage, cheese, bacon, and creamy dressing
Equipment
Mixing Bowl, serving bowl , spatula
Ingredients
5

pieces

Bacon

save grease for later

½

cup

Mayonnaise

2

tablespoon

Apple Cider Vinegar

I use organic for stronger flavor

1

teaspoon

Salt

or to taste

½

teaspoon

Black Pepper

or to taste

¾

cup

Cheddar Cheese

16

oz

Coleslaw Mix

3-4

tablespoon

Chopped Green Onions

more if your family members are onion lovers like mine

1

tablespoon

Dijon Mustard
Instructions
Fry your bacon in a frying pan on stove top until brown and crispy. Remove from pan and let cool. Save bacon grease.

Add mayo, mustard , salt, pepper and apple cider vinegar to a small mixing bowl. Mix well -Whisk in saved bacon grease until smooth.

In a separate bowl mix together slaw mix, cheddar cheese, and green onion. Add dressing mixture (wet ingredients) and mix well. Top with extra cheddar cheese, bacon, and green onion. Enjoy!
Nutrition
Calories:
214
kcal
|
Carbohydrates:
4
g
|
Protein:
6
g
|
Fat:
20
g
|
Saturated Fat:
6
g
|
Polyunsaturated Fat:
7
g
|
Monounsaturated Fat:
6
g
|
Trans Fat:
0.04
g
|
Cholesterol:
26
mg
|
Sodium:
576
mg
|
Potassium:
230
mg
|
Fiber:
0.1
g
|
Sugar:
0.2
g
|
Vitamin A:
349
IU
|
Vitamin C:
53
mg
|
Calcium:
106
mg
|
Iron:
1
mg