Pretzel Raspberry Jello Salad is the perfect blend of salty-sweet. With a pretzel crust and a blend of cream cheese, whipped topping, raspberry jello, and fresh or frozen raspberries you are going to love it.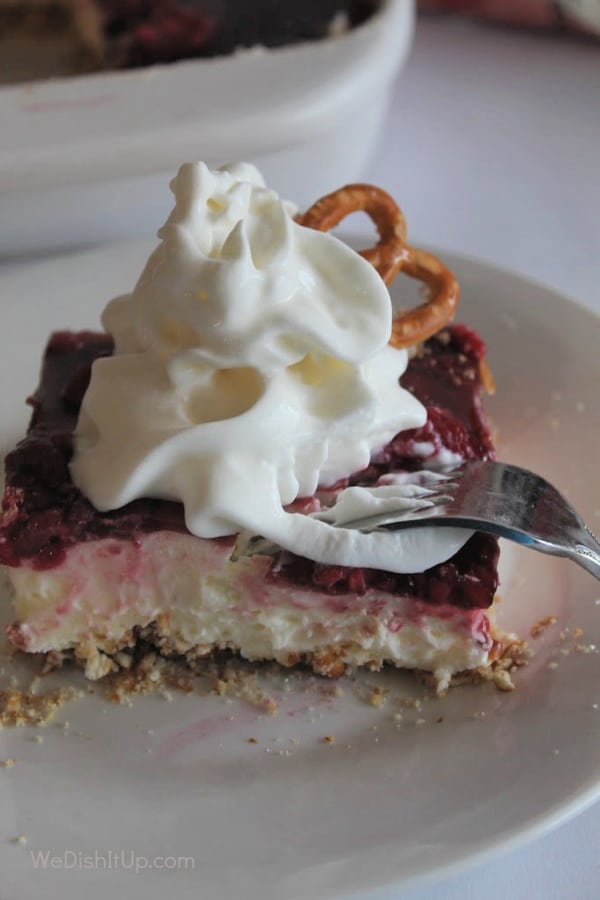 Jello gelatin or pudding desserts are my favorite. They are usually easy and quick to make. In addition, everyone loves them. Fluffy Watergate Salad, No-Bake Chocolate Cream Pie and Caramel Apple Fluff Salad are a few desserts made with Jello gelatin or pudding that have been shared on our technically speaking, this is definitely far from a "salad" recipe. This layered jello cheesecake dessert is often called just that. Whatever you call it, the combination of salty, sweet and creamy cheesecake flavor .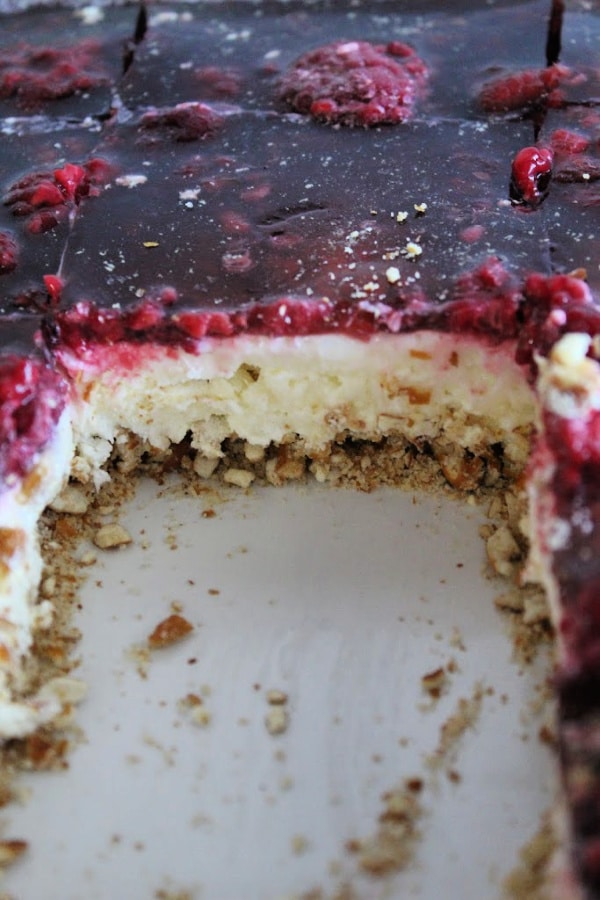 Raspberry Jello and frozen raspberries were used this time. However, most any jello and fruit would work. Fresh fruit can also be used. When using fresh fruit, use a little more sugar, and some ice to help the jello set quicker.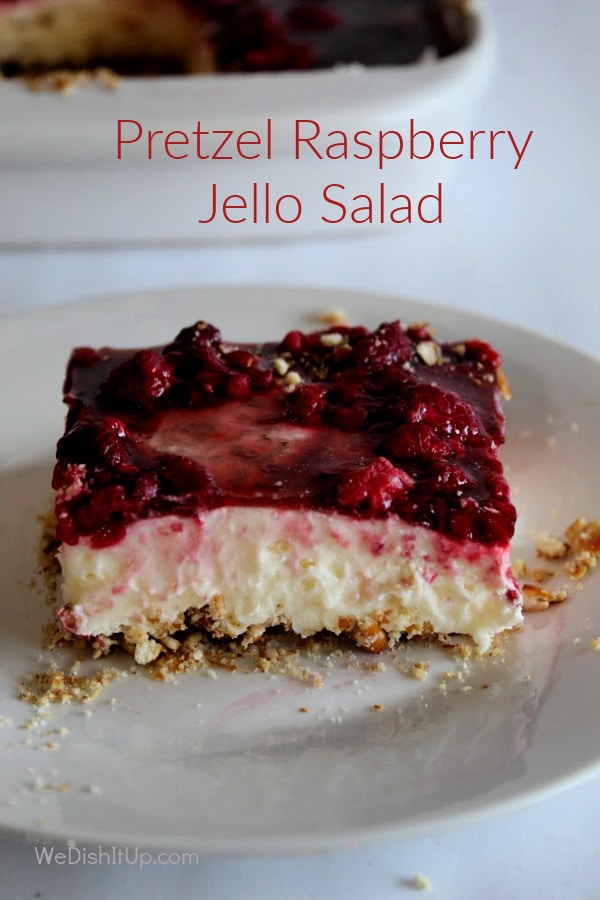 How To Make Pretzel Raspberry Jello Salad:
INGREDIENTS NEEDED:
Raspberry Jello
Boiling Water
Salted Pretzels
Granulated Sugar (Divided)
Unsalted Butter
Cream Cheese
Whipped Topping (Cool Whip-thawed in the refrigerator)
Frozen Raspberries (thawed in the refrigerator)
INSTRUCTIONS
Dissolve Jello in boiling water
Crush Pretzels
Melt butter and sugar in a saucepan over medium Heat
Add pretzels to butter mixture
Lightly press into 13×9 baking dish -bake for 10 minutes
Meanwhile, while cooling – beat cream cheese and sugar until smooth
Fold in Whipped Topping
Spread mixture over Pretzel Crust
Refrigerate
Stir Raspberries into jello
Pour-over cream cheese mixture
Chill and serve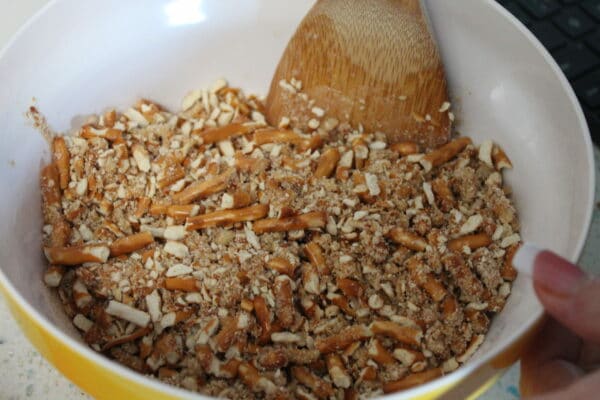 Pretzels in Bowl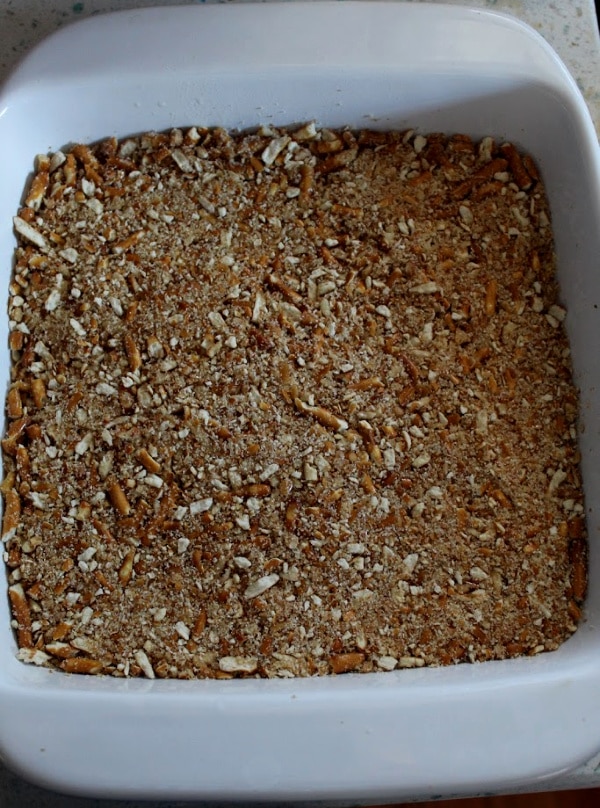 The Pretzels in Baking Dish
Cream Cheese Mixture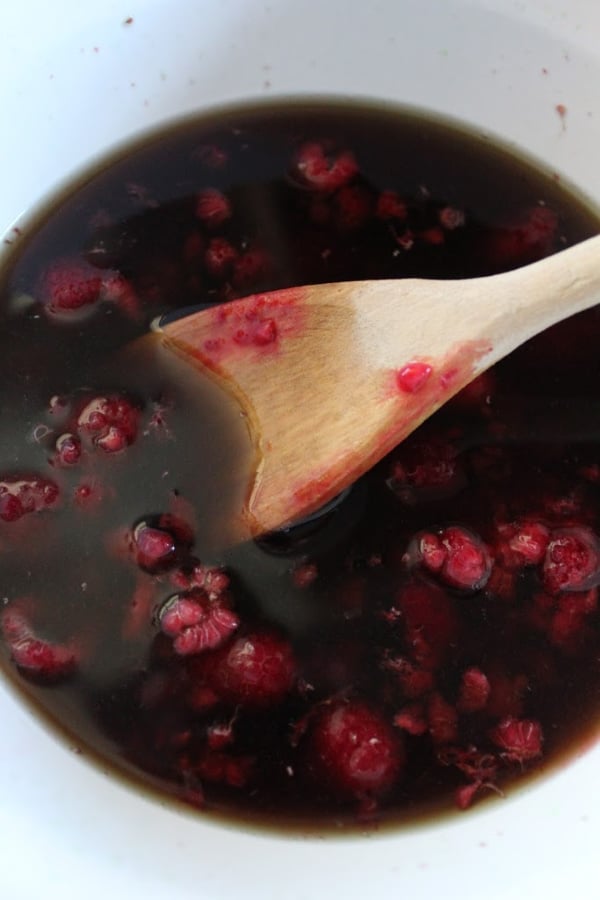 Jello Being Mixed
Poured Over Cream Cheese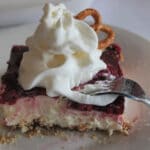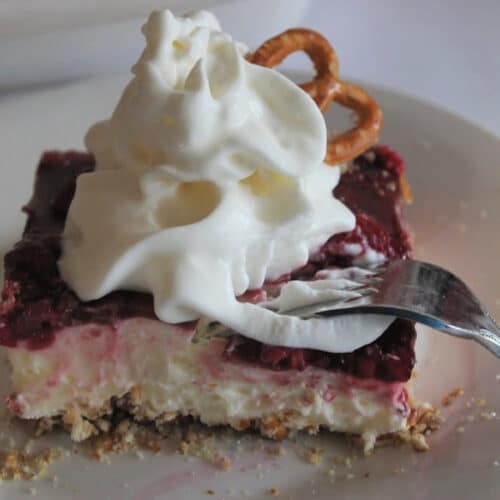 Print
Pretzel Raspberry Jello Salad
Pretzels, Jello , Frozen Raspberries , Cream Cheese and Cool Whip
Ingredients
1

6 oz Box

Raspberry Jello

2 1/2

Cups

Boiling Water

1/4

Cup

Granulated Sugar

8

tbsp

Unsalted Butter

1

8 oz Pkg

Cream Cheese

1

8 oz Tub

Cool Whip

Thawed In Refrigerator

3/4

Cup

Granulated Sugar

1

12 oz Bag

Frozen Raspberries

Thawed In Refrigerator
Instructions
Dissolve Jello in Boiling water - Set Aside

Crush Pretzels, in a ziplock bag - using rolling pin or mallet

Melt butter in a saucepan, stir in 1/4 cup sugar

Stir pretzels into butter - press lightly in 9x13 baking pan-bake for 10 minutes-cool

While pretzel crust cools, cream together cream cheese and remaining 3/4 cup sugar

Fold Cool Whip Into Cream Cheese Mixture

Spread over pretzel crust-chill for 30 minutes

Stir Raspberries into jello and pour over cream cheese mixture - cold berries will help set jello

Refrigerate until firm -top with additional whipped cream
Have you joined our mailing list? If not please do so at top of the page .
Please follow us on Pinterest @https://www.pinterest.com/WeDishItUp/
On Facebook @https://www.facebook.com/WeDishItUp/
[email protected]https://www.instagram.com/wedishitup/