This Peach Cobbler is definitely going to be The Easiest Peach Cobbler You Will Ever Make.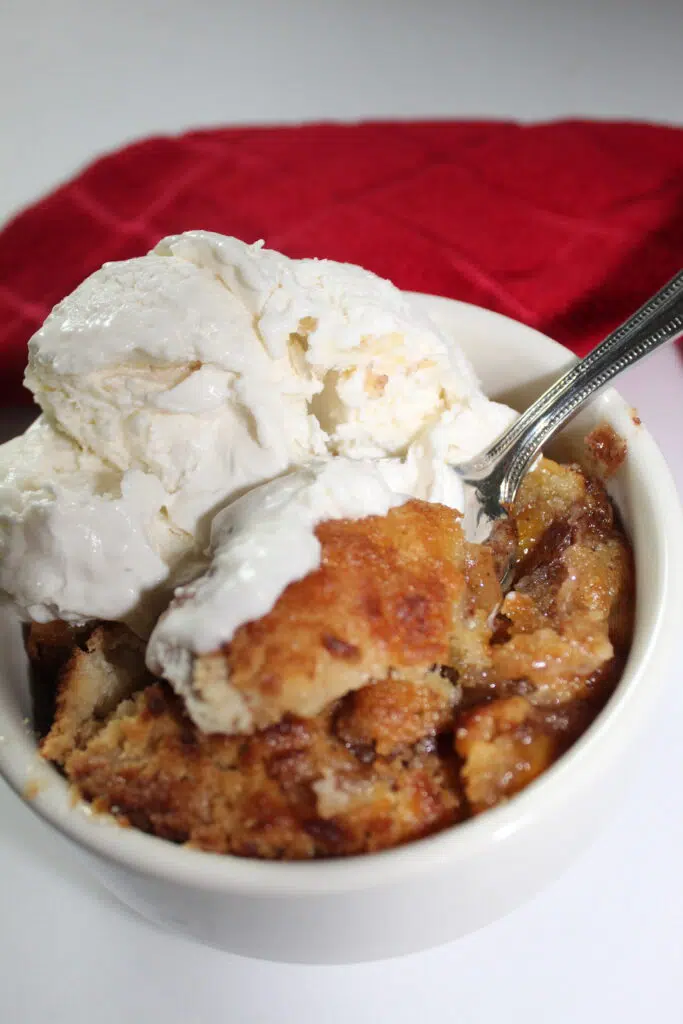 The Easiest Peach Cobbler You Will Ever Make
So I've mentioned many times in the past, I'm not a great cook or baker. I never thought it would be something that I would really enjoy. Running to the grocery store bakery or the closest restaurant was always my thing.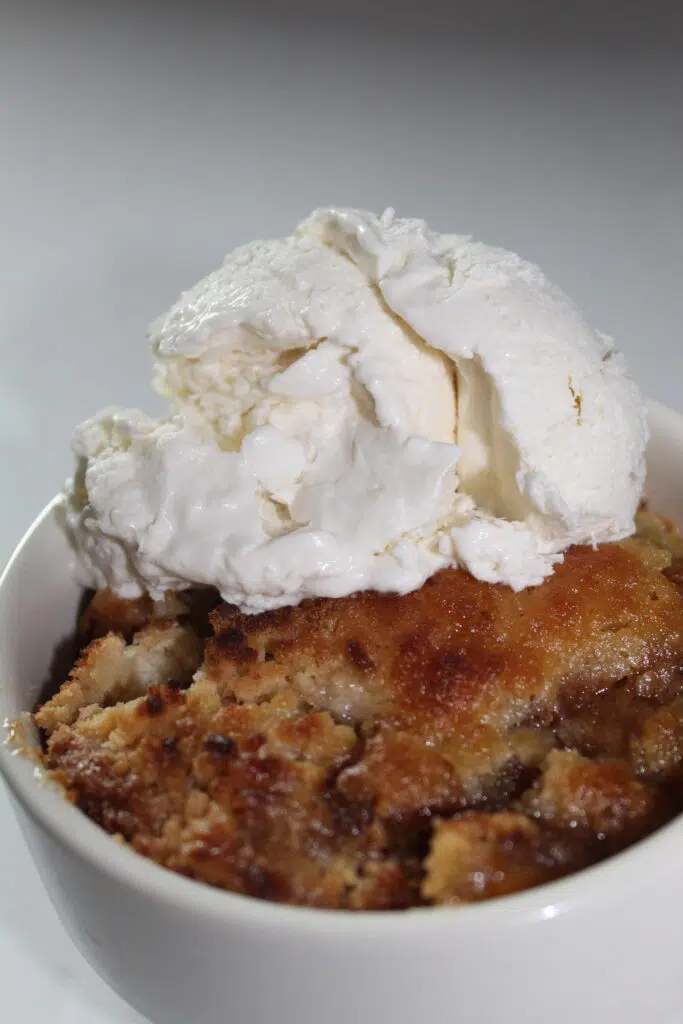 When I was fortunate enough to be able to semi-retire a few years ago, I realized maybe cooking and baking is something I would enjoy doing.
So in setting out on learning to cook and bake I'm always looking for quick and easy recipes for beginners.
With a little encouragement from my niece and children, the decision was made to document my journey. Hoping that to inspire others that are novices to jump in and try.
I was always so jealous because my mother and sisters were great cooks and bakers. My husband always jokingly but not really joking said: "why can't you bake like your sister?" Whenever we went to my sisters for anything there were always pies or cakes that she had baked for our visit. If she and her family were coming to my house, either my husband cooked or we picked up something already made. For 35 years I always said -I might not know how to cook but at least I was smart enough to marry someone who can.
This week I decided to bake something that I had never made before. Well looking at pie and cake recipes came across a blogger post that said -cobbler is a lazy person dessert. Bingo! Cobbler it is. I was wishing I had fresh fruit, no luck but I did have a can of peach pie filling. After looking at several recipes, decided on The Easiest Peach Cobbler You Will Ever Make.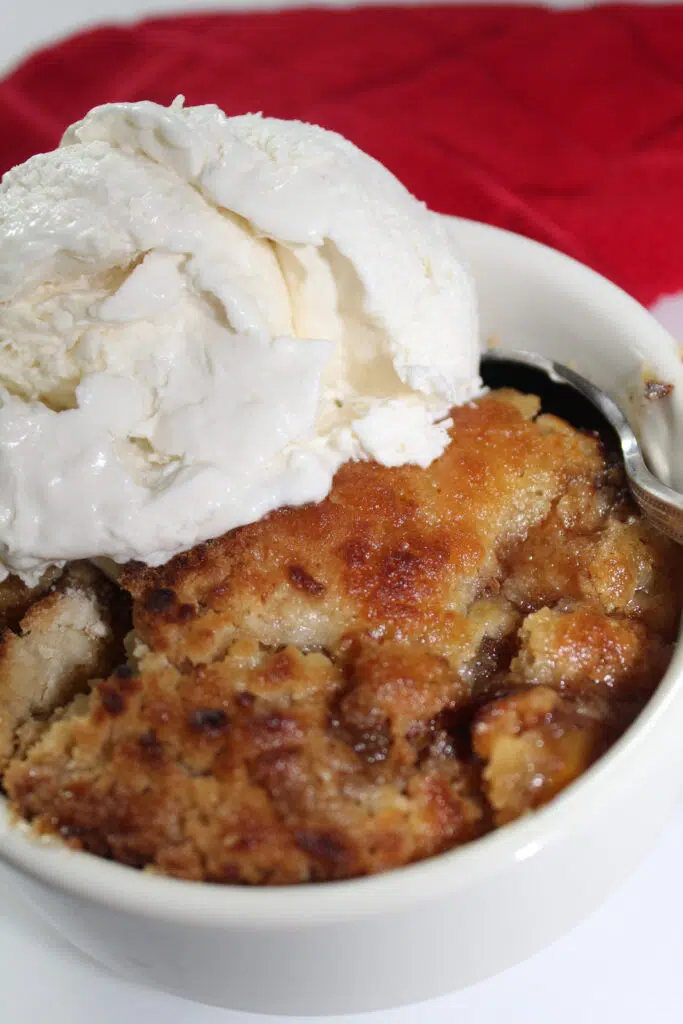 Making The Easiest Peach Cobbler You Will Ever Make was a piece of cake. I guess I should say a piece of cobbler. This cobbler recipe only takes 4 ingredients. The 4 ingredients are likely in your food pantry. If you have peach pie filling or canned peaches, a white or yellow cake mix, butter, and cinnamon. I used a french vanilla cake mix giving it a little extra flavor. Of course, you can use fresh peaches if you have them. If you are wondering
Can I use cherries or apples?- Absolutely now that I know how easy cobbler is to make I'm gonna try making it with every fruit I can find.
Serve the cobbler warm with a scoop of ice cream. You will think you died and went to heaven.
If cobbler isn't your thing, ( don't know how that could be) check out some of my other desserts Cherry Poke Cake
or Peanut Butter Cheesecake Brownies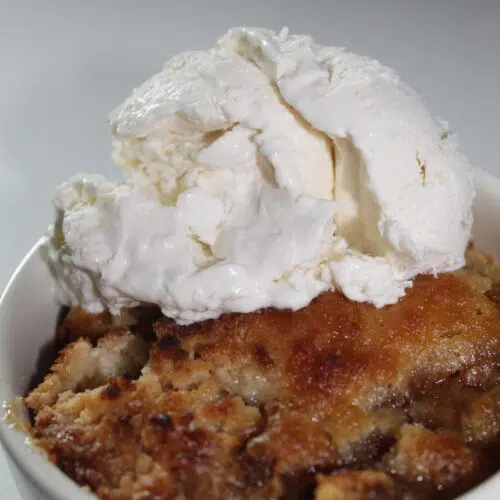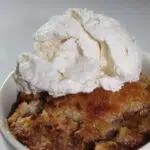 Print
The Easiest Peach Cobbler You Will Ever Bake
Peaches, Cake Mix, Butter, and Cinnamon
Ingredients
1

20 oz can

peach pie filling

canned peaches can be substituted

1

15 oz box

French Vanilla Cake Mix

or flavor of choice

¾

cup

butter

reduce to ½ cup if using canned peaches

1

teaspoon

cinnamon sugar

¼ teaspoon cinnamon ¾ teaspoon sugar
Instructions
Empty Peach Pie Filling into 13 x 9 baking pan spread out evenly

sprinkle cinnamon sugar over peaches

sprinkle cake mix over peaches and press down into the filling with a spoon or your hands

cut the butter up into small pieces and distribute over the top of the cake mix. Using a knife cut the butter and the cake mix into the peaches

Bake in preheated oven for 40-45 minutes. Serve warm with ice cream and you will think you are in heaven