---
Making this Copycat Friendly's Monster Mash Sundae is such fun. If you have little ones in your household, I promise it will be a hit. Mint chocolate chip ice cream, peanut butter cups, and m&ms and you are in business.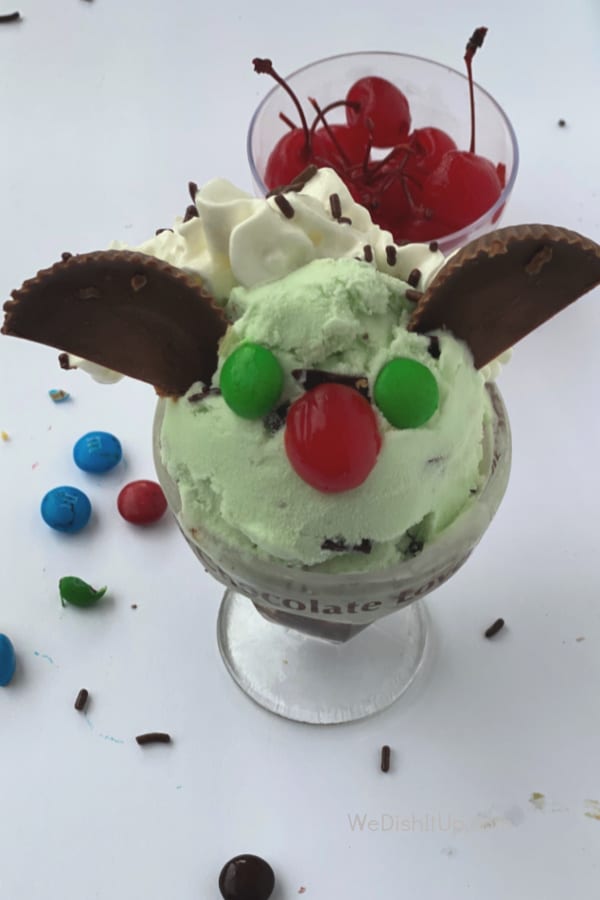 Copy Cat Friendly's Monster Mash Sundae
If you grew up or ever lived in the northeast, you probably grew up on Friendly's Ice Cream. If you didn't, you don't know what you are missing. They are or were a chain of family dining restaurants with a great quick menu. However, they were famous for their ice cream. They had a lot of famous sundaes- The Jim Dandy which was a huge 5-scoop sundae, or the happy ending was a small 2-scoop sundae you could get for cheap if you bought food.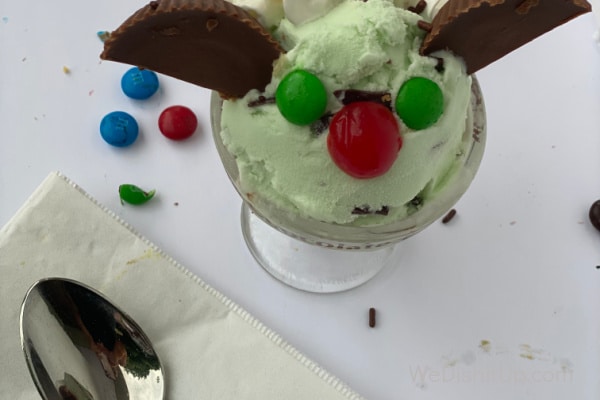 They also had a great kids' menu and this monster mash sundae was my kid's favorite. Since there are no Friendly's here in Cincinnati, I thought I would do a copycat version for my grandkids, they were thrilled. Arent Copy Cat recipes great? Did you try my Copycat Nacho Bell Grande or Copycat-Friendly Peanut Butter Sauce? I want to try to do some more copycats. If you have some you would like me to try out and let you know how they come out, I'll give them a try- just leave me a comment.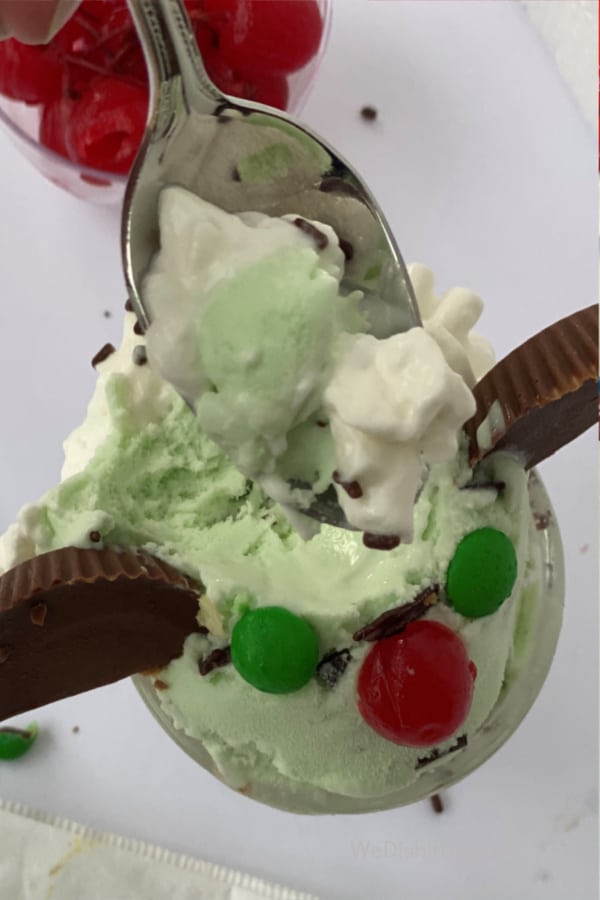 How To Make Friendly's Copycat Monster Mash Sundae:
INGREDIENTS NEEDED :
Mint Chip Ice Cream ( or flavor of choice)
Reese's PB Cup
M&M's
Hershey's Chocolate Syrup
Whip Cream or Redi -Whip
Chocolate Sprinkles (Jimmys)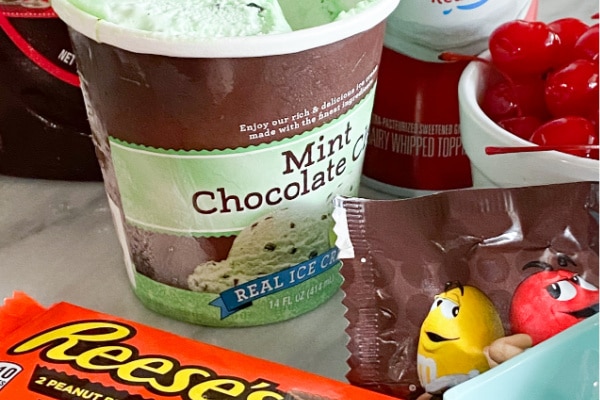 Ingredients for Monster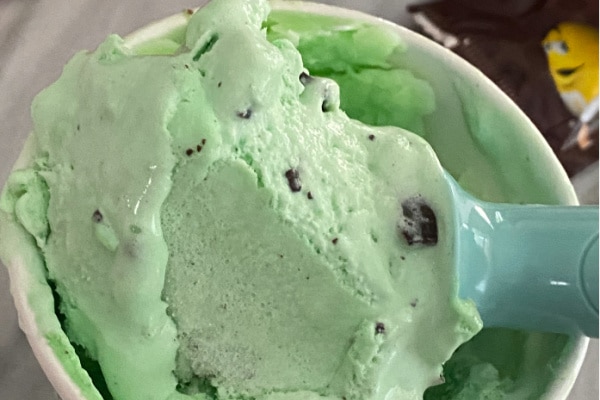 Dipping the Ice Cream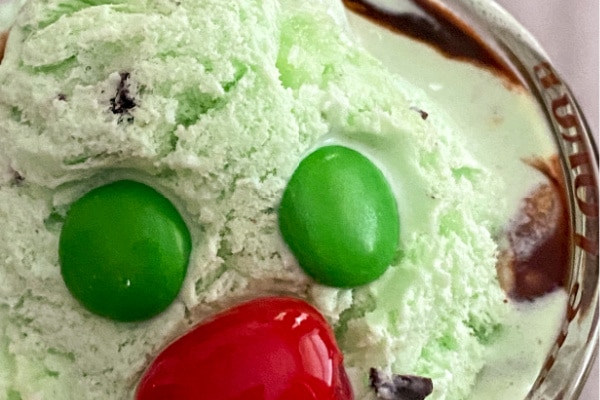 In Process Monster Mash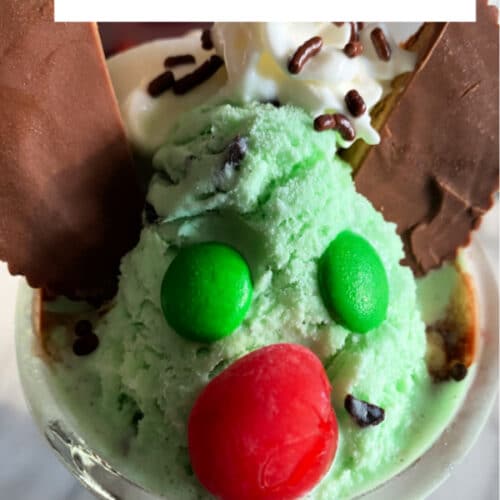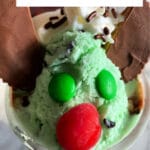 Print
Copy Cat Friendly's Monster Mash
Mint Ice Cream, Reese's PB Cup, M&M s, Whip Cream, Cherry
Equipment
Ice Cream Scoop, Ice Cream Dish
Ingredients
1

3 oz Scoop

Mint Chip Ice Cream

or flavor of choice

1

Reeses Peanut Butter Cup

cut in half for horns

1

tablespoon

Hershey's Chocolate Syrup

or your substitute

2

M&Ms

or a few more in the bottom if you choose

2

tablespoon

Whip Cream

Chocolate Sprinkles

1

Marchiano Cherry
Instructions
Dip a Large Dip of Mint Chip Ice Cream into an Ice Cream Dish or Souffle Dish - Try to make the front smooth for the face

Cut Peanut Butter Cup in Half and Stick in Ice Cream For Horns

Add M&M 's for Eyes, Cherry for Nose

Squirt Chocolate syrup across the back of ice cream head - spray redi-whip or whip cream and sprinkle sprinkles (jimmies)
TIP- Freeze Dish ahead of time to help keep ice cream from melting
Other Recipes you may like-
The Easiest Peach Cobbler You Will Ever Bake
Pumpkin White Chocolate Chip Cookies
Another Fun Copycat Kids Sundae is the Cone Head - find the recipe here-https://www.wikihow.com/Make-a-Friendly%27s-Cone-Head-Sundae