Have you had Strawberry Dole Whip at Disney? This copy cat version is a close second. Fresh strawberries, sugar, (or monk fruit) lemon juice, and coconut milk. Blended in a food processor and put in the freezer until soft frozen. Delicious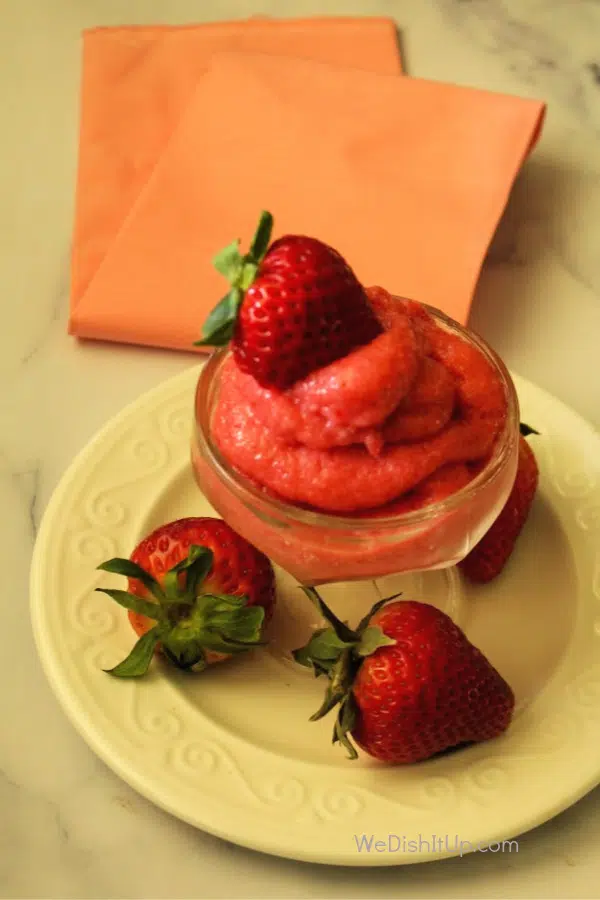 Strawberry Dole Whip
Fresh berry season is the best. Last week I made Easy Homemade Blackberry Cobbler with fresh blackberries. A while back we shared Strawberry Fluff Salad and Fresh Made Strawberry Lemonade. All were delicious, however, I think this dole whip may be my favorite. Sorbet, Ice cream, soft serve all are my weakness.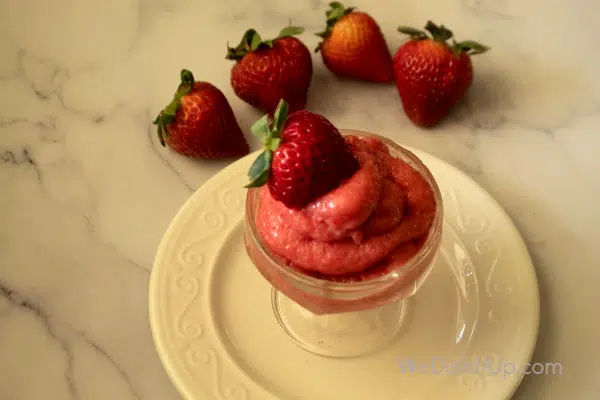 If you've been to Disney Land or Disney World, you probably tried the Pineapple Dole Whip. If it was in the last couple of years, maybe you had their strawberry dole whip? Disney is my family's favorite vacation. We have taken our children and now our grandchildren multiple times. My first love was Disneyland, the first time I went I was 19 years old and my now-husband took me. Because we lived in southern California for many years we always did Disney Land. However, a few years ago we went to Disney World - we all loved it there as well. We have gone back a couple more times. My 8-year-old grandson has been to Disney (some land and some world)9 times. So as I said we are Disney fans. Everyone loves all the yummy food too. My husbands favorite is the churros, I think dole whip is my favorite,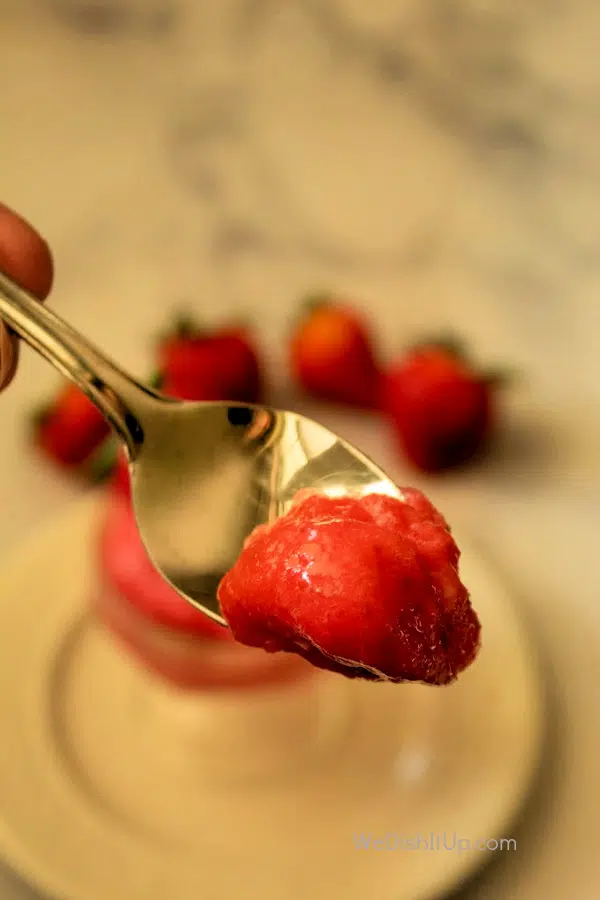 With the parks being closed down for the coronavirus pandemic, I fear things won't be the same when they reopen. I am of course praying that I am wrong. I decided that learning to make a copy cat version of the dole whip would probably be a good idea. By using monk fruit and coconut milk helped me cut the carbs. It will also taste great with real sugar and regular milk.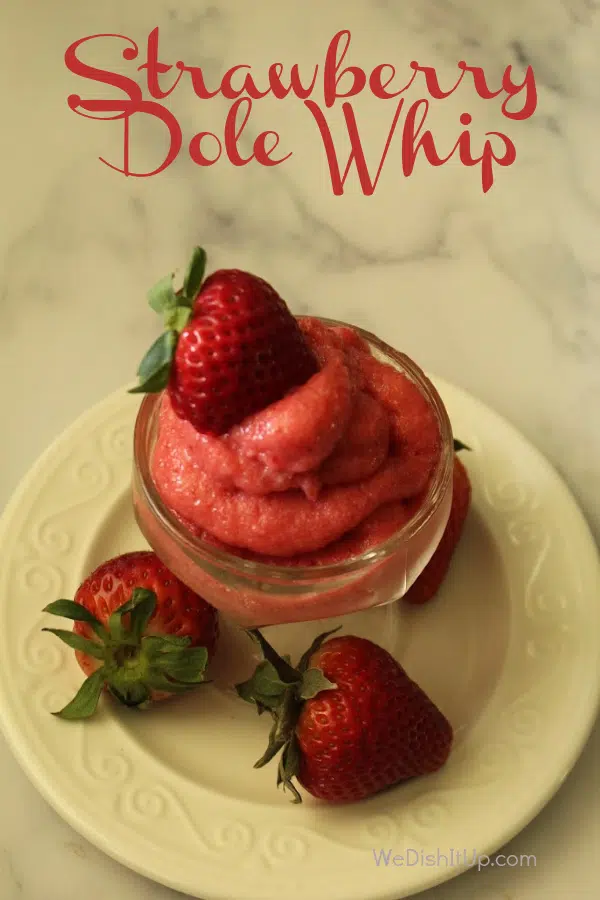 How to Make Strawberry Dole Whip :
INGREDIENTS NEEDED:
Fresh Frozen Strawberries (I froze in Baggie the day before)
Lemon Juice
Monk Fruit ( sugar or sweetener of choice)
Coconut Milk (or milk of choice)
Salt
INSTRUCTIONS :
Remove Strawberries from Freezer
Combine all of the ingredients in a food processor or heavy-duty blender and blend until smooth. Scoop into a plastic bag and freeze for about 20 minutes. Cut a hole in the corner of the bag and squeeze while swirling dole whip into a small bowl or cup.
Top with Fresh Strawberry (optional )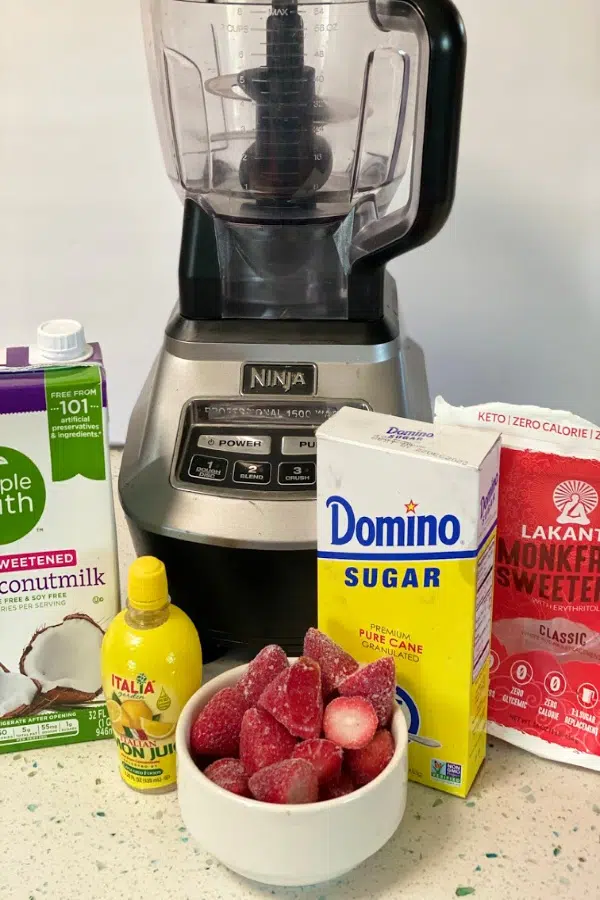 Dole Whip Ingredients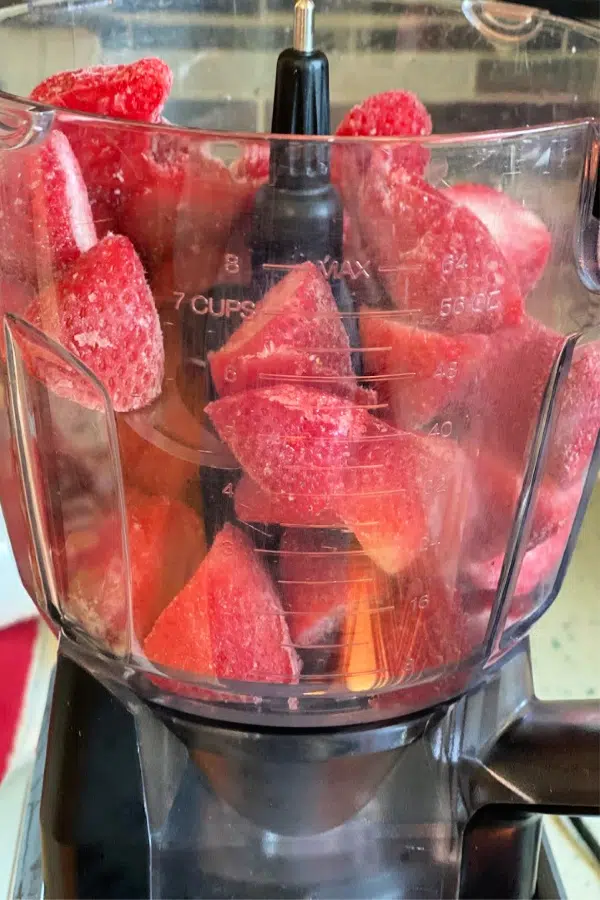 Dole Whip In Blender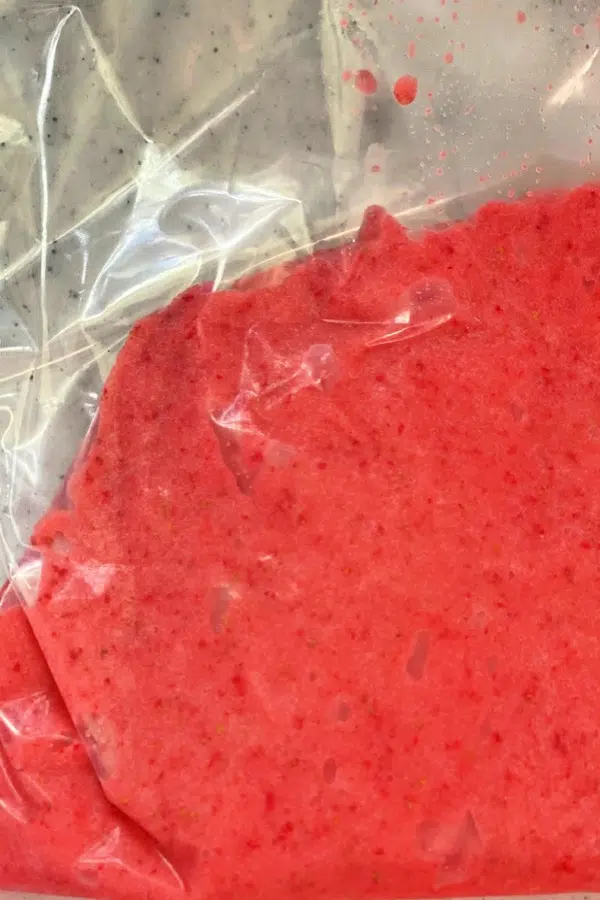 Print
Strawberry Dole Whip
Fresh Frozen Strawberries,lemon juice, monk fruit (sugar) Coconut Milk (or milk of choice)
Ingredients
4

cups

Fresh Frozen Strawberries

½

cup

Coconut Milk

or milk of choice

2

tablespoon

Lemon Juice

¼

cup

Monk Fruit

or sugar or sweetener of choice

¼

teaspoon

Salt
Instructions
Remove frozen strawberries from freezer

Combine all of the ingredients in a food processor or heavy-duty blender and blend until smooth. Scoop into a plastic bag and freeze for about 20 minutes. Cut a hole in the corner of the bag and squeeze while swirling dole whip into a small bowl or cup.

Top with a fresh strawberry (optional) and serve
This post may contain affiliate links. A small commission will be made off of any qualifying sales