Looking for a side dish that's simple yet delicious? These Air Fryer Potato Wedges make for the perfect addition to your favorite entrees. They're so easy to make and great to whip up last minute!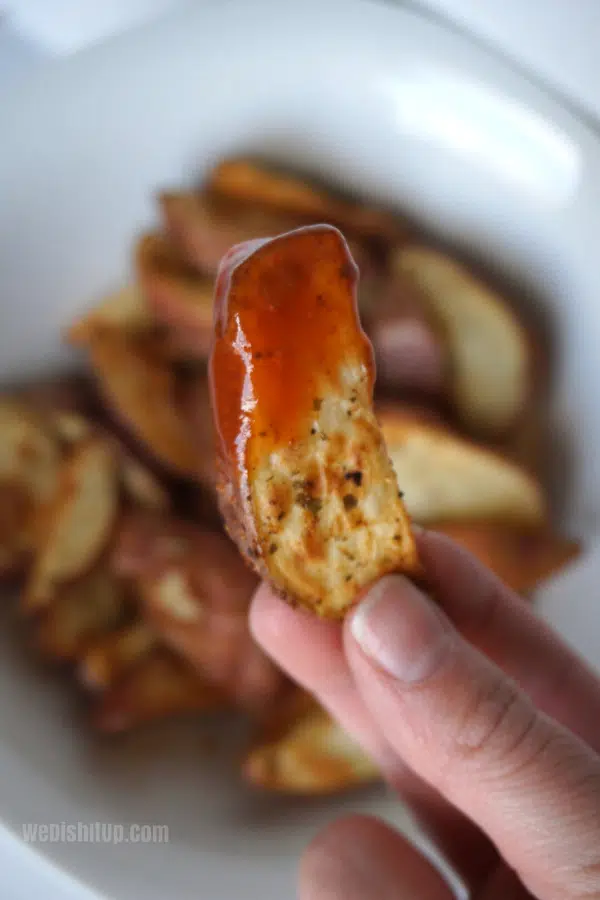 Hey everybody! It's Courtney again, back for another Weight Watchers friendly recipe for all of the We Dish It Up readers. After my addition of the WW Friendly Orange Cream Pudding Poke Cake, my mom and I decided that I will happily share a WW friendly recipe once a week.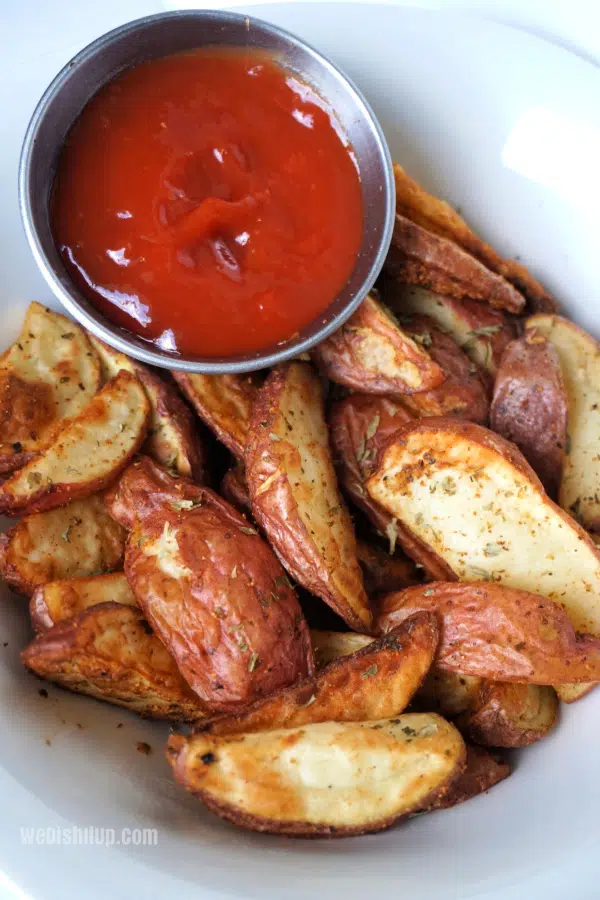 ---
This week I decided to go for a side dish. On WW I feel like I always have no problem coming up with ideas for entrees but when it comes to side dishes, I tend to struggle with variety. One of my favorite things to do is to take foods that I love from a fast food restaurant and find lower point alternatives that taste just as good, without all of the unnecessary calories and points.
Buffalo Wild Wings is one of my favorite places to get takeout from, their potato wedges are to die for! I knew when I was making homemade wings that I had to make a healthy alternative to those delicious potato wedges. I'll tell you what, these potato wedges taste just as good, and they don't make me feel sick and bloated after eating them.
The fact that these are made in the air fryer gives you that crispy texture, without the need to deep fry them - making them so much more fattening. Let's go ahead and jump into how I made these wedges!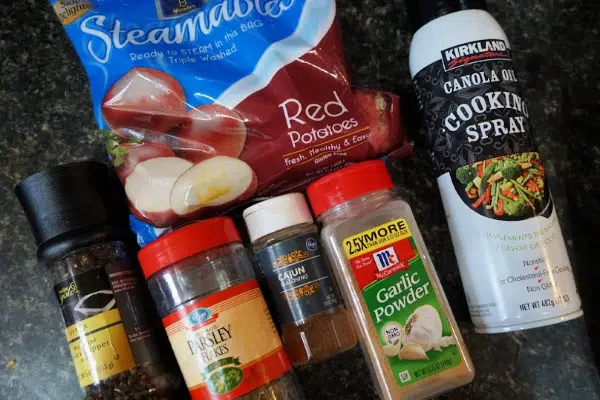 How to Make Air Fryer Potato Wedges
Ingredients Needed:
-345 g Baby Red Potatoes (about 6 or 7 potatoes, dependent on size)
-1 teaspoon Garlic Powder
-½ teaspoon Dried Parsley Flakes
-½ teaspoon Cajun Seasoning
-¼ teaspoon Black pepper
Instructions:
-Wash potatoes and slice into wedges
-Place in a bowl and spray with cooking spray
-Sprinkle your seasonings all around and shake your wedges around to spread seasonings, you can also use your hands to spread that seasoning if necessary as well.
-Place in the basket of the Air Fryer and cook on 400 degrees for about 15 mins - shaking your basket to redistribute half way through that time. (Pro tip: make sure you don't have too many wedges stacked on top of each other because they won't cook evenly. Split into two batches if necessary)
-Serve immediately (You can choose to use your favorite dipping sauce or eat them plain)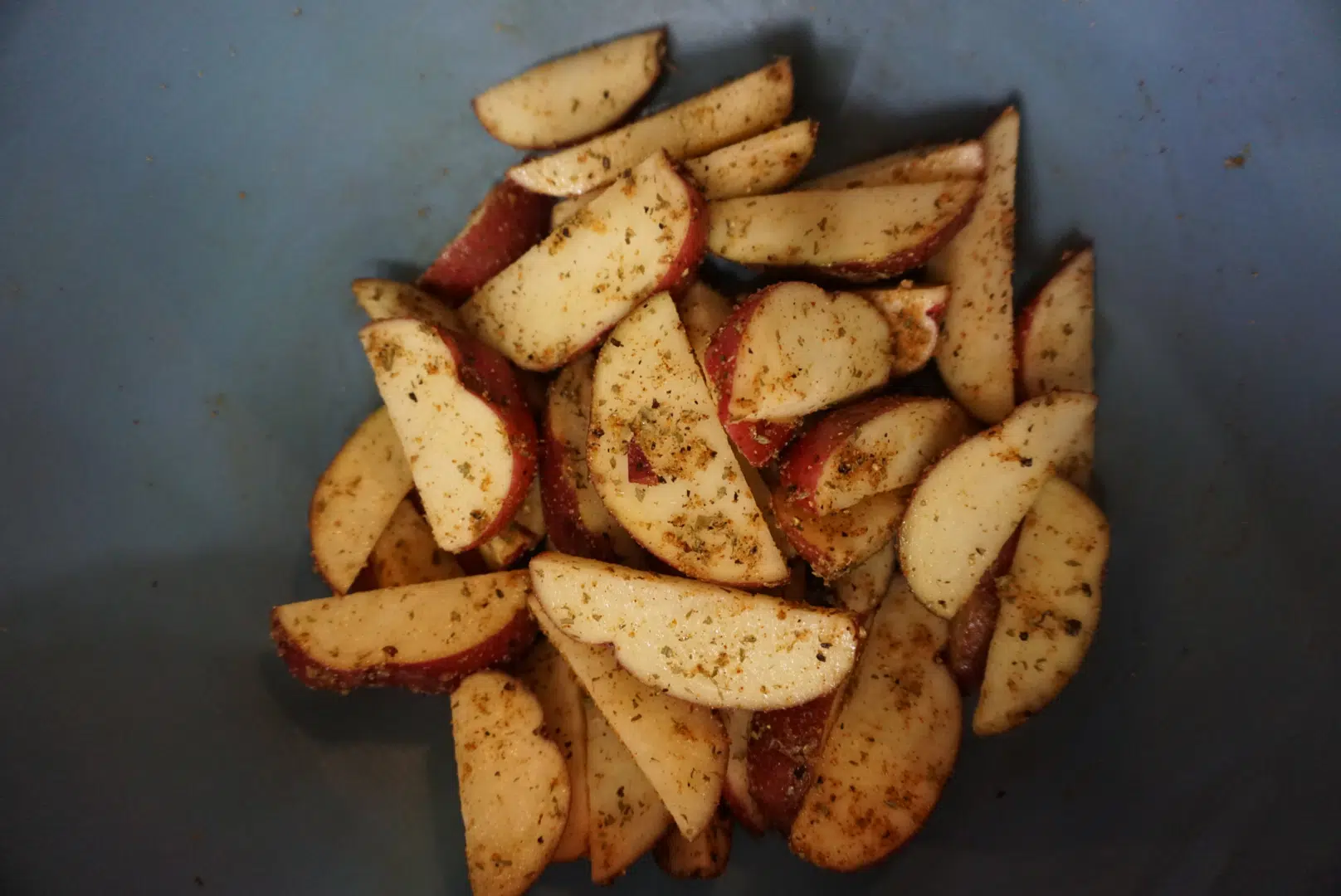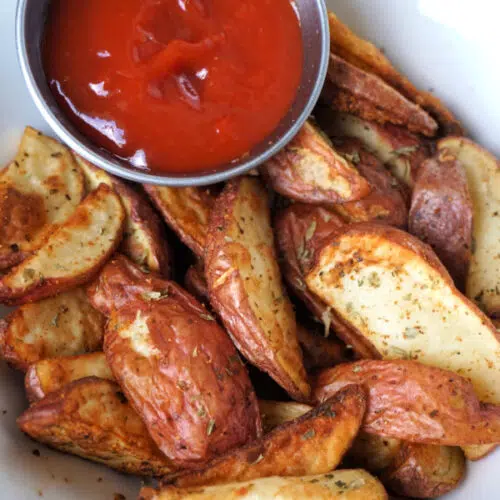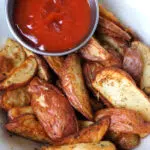 Print
WW Friendly Air Fryer Potato Wedges
Ingredients
345

g

Baby Red Potatoes

about 6 or 7 potatoes, dependent on size

1

teaspoon

Garlic Powder

½

teaspoon

Dried Parsley Flakes

½

teaspoon

Cajun Seasoning

¼

teaspoon

Black Pepper
Instructions
Wash and slice potatoes into wedges

Place in a bowl and spray with cooking spray

Sprinkle seasonings all around and shake bowl to distribute the seasonings evenly

Place Potatoes in Air Fryer basket

Air Fry on 400 degrees for 15 minutes, shaking basket half way through to redistribute
Notes
2 servings
WW Blue Plan: 4 sp
WW Green Plan: 4 sp
WW Purple Plan: 0 sp
Other Side Dishes you may like :
Broccoli Salad With Raisins and Nuts
These wedges are so easy and absolutely delicious! To put it in perspective, a side of Potato Wedges from Buffalo Wild Wings is 13 sp versus the 4 sp you are spending on this lightened up version. I promise, it will feel like you're eating fast food but you get to save so many points. You know what extra points mean? Room for dessert! I hope you enjoy this recipe as much as I do, don't forget to follow me on Instagram for more! @https://www.instagram.com/courtsuero