This Classic Wedge Salad is made with all the basic ingredients that you would get in a restaurant or steak house. Including iceberg lettuce, tomatoes, bacon bits, and bleu cheese crumbles.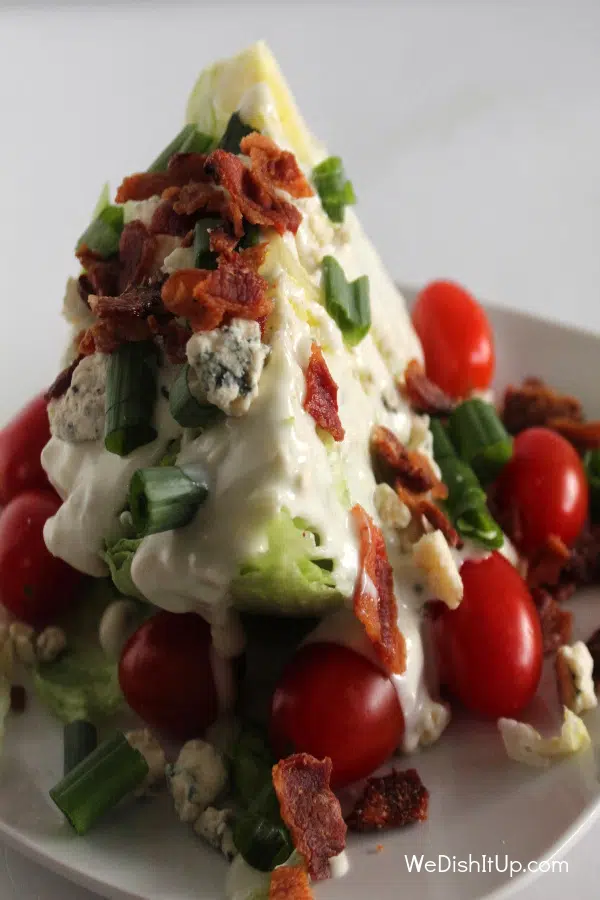 How to Make a Classic Wedge Salad
This Wedge Salad would go great with Tender Barbecue Pork Ribs Instant Pot /Grill or Amazing Stuffed Meatloaf. I often order a wedge salad when we go out to eat. However, I'm not a fan of bleu cheese so I usually ask for ranch instead.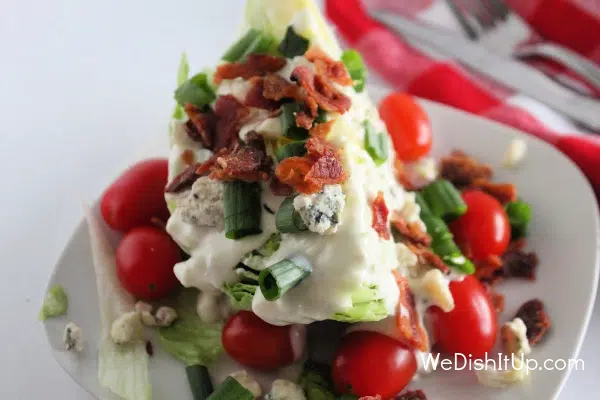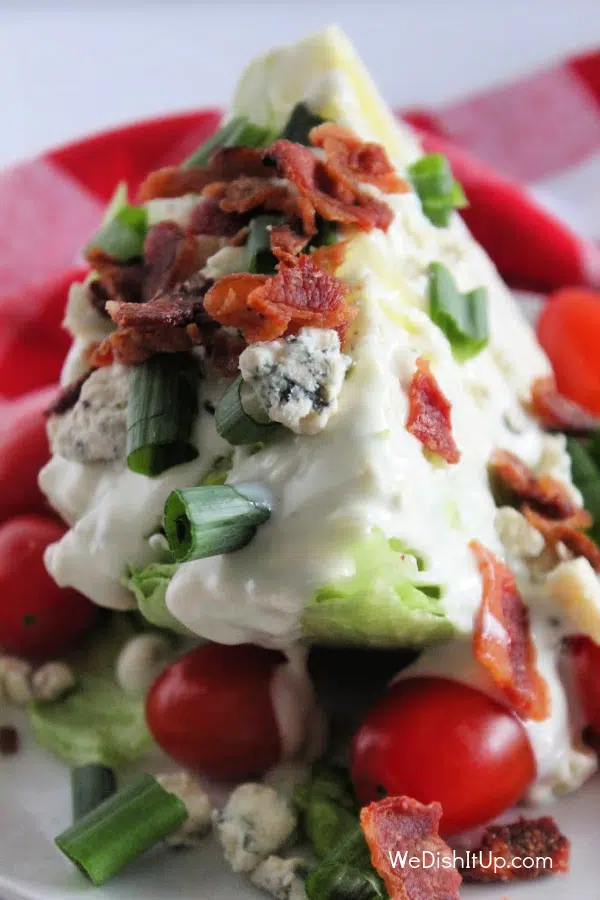 Iceberg lettuce is by far my favorite, I know they say that it has the least amount of nutrients. Romaine or leaf lettuce is better for you but not my favorites. I try to eat spring mix or spinach but to be honest, I have a hard time trying to make myself like it. I love a wedge but I really dont like blue cheese either lol. If I leave the blue cheese crumbles off and sub ranch dressing - yum. Most Steak houses they make the wedge salad huge. Joe and I can usually split one if we are eating a steak. We normally split a baked potato or mac and cheese also. With Joe doing keto now - the carby sides are out of there. A side of mushrooms or broccoli will always work though.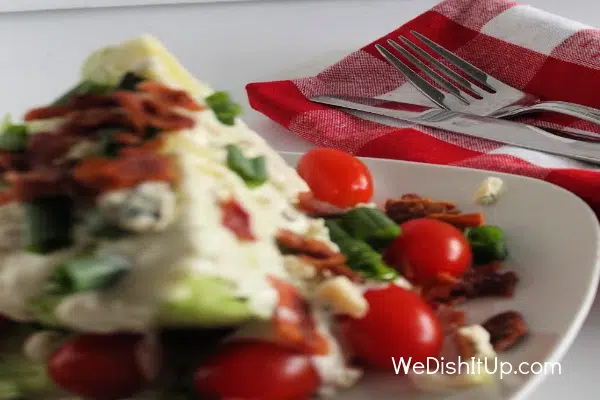 How to Make the Classic Wedge Salad:
INGREDIENTS :
Iceberg Lettuce
Cherry Tomatoes
Green Onions
Bacon Bits
Bleu Cheese Crumbles
Bleu Cheese Dressing (or dressing of choice)
INSTRUCTIONS
Wash and dry vegetables
Chop Lettuce into Wedges
Put Wedge on Plate
Cook , cool and crumble bacon
Set tomatoes around the wedge
Sprinkle bleu cheese crumbles, bacon, and green onions on the wedge
Serve with Bleu Cheese dressing or dressing of choice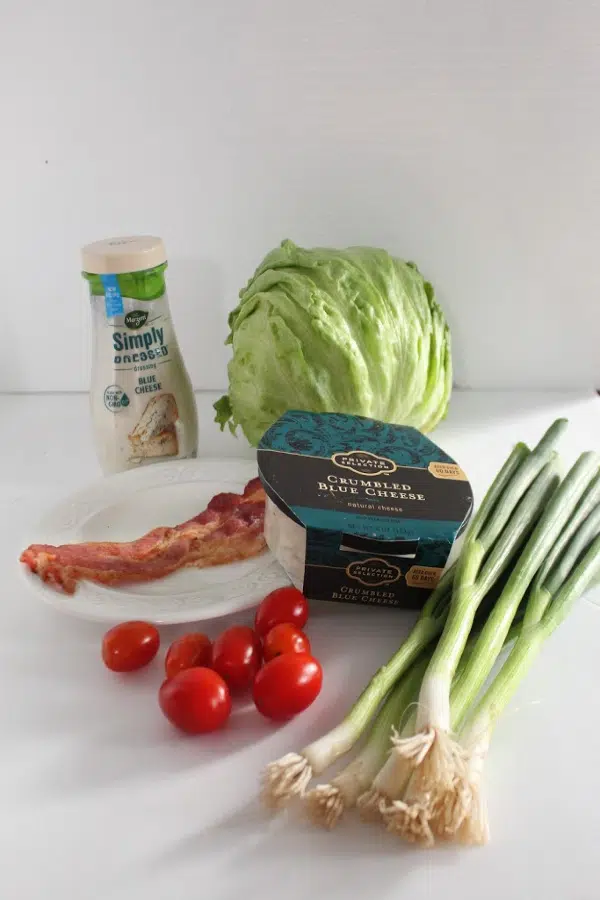 Wedge Salad Ingredients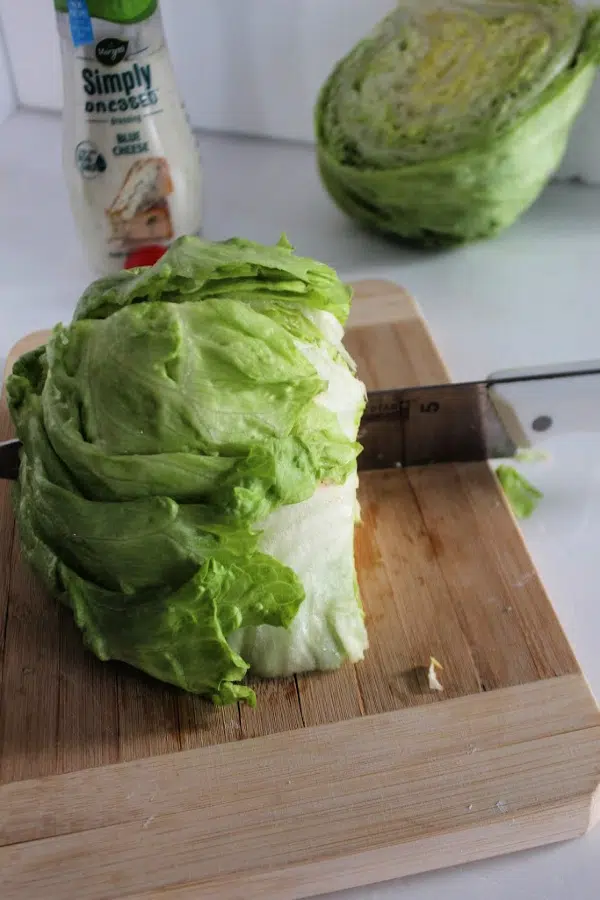 Chopping The Salad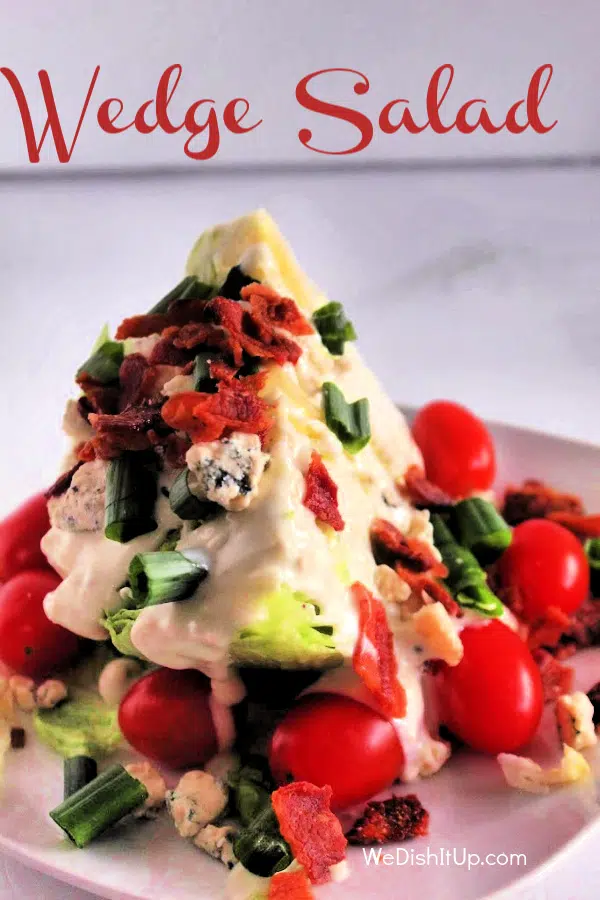 Looking For Dessert Ideas?
The Easiest Peach Cobbler You Will Ever Bake
Raspberry Poke Cake With Pudding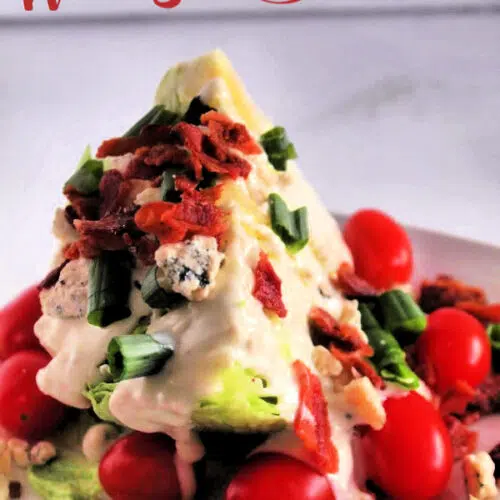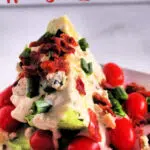 Print
How to Make The Classic Wedge Salad
A Classic Wedge - Iceberg Lettuce,Bacon Bits,Green Onions,Cherry or Grape Tomatoes , Bleu Cheese Crumbles and Bleu Cheese Dressing or Dressing of Choice
Ingredients
1

Head

Iceberg Lettuce

Cut into ¼'s

15-20

Cherry or Grape Tomatoes

6-8

Slices

Bacon

Cooked and Crumbled

4-6

Green Onions

Chopped

½

Cup

Bleu Cheese Crubles

1

Cup

Bleu Cheese Dressing
Instructions
Gather Ingredients for Wedge Salad

Cut head of lettuce into 4 wedges and put on plates

Divide tomatoes ,bacon crumbles, bleu cheese crumbles and green onions between 4 wedges

Drizzle dressing over Salad or serve on the side
Nutrition
Calories:
292
kcal
|
Carbohydrates:
10
g
|
Protein:
13
g
|
Fat:
23
g
|
Saturated Fat:
9
g
|
Polyunsaturated Fat:
4
g
|
Monounsaturated Fat:
8
g
|
Trans Fat:
1
g
|
Cholesterol:
35
mg
|
Sodium:
1051
mg
|
Potassium:
474
mg
|
Fiber:
2
g
|
Sugar:
6
g
|
Vitamin A:
1251
IU
|
Vitamin C:
21
mg
|
Calcium:
185
mg
|
Iron:
2
mg