This Extra Easy Lemonade Cream Cheese Pie is absolutely delicious. Made with cream cheese, frozen lemonade concentrate, lemon pudding, evaporated milk, and cool whip. It is light and airy and you will love it.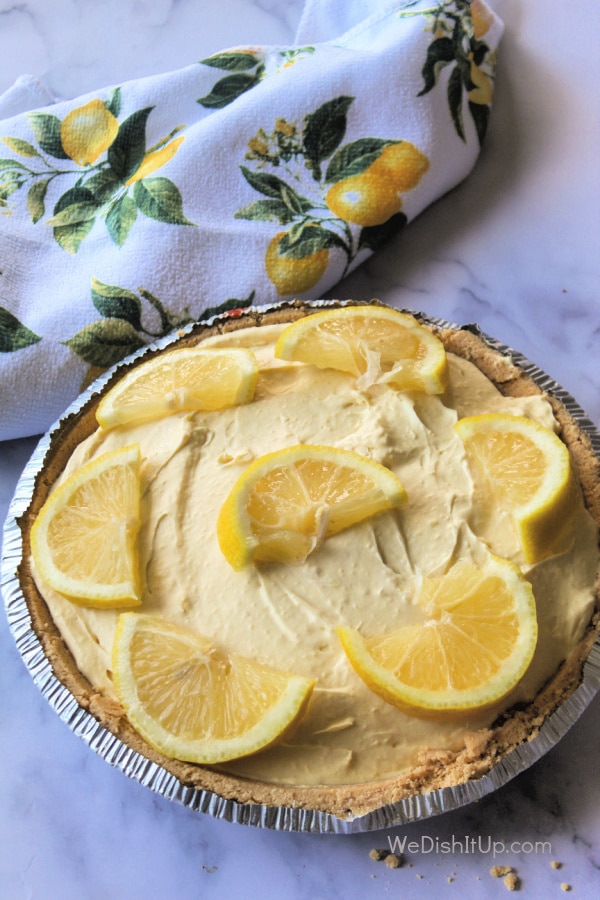 Lemonade Cream Cheese Pie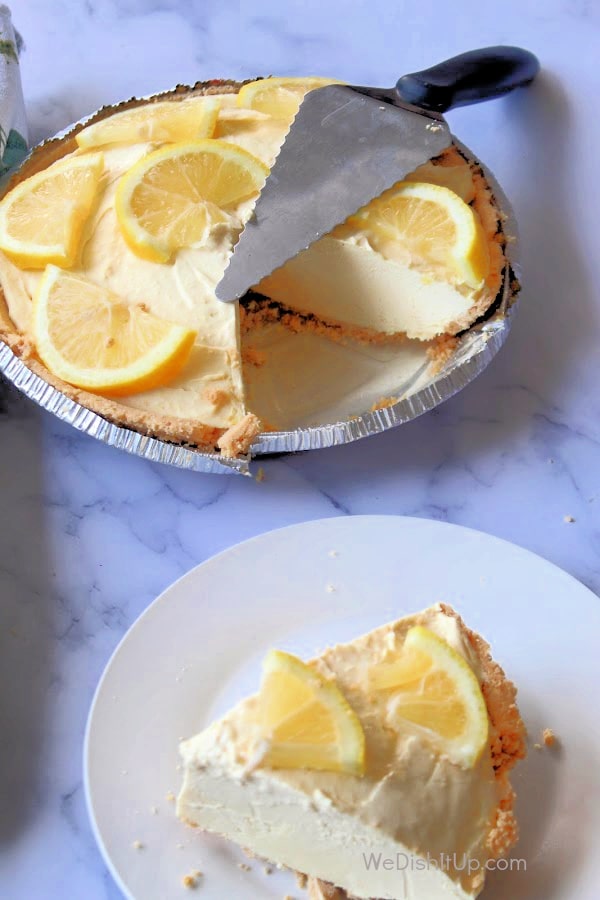 This no-bake pie is so easy to make. By using a pre-made graham cracker crust makes it even easier. Do you have a favorite no-bake dessert? I have a few favorites myself The Best No -Bake Cherry Cheesecake and EASY NO BAKE BANANA CREAM PIE ! are just a couple in my rotation. However, this one will definitely now be at the top of my list.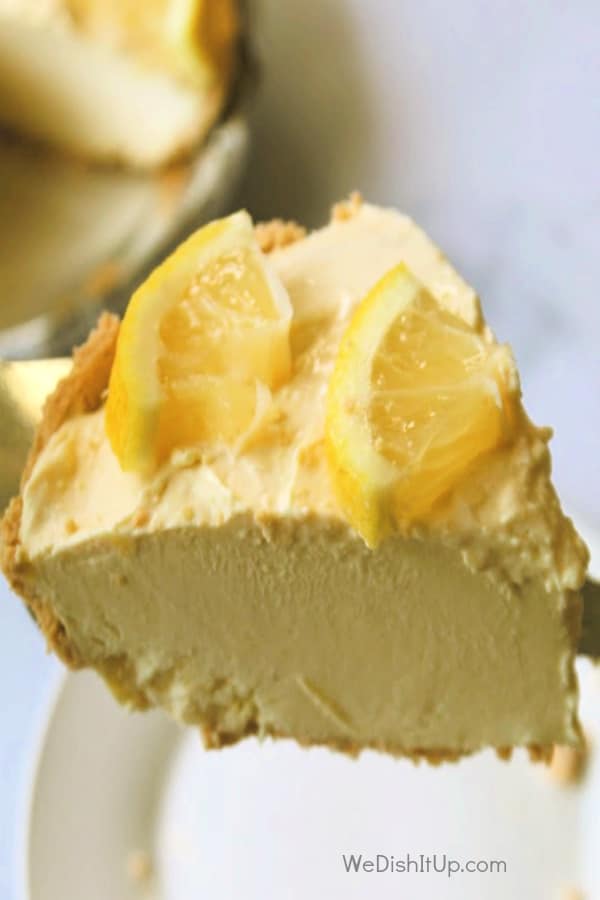 Sweets are definitely my weakness. Whether its pie, cake, or ice cream, my will power is zero. This Lemonade pie was especially yummy because it has a blend of tart lemons and gets it, sweetness, from the pudding and cool whip. It is a perfect blend for sure.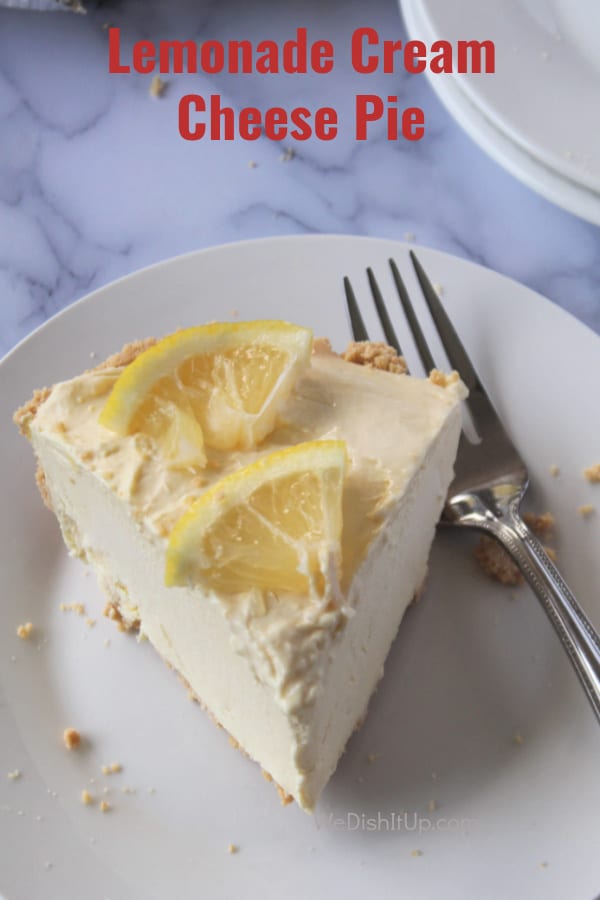 So, although it seems like fall is just around the corner, this pie will let you hang on to a little bit of summer. Summer is definitely my favorite season, although it seems to go quicker every year. I try to hang on to it for as long as I can.
Can I Freeze Lemonade Cream Cheese Pie?
You sure can, it will keep in the freezer in an airtight container for 3-6 months. When you are ready to serve - remove from freezer and let thaw in the refrigerator. Best if served chilled.
Ingredients Needed For Pie :
Homemade or store-bought graham cracker crust
Cream Cheese
Instant Lemon Pudding
Fresh Lemons
Frozen Lemonade Concentrate -thawed
Cool Whip
Evaporated Milk
Directions for Making Pie :
In a large bowl, whisk together milk and pudding mix on low speed until thickened.
In another large bowl, beat cream cheese until light and fluffy.
Add lemonade concentrate, beating until blended.
Combine with pudding mixture, and beat until blended.
Fold in Cool Whip
Spread into pie crust
Garnish with lemon slices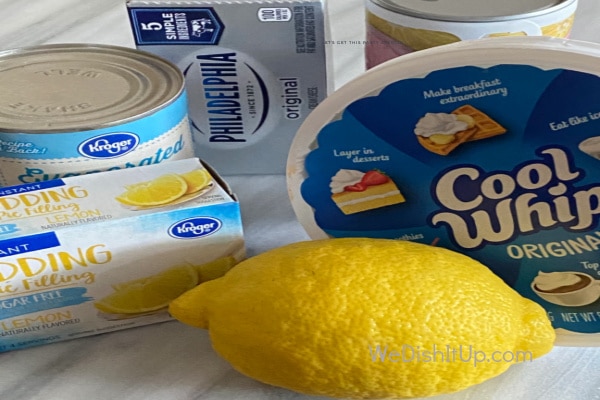 Ingredients for Lemon Pie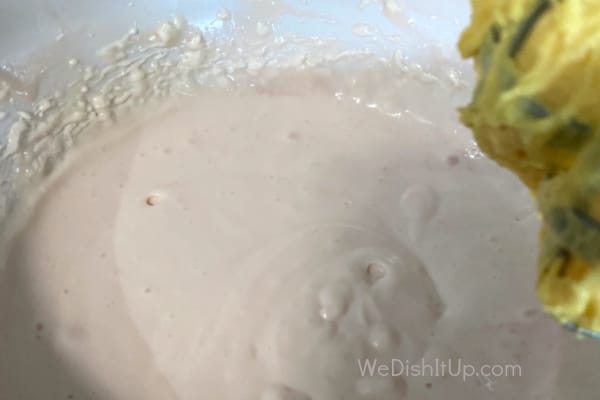 Mixing Cream Cheese
Filling In Pie Crust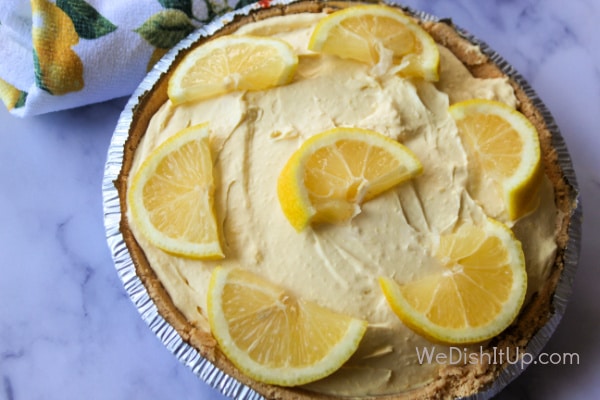 Lemonade Pie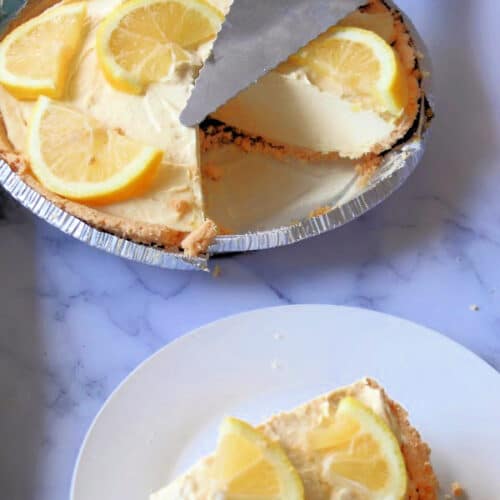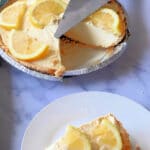 Print
Lemonade Cream Cheese Pie
Graham Cracker Crust, Cream Cheese, Lemonade, Cool Whip and Fresh Lemons
Equipment
Mixing Bowl, serving bowl , spatula
Ingredients
1

Graham Cracker Crust

2

8oz Blocks

Cream Cheese

Softened

1

cup

Thawed Lemonade Concentrate

1

can (12 oz)

Evaporated Milk

1

box (small)

Instant Lemon Pudding

I used sugar -free

1

tub (8 oz)

Cool Whip

1

large

Fresh Lemon
Instructions
In a large bowl, whisk together milk and pudding mix on low speed for 2 minutes or until thickened.

In another bowl, beat cream cheese until light and fluffy, about 3 minutes.

Add lemonade concentrate, to cream cheese beating until blended,. combine with pudding mixture, and beat until blended.

Spread filling in a graham cracker crust

Garnish with fresh lemon slices

Refrigerate for 4 hours and serve
Other Recipes You May Like :