This Philly Cheesesteak Crescent Calzone is delicious. You will not believe how easy it is to make. Shaved steak, provolone cheese, mushrooms, onions, and peppers. All inside a golden crescent roll crust.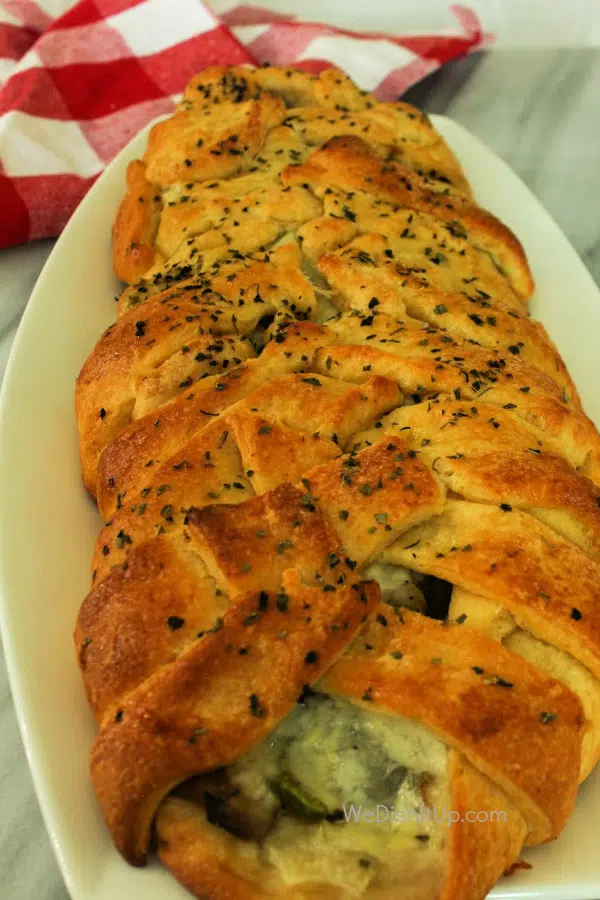 Philly Cheesesteak Crescent Calzone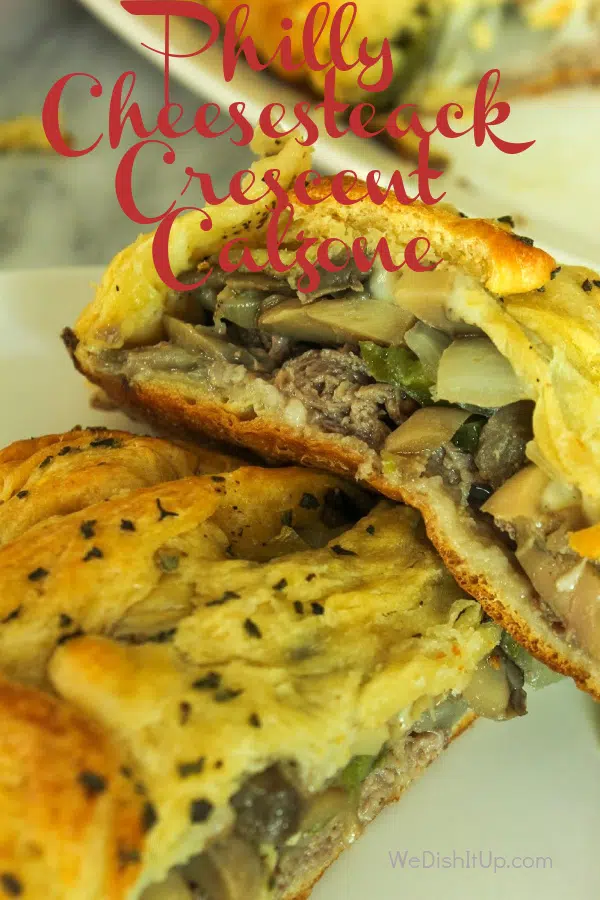 Using crescent rolls as a short cut for crust or dough is a game-changer. If you are in a hurry or just want to make your recipe quicker, crescent rolls are perfect. The crescents can be rolled out flat or folded as needed. Did you try Super Easy Cheese Danish or Cinnamon Apple Turnovers?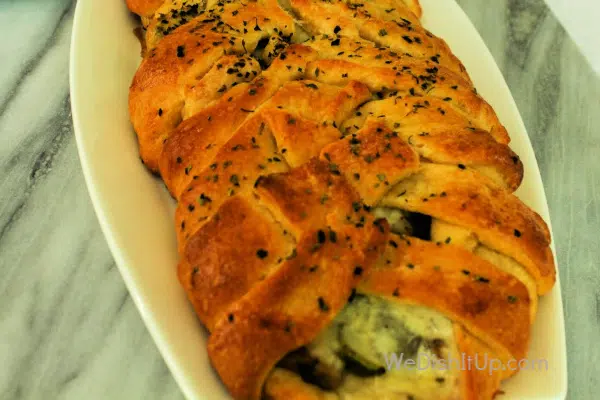 Fresh out of the Oven
Does everyone in your house love Philly Cheesesteaks as much as my house does? Making everyone's all together in this calzone in the oven, will save you tons of time. The golden brown crescent crust is delicious. Adding the mushrooms, onions, and green peppers adds even more flavor. If you are looking for a side dish to go with your calzone, try How to Make a Classic Wedge Salad or some All Star Buffalo Chicken Wings.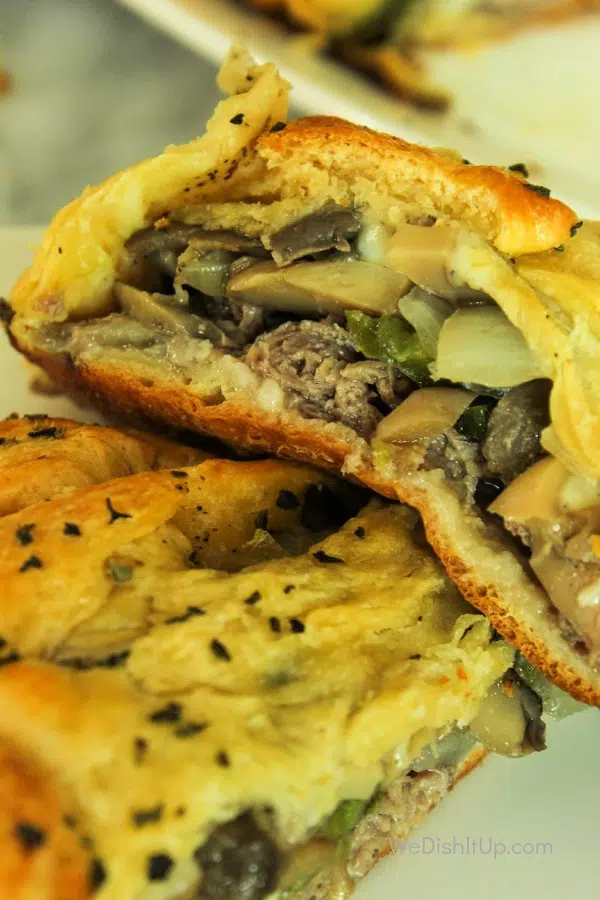 Ready To Serve
How to Make Philly Cheesesteak Crescent Calzone :
INGREDIENTS NEEDED :
Shaved Steak
Crescent Rolls
Provolone Cheese
Egg (beaten for egg wash)
Onion
Green Pepper
Mushrooms
Garlic Salt or Powder
Black Pepper
Butter (for sauteing veggies)
Oregano
INSTRUCTIONS:
Pre-heat Oven
Roll out Crescents on Parchment Paper
Sautee Mushrooms, sliced Onions and Green Peppers
Spread Steak evenly on to Crescent
Add veggie mix
Provolone on top of Veggies
Sprinkle Garlic Salt and Pepper
Make Slits in Crescents and fold over alternating to make a Braid
Beat Eggs and a teaspoon of water
Brush on Calzone
Sprinkle oregano on top
Bake
Cool , cut serve
Serve with optional mayo or marinara
Calzone Ingredients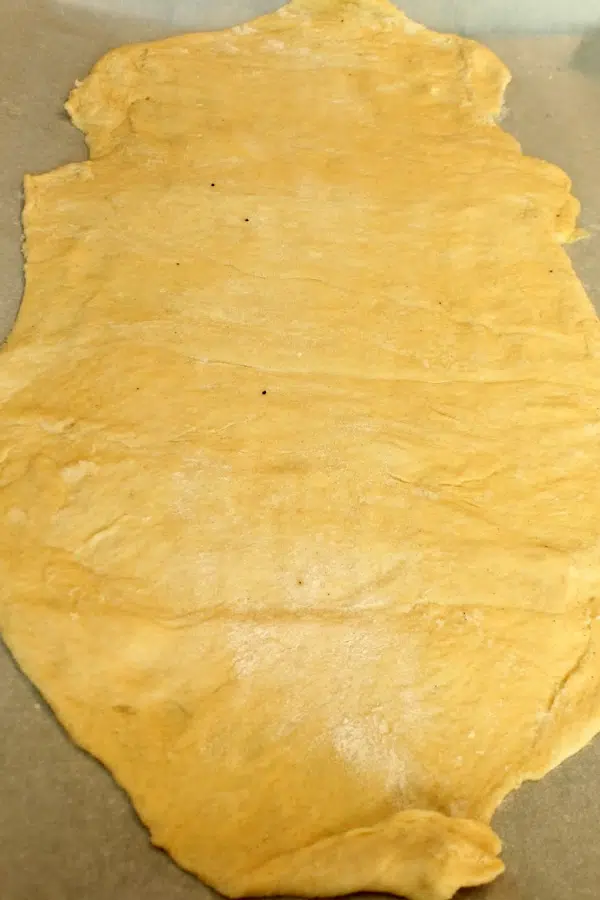 Crescents Rolled Out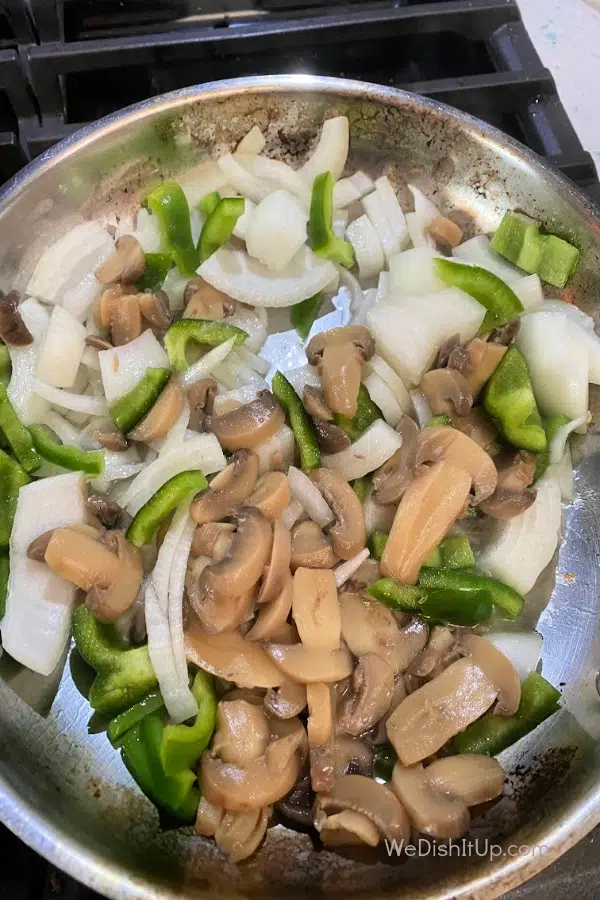 Sauteing the Veggies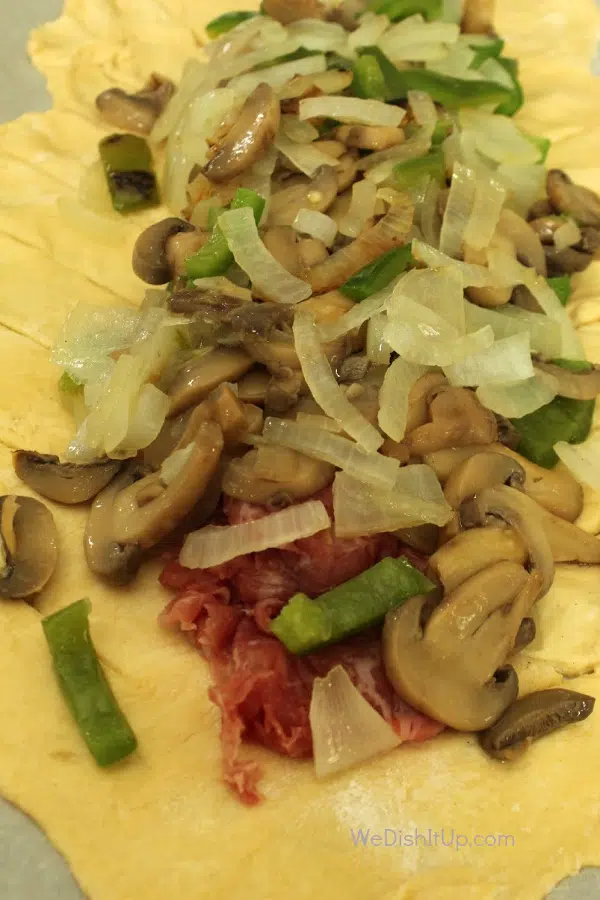 Filling the Calzone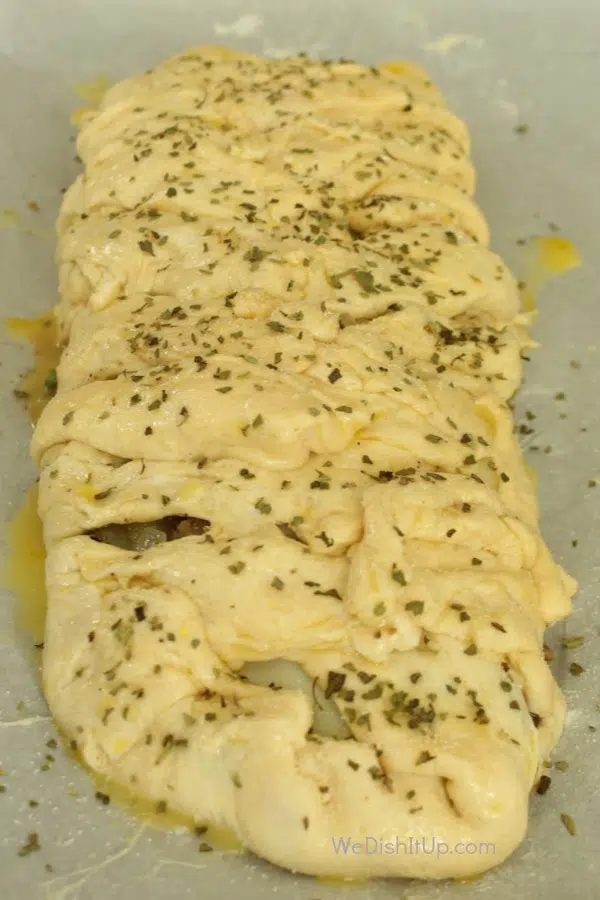 Ready for the Oven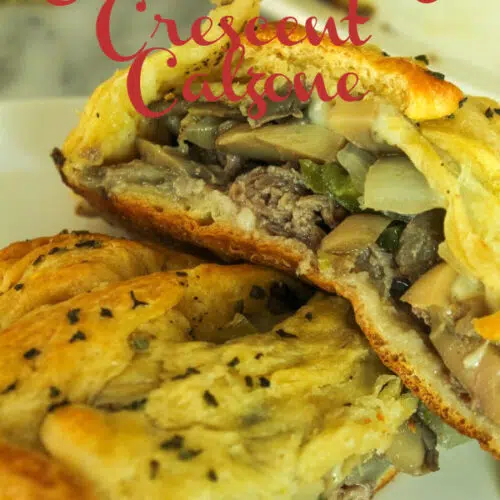 Print
Philly Cheesesteak Crescent Calzone
Shaved steak, provolone cheese, mushrooms, onions, green peppers in a baked crescent roll crust
Ingredients
12

oz

Shaved Steak

1

Tube

8 Count Crescent Rolls

4-5

Slices

Provolone Cheese

1

Egg

4

oz

Canned Mushrooms

½

Medium Onion

Sliced Thin

½

Green Pepper Sliced

½

teaspoon

Garlic Powder or Garlic Salt

½

tsp

Black Pepper

¼

teaspoon

Oregano

1

teaspoon

Butter

Sauteing Veggies
Instructions
Line a baking sheet with a silicone liner or parchment paper and set aside

Roll Out Crescent Rolls making a Rectangle (pinch together if necessary)

In a Skillet on Medium Heat Sautee Veggies in Butter until Semi Soft (4-5 minutes)

Place dough on baking sheet.

Cut slits approxx 1 inch apart on both long sides of dough.

Distribute Steak evenly down center of the dough

Cover with slice of Provolone Cheese

Sprinkle Garlic Powder or Salt,and Black Pepper on Filling

Rotating Dough Strips Close up Calzone

Beat Egg and teaspoon of Water

Baste Egg Wash On Calzone

Sprinkle Oregano on Calzone

Bake 18-20 minutes until Golden Brown

Let cool for 3-5 minutes and cut and serve

Serve with mayonnaise or Marinara
Nutrition
Calories:
478
kcal
|
Carbohydrates:
26
g
|
Protein:
26
g
|
Fat:
31
g
|
Saturated Fat:
15
g
|
Polyunsaturated Fat:
5
g
|
Monounsaturated Fat:
10
g
|
Trans Fat:
1
g
|
Cholesterol:
109
mg
|
Sodium:
800
mg
|
Potassium:
342
mg
|
Fiber:
1
g
|
Sugar:
7
g
|
Vitamin A:
329
IU
|
Vitamin C:
12
mg
|
Calcium:
164
mg
|
Iron:
3
mg