This Easy Watermelon Fruit Basket is so easy to make. It is bursting with grapes, cantaloupe, and blue berries. If you take this to a pot luck, you will be a hit for sure.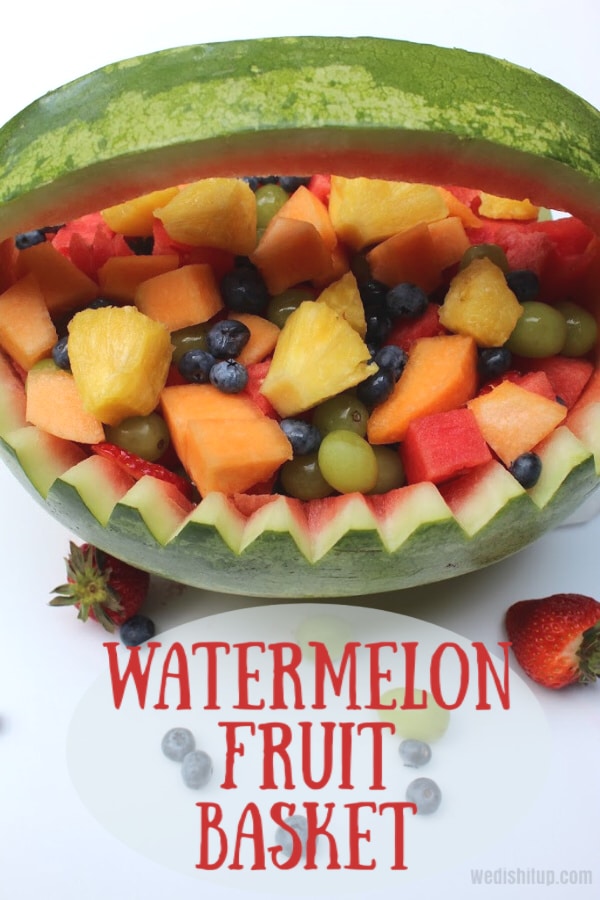 Watermelon Fruit Basket
Over the years well we were raising our kids we often took the Watermelon Fruit Basket to pot lucks or barbeques. Our kids always thought it was fun to watch their dad cut it and put it together. Of course, they didn't mind eating it either.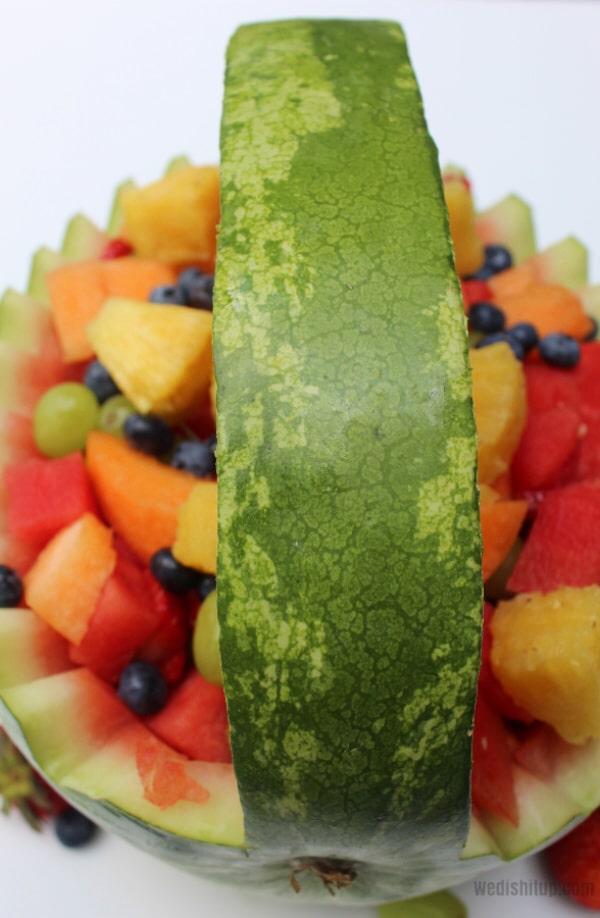 I always felt good taking the Watermelon Fruit Basket as our dish to pass at picnics or barbeques. Joe always got tons of praise for how cute it was. There was always plenty to go around and Watermelon Fruit Bowl is a healthy option.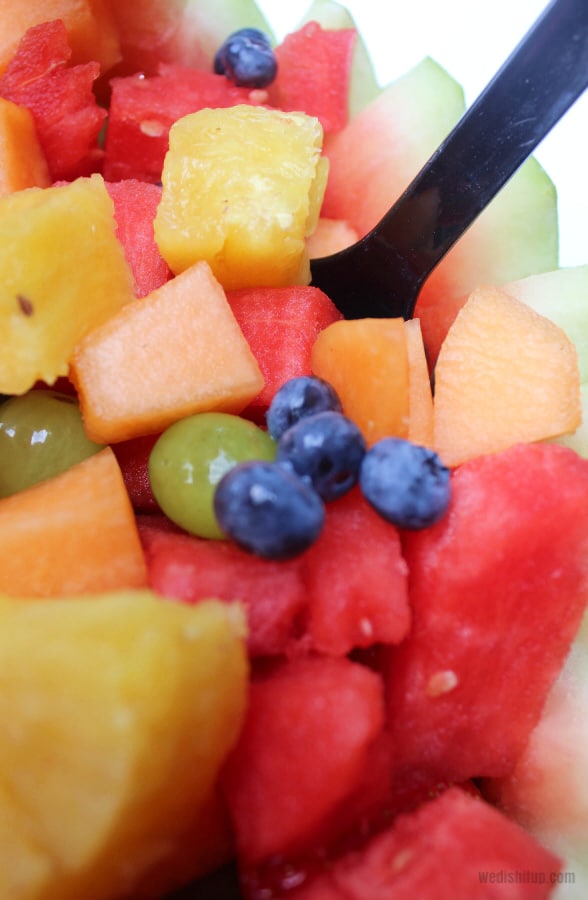 On the 4th of July, we had a barbeque and all our kids and grandkids came over as well as a few friends. Just like our own kids, our grandkids were in awe. They thought PaPas Watermelon Fruit Basket was so cool.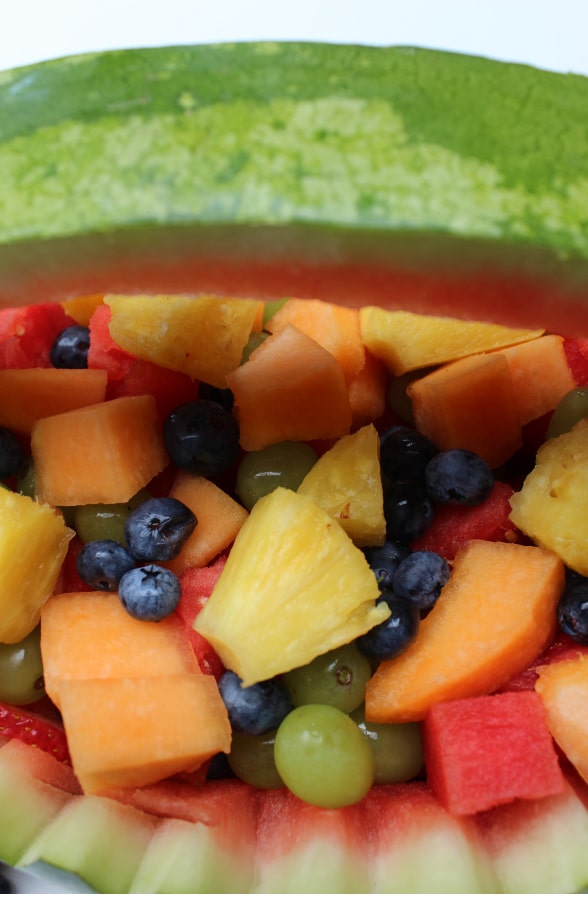 We have always kept it pretty basic just making a handle and a scalloped edge. There are many great ideas out there for carving your watermelon and doing all kinds of fancy designs. I will add links at the bottom of my posts to other bloggers or carving artists if you'd like to check them out. The fruits you use in addition to the watermelon can vary by choice and season.
For this festive Fruit Basket, we used the following: Obviously watermelon, green grapes, strawberries, blueberries, pineapple, and cantaloupe. The fruit is all so colorful and fresh-looking, most people find it irresistible. If you are by chance are not a fruit lover, (as odd as I find that haha). I have several other great dessert or side dishes you could make to take to your picnic or pot luck. Be sure to try Fluffy Watergate Salad or Soft Oatmeal Raisin Cookies.
So give this great fruit dish a Try and let me know how it went.
How to Make Easy Watermelon Fruit Basket:
You will have extra watermelon after filling your basket - serve in a separate dish or stick it in an airtight container and save for yourself to have later.
As promised here are some links to some fancy watermelon carving sites:
Watermelon.org has quite a few great fruit carving ideas to try!
Check out this Watermelon Baby Carriage that would be great for a baby shower.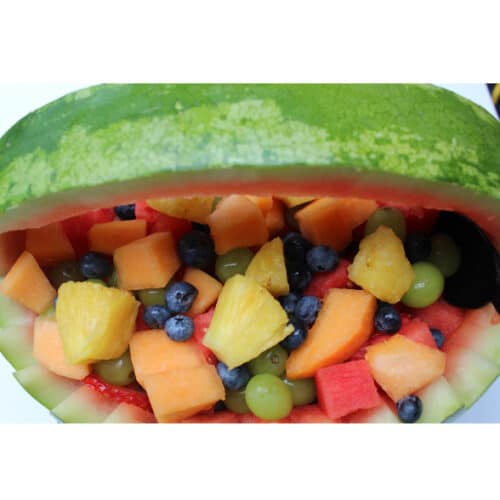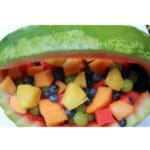 Print
Watermelon Fruit Basket
Watermelon with various fresh fruit
Equipment
cutting board, large butcher knife, serrated edge knife for scalloping sides, tape for marking handle
Ingredients
1

large

watermelon

1

qt

strawberries

1

pineapple

½ lb

green seedless grapes

1

pint

blueberries

1

medium

cantaloupe
Instructions
1. Place watermelon width-wise on a flat surface. Roll melon until it settles into a position where it remains stable or cut a thin slice from the bottom to provide stability. As shown, use strips of masking tape to mark lines of handle and rim of the basket.



2. With a pencil or with the point of your serrated knife, draw on the watermelon where you want the scalloped edge to be on the basket

3.– Using a sharp knife, cut into the watermelon along the scalloped pencil lines. Next, cut a large wedge from the area on both sides of the handle, leaving about an inch above the scalloped rim. Remove wedge, inserting knife behind the scallops, cut straight down into the melon close to the rind, cutting deep enough to release top part of the rim. Lift and discard.



4. Remove masking tape. Scoop out a watermelon from the rind. , add your other fresh fruit combined with watermelon cut into one-inch cubes. You will also want to cube your pineapple and cantaloupe. I normally use some of the strawberries whole and some sliced.

The finished look is really awesome.