Who needs Star Bucks when you can make your own Pumpkin Spice Latte at home. Easy to throw together at home in just a few minutes.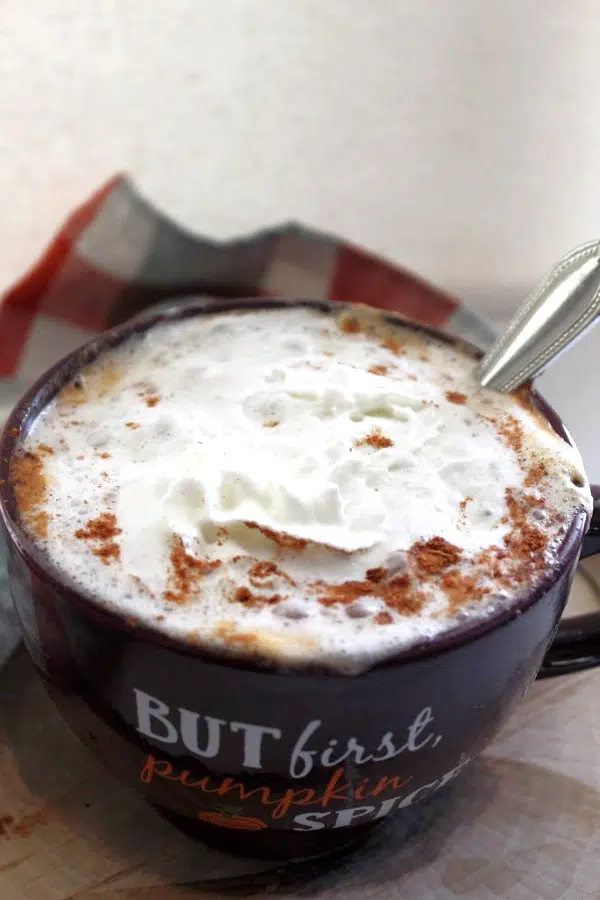 PUMPKIN SPICE LATTE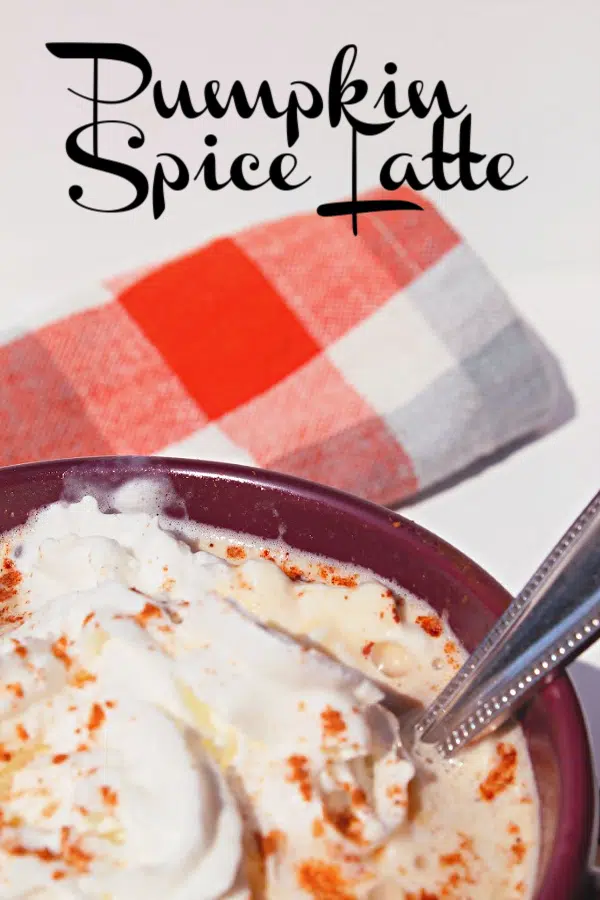 With it being 90 outside all week, it's hard to get in fall mode. However, as promised I have a lot of pumpkin and apple recipes to share. If you didn't check out Pumpkin Spice No-Churn Ice Cream, Pumpkin White Chocolate Chip Cookies PUMPKIN CREAM CHEESE MUFFINS or Cinnamon Apple Turnovers please try them they are fantastic.
I'm not a huge coffee drinker, I drink it occasionally, mostly if I'm visiting my mother. All of my family gathers at my mother's kitchen table and drinks coffee any chance they get. It is kind of a family tradition. When fall comes around and all the pumpkin creamers come out and Star Bucks releases their Pumpkin Spice Latte, I usually start drinking a lot more coffee because I love the pumpkin spice. I don't, however, like making a trip to Star Bucks to get it or paying 4 or 5 bucks for a beverage.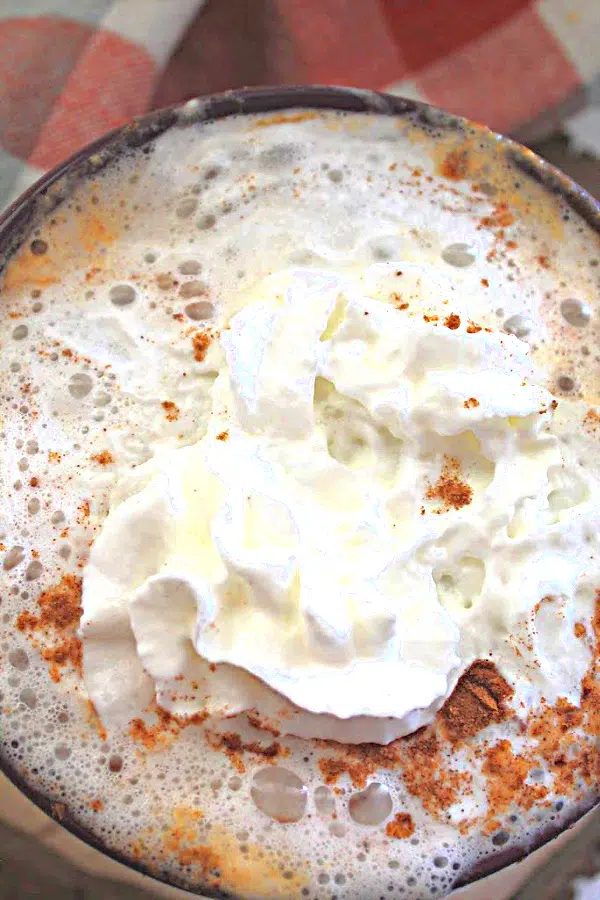 Making your own homemade Pumpkin Spice Latte at home is so simple. You most likely already have most of the ingredients in your cabinet. Just be sure to stock up on Pumpkin during the holiday season when you find it on sale. There are so many great recipes to make over the holidays that call for pumpkin puree. Do you know how many Pumpkin Spice Lattes I can make for the price of one Starbucks Latte!? I don't know, but f you have the answer, please let me know. In addition to saving money and time running to Star Bucks, you will also have control over what goes into your latte. The pumpkin spice craze takes over between August and November and by now every recipe has a pumpkin spice version. Whether you want it or not.
All you need to make Pumpkin Spice Latte at home is milk, pumpkin puree (not pie filling), maple syrup, pumpkin pie spice, vanilla extract (pure is best but go with what you have) espresso or coffee and whipped cream for garnish.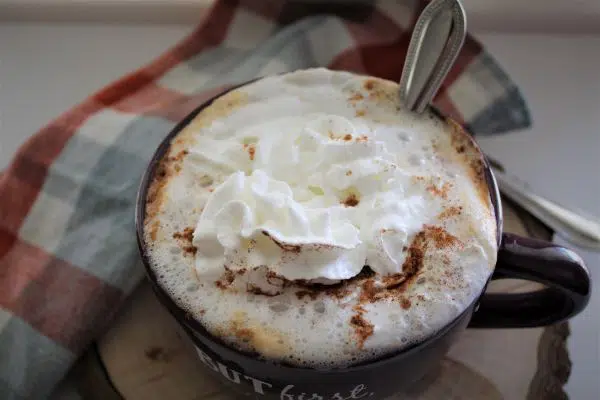 So follow these easy directions to make your own latte at home. Stop back and comment let us know how it came out and if you made any changes.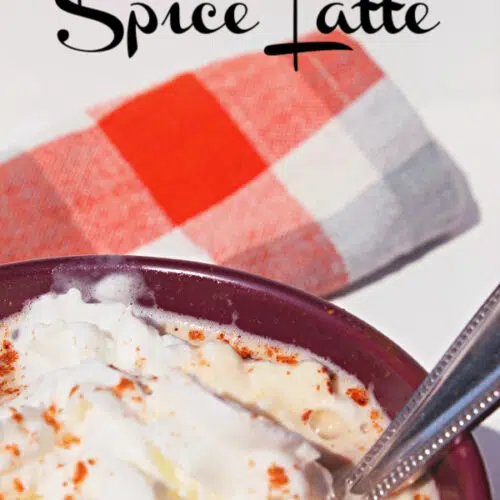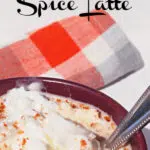 Print
Pumpkin Spice Latte
Pumpkin spice latte with milk, pumpkin puree, maple syrup, pumpkin pie spice, vanilla , coffee and whipped cream
Ingredients
1

Cup

Whole Milk

2% or skim can be used if preferred

3

tablespoon

Pumpkin Puree

1

Tbsp

Maple Syrup

I used sugar-free

1

tsp

Pumpkin Pie Spice

more for garnish

6 oz

Strong Coffee

or espresso

Whipped Cream

to taste
Instructions
Over medium-high heat in a saucepan, whisk together milk, pumpkin puree, maple syrup, pumpkin spice, and vanilla extract. Cook, whisking continuously until mixture is hot, put in a blender I used my ninja or an immersion blender may be used, until frothy.

Pour hot coffee or espresso into two small cups or one large mug, top pumpkin with pumpkin -spice foamed milk. Top with whipped cream and sprinkle with pumpkin pie spice
Please join our mailing list at the top of the page to be notified when there is a new post on the blog.
Facebook @https://www.facebook.com/WeDishItUp
Follow us on Pinterest @https://www.pinterest.com/WeDishItUp
Follow us on Instagramhttps://www.instagram.com/wedishitup/