Easy ST. Patricks Day Fudge is so quick and easy to make. With sugar, marshmallow, butter, whipping cream, mint flavoring, and green. candy melts all blended together. This candy is the perfect treat for a party or potluck.
ST. Patricks Day Fudge
Making candy is always fun, at Christmas time I made Easy Christmas Fudge and Melting Snowman Bark both came out really good. Which gave me the plan to make an ST. Patricks Day Fudge version. With green candy melts and mint flavoring - Yum. It is really rich but so good. I used to be afraid of making candy, thinking that it was easy to mess up if you didn't get the temperature just right. There have definitely been a few times that fudge didn't get hard. It was usually good eating it with a spoon though. There were also the times that it hardened too quickly. You know its hard in the pan and won't dump out into your baking dish -haha.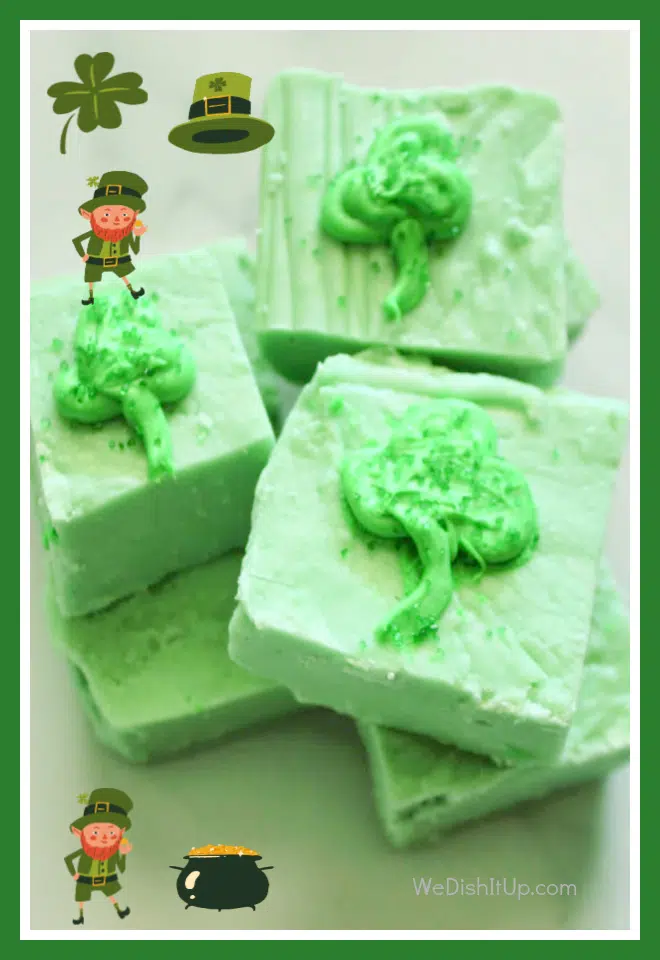 My shamrocks on my fudge definitely leave a lot to be desired Sorry about that, I didn't realize until now. Originally my plan was to use white chocolate, either white chocolate chips or block white chocolate. However, after realizing I still had green candy melts in the freezer from Christmas .-Perfect, I wasn't sure if it would come out too dark, but with the white marshmallow cream it lightened it up some.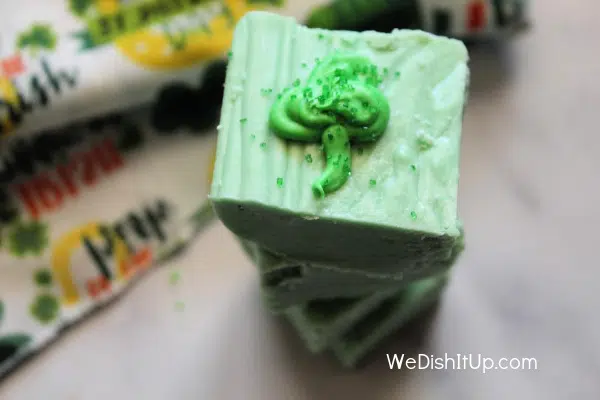 How To Make ST. Patricks Day Fudge:
INGREDIENTS NEEDED
Butter
Heavy Cream
Sugar
Marshmallow Cream
Peppermint Extract
Salt
Green Candy Melts (white chocolate chips and food coloring can be subbed)
INSTRUCTIONS:
Grease or line a 9x9 baking dish (line with foil or parchment paper - or grease well with butter or food release)
Heat butter in a saucepan over medium heat until nearly completely melted.
Add cream, salt, and sugar, stirring until sugar melts, continue to heat, stirring occasionally until candy begins to boil.
Using a candy thermometer he until it reads 235. (if you don't have a thermometer, heat until soft ball stage when dropped in cold water)
Remove pan from heat, add candy melts, marshmallow cream, and peppermint extract.
Stir vigorously until smooth -return to heat if necessary (if too stiff to mix)
Pour into baking dish
Let sit at room temperature for 3-4 hours or in the refrigerator for 1-2-until firm
Decorate with sprinkles or shamrocks made with icing -if you choose
Cut and Serve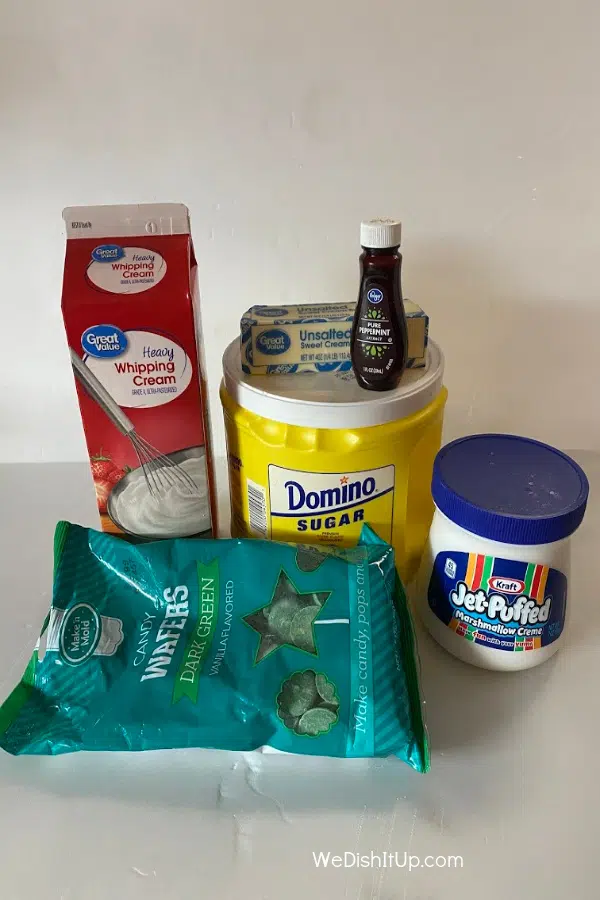 Ingredients for Fudge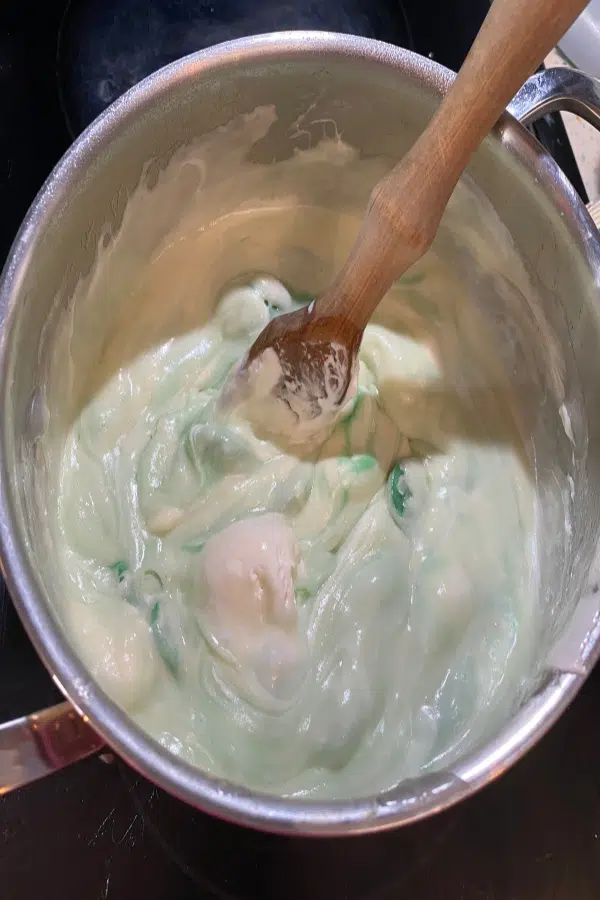 In Process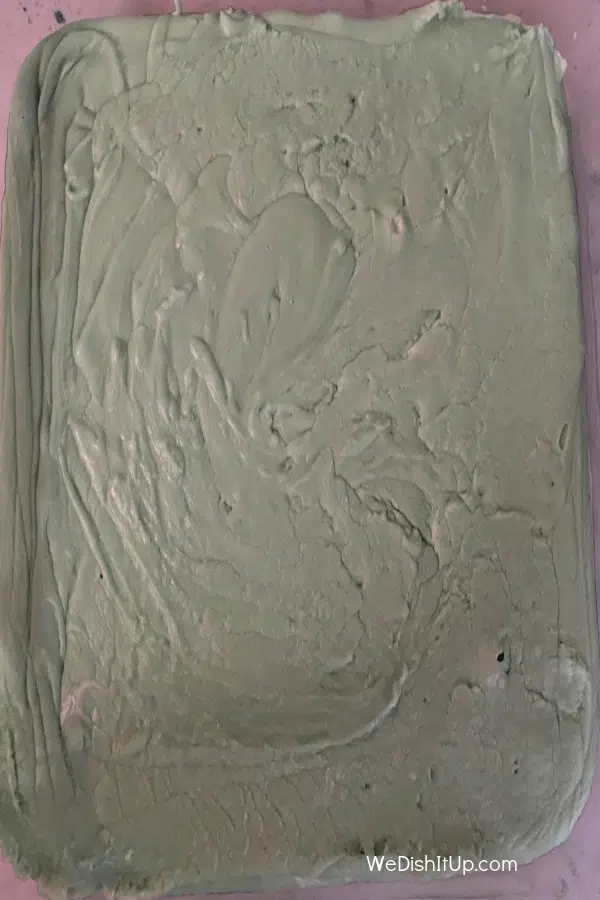 Ready To Cool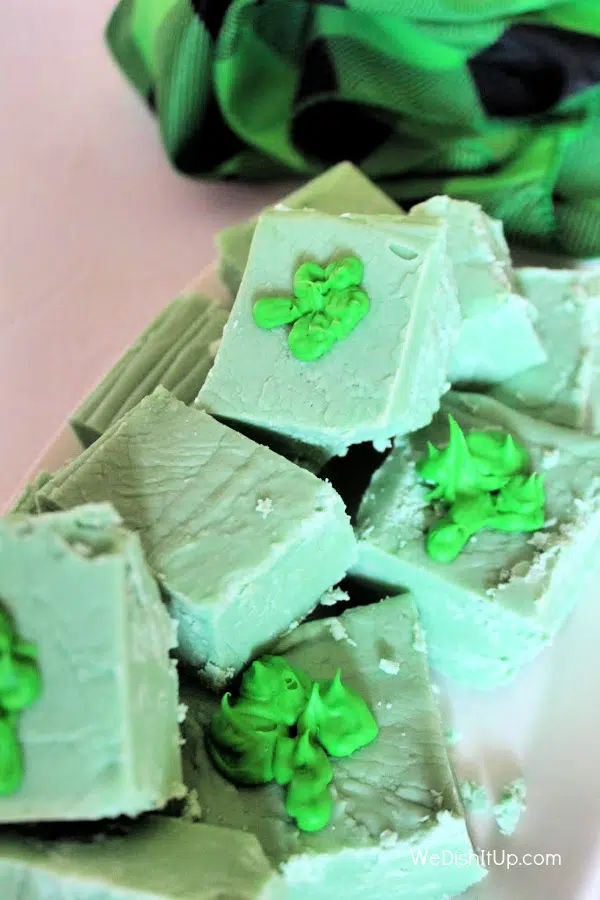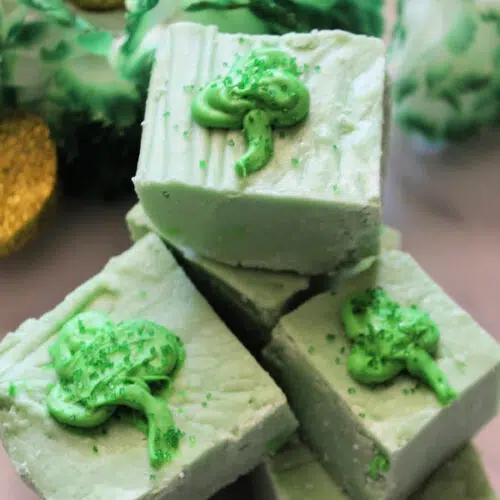 Print
St. Patrick's Day Fudge
Green Fudge with marshmallow cream and peppermint flavoring
Equipment
stove, sheet pan, mixing bowl

Candy Thermometor
Ingredients
½

Cup

Soft Unsalted Butter

½

Cup

Heavy Cream

2

Cups

Sugar

½

teaspoon

Salt

14 oz

Bag

Green Candy Melts

Or white chocolate with green food coloring

7 oz

Marshmallow Cream

1

teaspoon

Peppermint Extract

Optional Sprinkles or Icing
Instructions
Grease or line a 9x9 baking dish (line with foil or parchment paper - or grease well with butter or food release)

Heat butter in a saucepan over medium heat until nearly completely melted.Add cream, salt, and sugar, stirring until sugar melts, continue to heat, stirring occasionally until candy begins to boil.

Remove pan from heat, add candy melts, marshmallow cream, and peppermint extract. Stir vigorously until smooth -return to heat if necessary (if too stiff to mix)

Pour into baking dish Let sit at room temperature for 3-4 hours or in the refrigerator for 1-2-until firm

Decorate with sprinkles or shamrocks made with icing -if you choose , Cut and Serve
Nutrition
Calories:
892
kcal
|
Carbohydrates:
123
g
|
Protein:
1
g
|
Fat:
43
g
|
Saturated Fat:
39
g
|
Polyunsaturated Fat:
1
g
|
Monounsaturated Fat:
1
g
|
Cholesterol:
14
mg
|
Sodium:
250
mg
|
Potassium:
9
mg
|
Sugar:
123
g
|
Vitamin A:
146
IU
|
Vitamin C:
1
mg
|
Calcium:
7
mg
|
Iron:
1
mg