Look at this adorable 4th of July Red White and Blue Jello Cheesecake Parfaits. They have jello, cream cheese, whipped cream, and blueberries. Oh and of course a cherry of course.

Red White and Blue Jello Cheese Cake Parfaits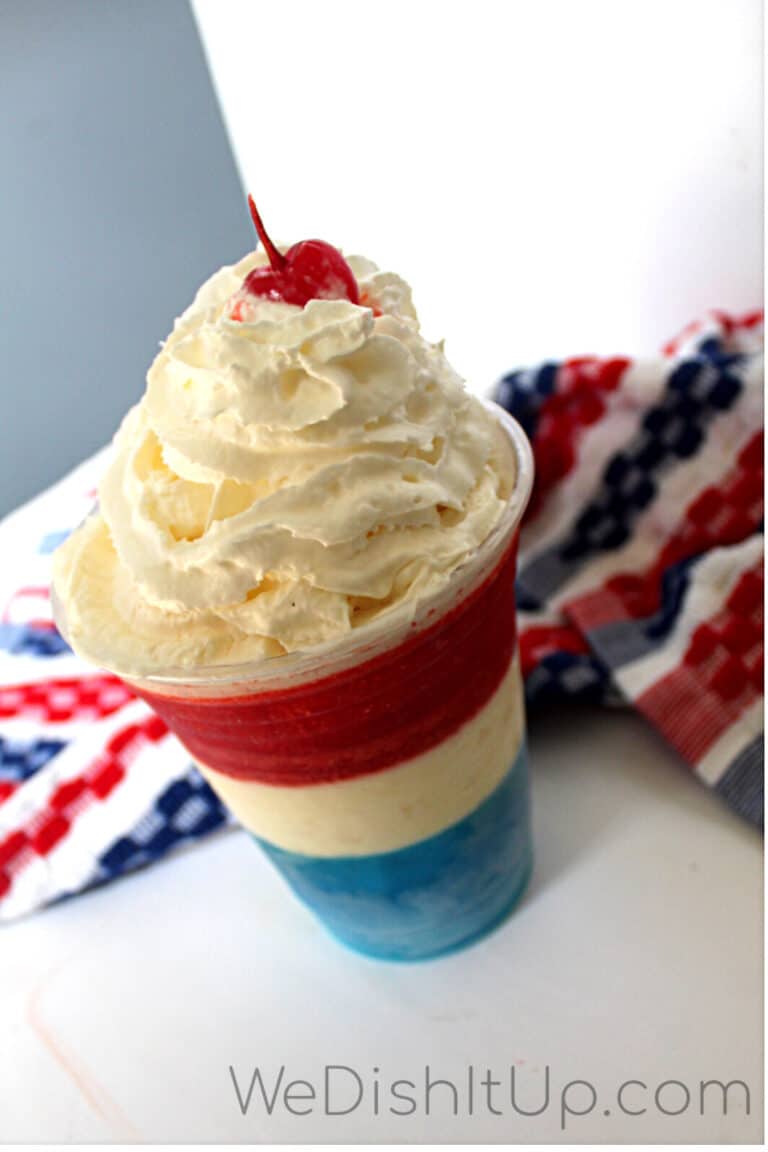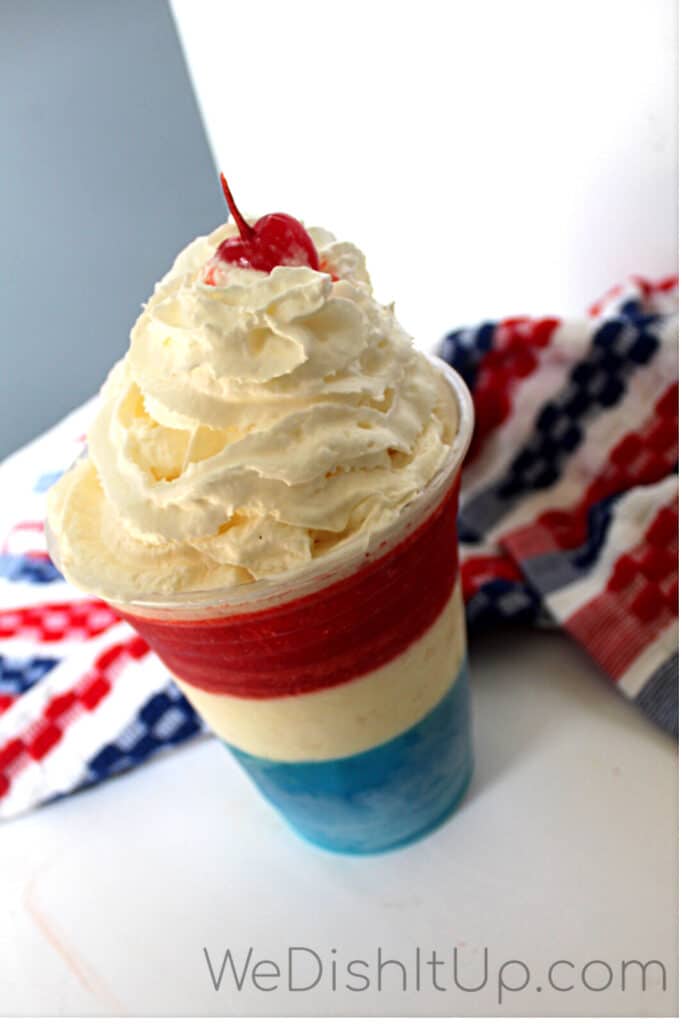 I know I am a little late in posting these. Most people plan a little more ahead than I do Ha Ha. However, I decided at the last minute that I'm gonna have a barbeque and pool party.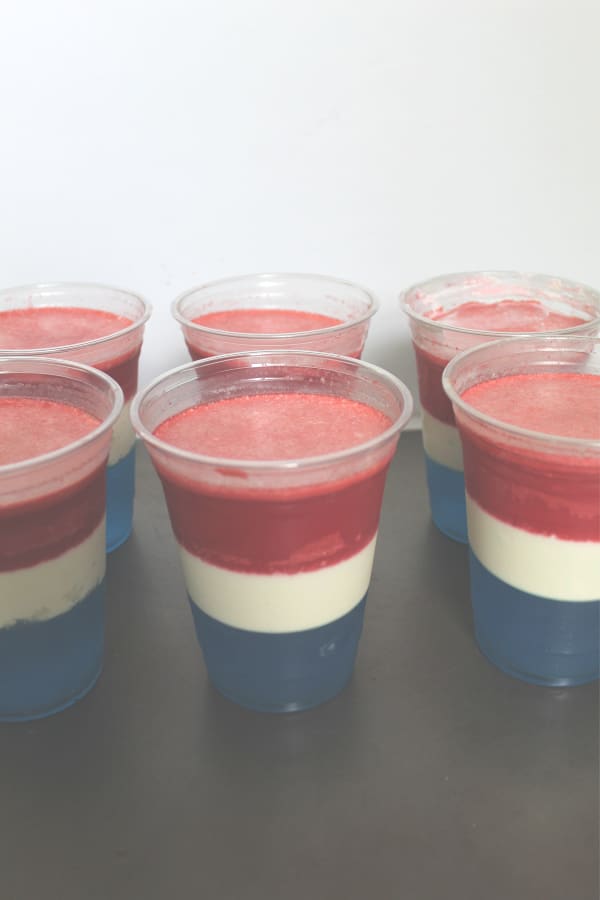 I wasn't sure if I should plan anything because our weather has been crazy this year. It has been raining nonstop. Mother Nature has had me thinking that I live in Seattle, not Ohio.
Seems as though Summer has finally arrived. The forecast looks sunny and hot for the 4th of July. A great day for enjoying the pool, Barbequing with friends and family and maybe ending with some fireworks. My grandkids are so excited they love when they get to come to grammas and use the pool and play with cousins.
So on to the menu, of course, we will have the usuals, hot dogs, hamburgers and Moms Classic Macaroni Salad. I wanted to make something festive and cute. These patriotic Red White and Blue Cheesecake Parfaits are perfect. I know everyone is going to love them. I thought I should share them. If you are looking for a last minute dessert to take to a pot luck or barbeque this might just do the trick. They are easy to make and have simple ingredients. I used large plastic cups but if you are looking to feed a big crowd you may want to use smaller cups. To make this recipe you will need blueberry jello, lemon jello, cream cheese, whipped topping (cool whip) cherry or any red jello (raspberry, strawberry) and blueberries, cherries or strawberries for garnish if you choose.
Can you use a large baking dish(9 x 13) and cut into individual pieces later ?- Absolutely
Can you use a large compote dish and serve with a spoon - I think that would work great.
Could you switch up the flavors or colors of the jello for different occasions - yes you can.
Always keep refrigerated except well serving. Will keep up to a week in airtight container
How to Make Red White And Blue Jello Cheese Cake Parfaits: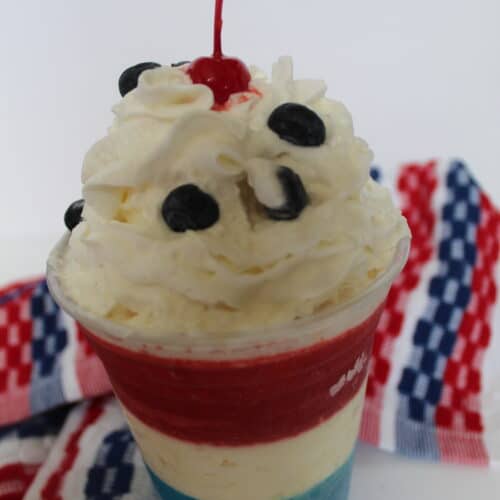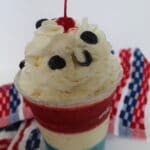 Print
Red White and Blue Jello Cheesecake Parfaits
An Easy festive dessert for the 4th of July with Jello and cream cheese
Ingredients
2

3.5 oz

Blueberry jello

1

3.5

Lemon Jello

1

8 oz brick

Cream Cheese

8

oz

whipped topping (cool whip)

2

3.5 oz

Cherry Jello

or red jello of choice

Marciano cherries

optional

Blueberries

optional
Instructions
Prepare Blueberry Jello as instructed on box -pour in to cups and place into refrigerator for an hr or until firm.

Prepare lemon flavored jello using 1 cup of boiling water . Beat cream cheese slightly and then add lemon jello . Beat jello and cream cheese until smooth. Set aside and let cool to room temperature.

Once cream cheese mixture has cooled ,fold in whipped topping until thoroughly mixed together . Pour this mixture over the firm set blue jello . Refrigerate until this layer firms up -approx an hour..

Prepare the cherry or other red jello as directed on box. pour over the set lemon layer and return to refrigerator until the final layer is firm.

Top with whipped topping , a cherry and a few blueberries- Enjoy !