This Pumpkin Raisin Bread With Cream Cheese Frosting should be a fall staple in everyone's house. Made with canned puree and iced with canned cream cheese frosting. This is perfect to take to a fall pot luck or to Thanksgiving Dinner.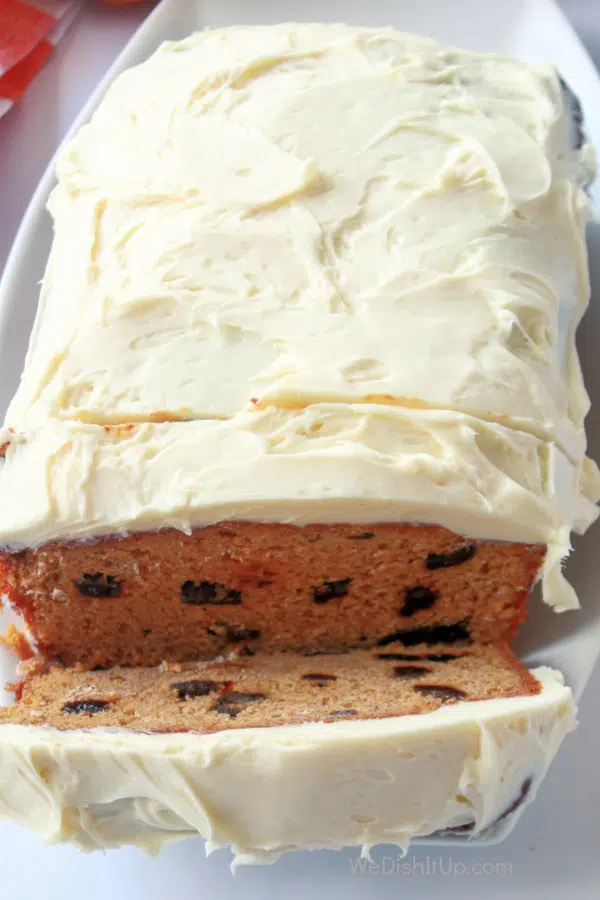 Pumpkin Raisin Bread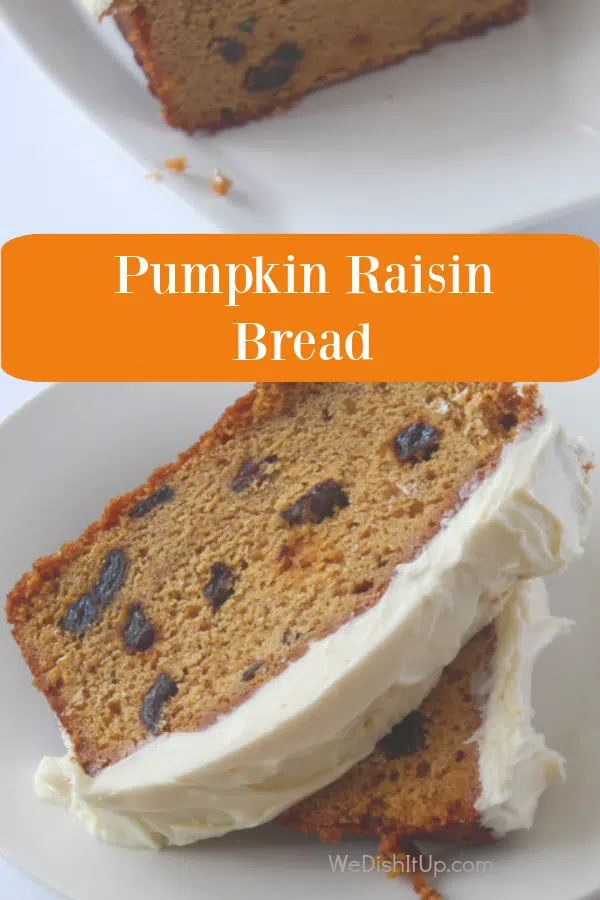 With Summer coming to an end, Pumpkin and Apple season are in full swing. with school starting in just 2 weeks and Fall right behind that, my Facebook feed is full of fall recipes. As much as I try to hold on to summer as long as possible. If you can't beat them join them. Have you tried Pumpkin Spice Cake Donuts? or my Easy Caramel Apple Pie Cookies ? I have more great fall recipes coming at you soon also. So stay on the lookout. This Pumpkin Bread is really moist and delicious. I added raisin this time, cranberries or craisins also are great. Nutts are also delicious, pecans or walnuts go well with the pumpkin.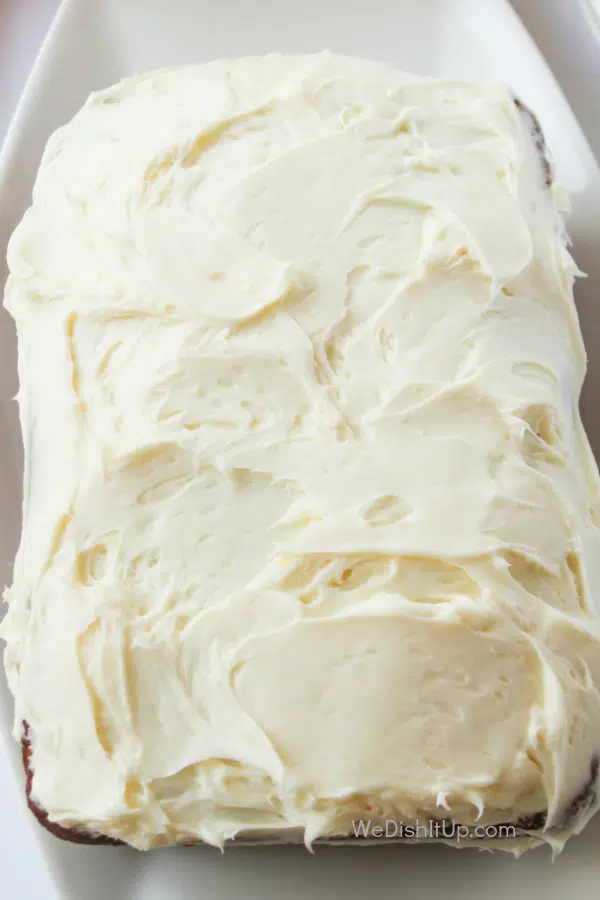 How to Store Pumpkin Bread-
This bread is super moist so will stay fresh in an airtight container or wrapped in saran wrap or foil on the counter for 3-4 days.
How to Make Pumpkin Raisin Bread :
INGREDIENTS NEEDED :
Flour
Baking Powder
Baking Soda
Cinnamon
Nutmeg
Sugar
Butter
Pumpkin Puree
Egg
Raisins
Cream Cheese Frosting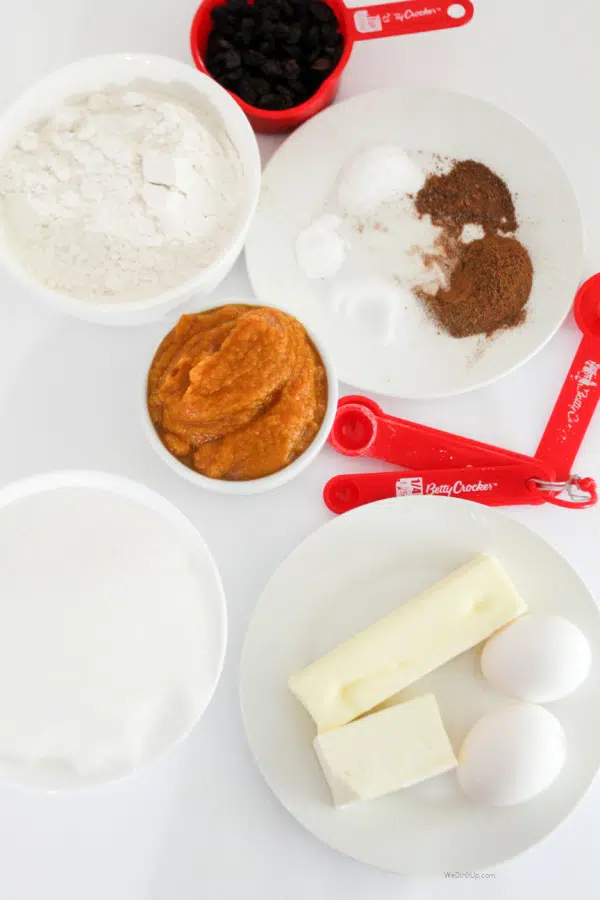 Ingredients for Bread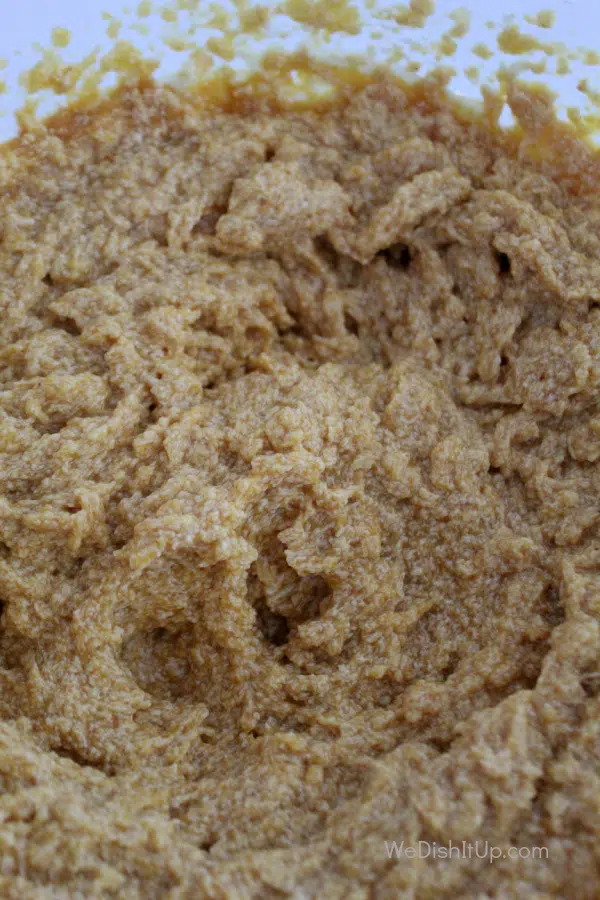 Out of the Oven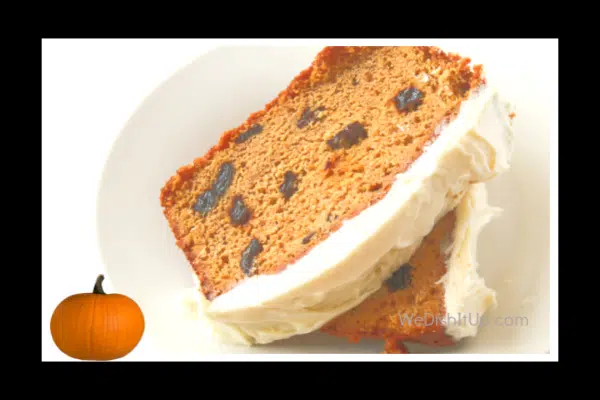 This post may contain affiliate links. A small commission is made on qualifying purchases with no extra cost to the consumer.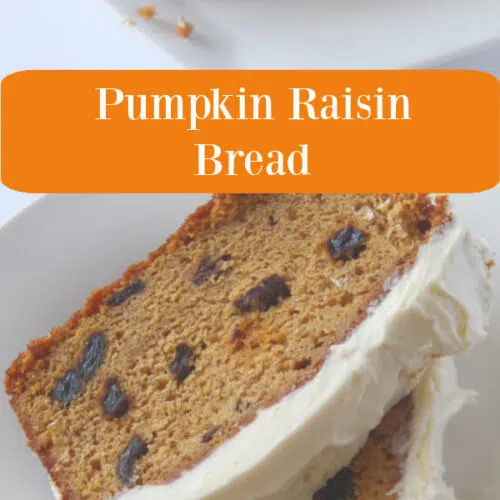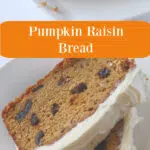 Print
Pumpkin Raisin Bread With Cream Cheese Frosting
Pumpkin Bread with Raisins and Cream Cheese Frostings
Ingredients
2

cups

All-Purpose Flour

1

teaspoon

Baking Soda

½

teaspoon

Baking Powder

2

teaspoon

Cinnamon

1

teaspoon

Nutmeg

½

teaspoon

Salt

¾

cups

Unsalted Butter

1.5 Sticks

2

cups

White Granulated Sugar

2

large

Eggs

1

15 oz can

Pumpkin Puree

1

cup

Raisins

1

16 oz can

Cream Cheese Frosting
Instructions
Grease well or use food release on 2 loaf pans -lightly flour and set aside

In a mixing bowl combine flour, salt, baking soda, baking powder, cinnamon, nutmeg. Whisk well.

In a separate bowl beat together with an electric mixer butter and sugar on medium speed until just blended. Next, add eggs one at a time, when light and fluffy, beat in pumpkin.

Spread evenly into loaf pans

Bake 65-75 minutes or until toothpick or cake tester comes out clean when stuck in the center

Cool 10 minutes in the pan and then turn on to cooling rack

When cool to the touch frost with cream cheese frosting and serve

Store leftovers in an airtight container for 3-4 days or place in freezer