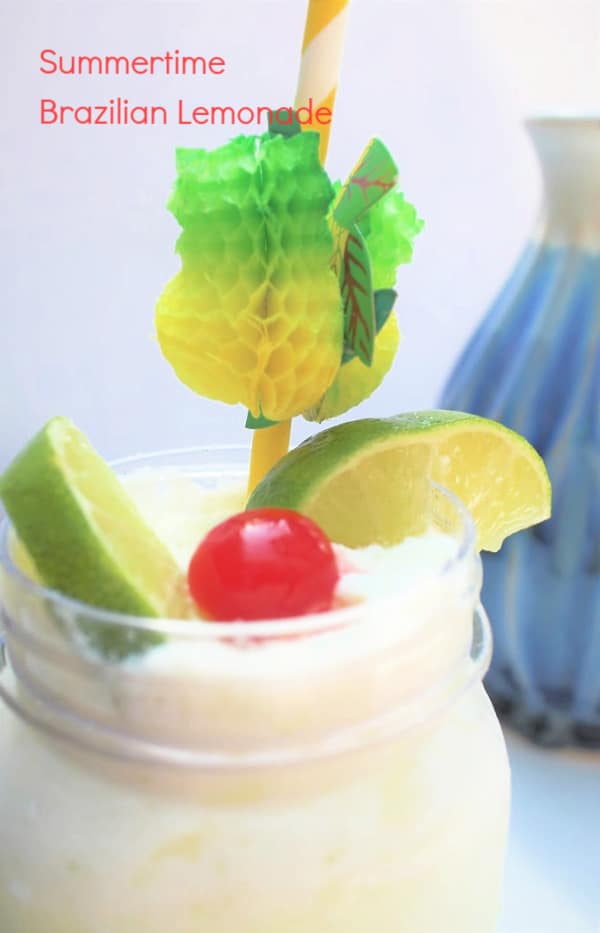 Summertime Brazilian Lemonade
Summertime Brazilian Lemonade is a Creamy Refreshing summertime drink.
So don't know who suggested fall was just around the corner? Clearly, summer is still in full swing.
After being shamed on my post for Easy Country Chicken Noodle Soup for saying fall was just around the corner. It was brought to my attention that we still had hot summer days in our near future.
So after deciding, they were right and I better enjoy summer well we got it. Here in Ohio, it was late getting here, it seems it didn't arrive until the end of June. Hoping it will take its time leaving as well. Now I was on a mission to find a cool refreshing summertime drink to serve my girlfriends on Friday at the pool.
Now I was on a mission looking at Pinterest and Facebook for fun drinks that I could make. There were several great looking recipes that I found interesting and different. Something kept bringing me back to the Brazilian Lemonade. There were several different versions, however, they all had one thing in common, none of them were made with lemons? This seemed so strange to me. Why was it called lemonade but it was made with limes. This baffled me so I did some research.
Turns out the answer is quite simple:
No matter what variety (yellow or green, etc), the Portuguese word for lime or lemon is "limão". Limonada is a drink made with the juice of a limão. So there you have it – In Portugal they call both a lime or limao.
Making Summertime Brazilian Lemonade is quite simple. You will need fresh limes, lime juice, lime zest, granulated sugar, cold water sweetened condensed milk, Marchiano cherries (optional for garnish)and Ice for serving.

Summertime Brazilian Lemonade
Creamy refreshing lemonade
Ingredients
4

cups

cold water

1/2

cup

granulated sugar

1/2

cup

lime juice

I used the juice of 2 fresh and added pre squeezed to make1/2 cup

1

tbsp

lime zest

zest of one lime

1/4

cup

sweetened condensed milk

Marchiano cherries

optional for garnish
Instructions
Stir together the 4 cups of cold water and 1/2 cup granulated sugar -set aside

Add the zest of one lime and 1/2 cup lime juice into a blender

Add half of your sugar-water and blend or pulse a couple of times

Blend in sweetened condensed milk and remaining sugar water.

Pour-over crushed ice, garnish with lime slices and cherry
Notes
Of course if you are serving for an adult get together.. Im sure adding some tequila or rum would make this already delicious drink ,even better
Please follow me on Pinterest @ https://www.pinterest.com/WeDishItUp/
and facebook @https://www.facebook.com/WeDishItUp/