3 Cheese Buffalo Chicken Mac and Cheese is the ultimate comfort food. Made with elbow macaroni, breaded chicken, cheddar cheese, mozzarella cheese, and sharp white cheese. Baked in the oven with buffalo sauce, cheese sauce, and crispy bread crumbs on top.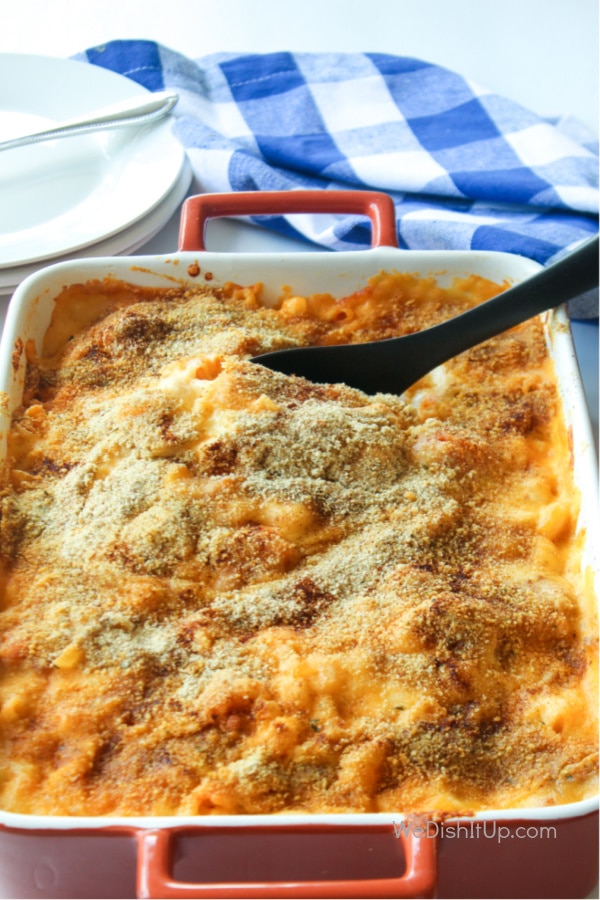 3 Cheese Buffalo Chicken Mac and Cheese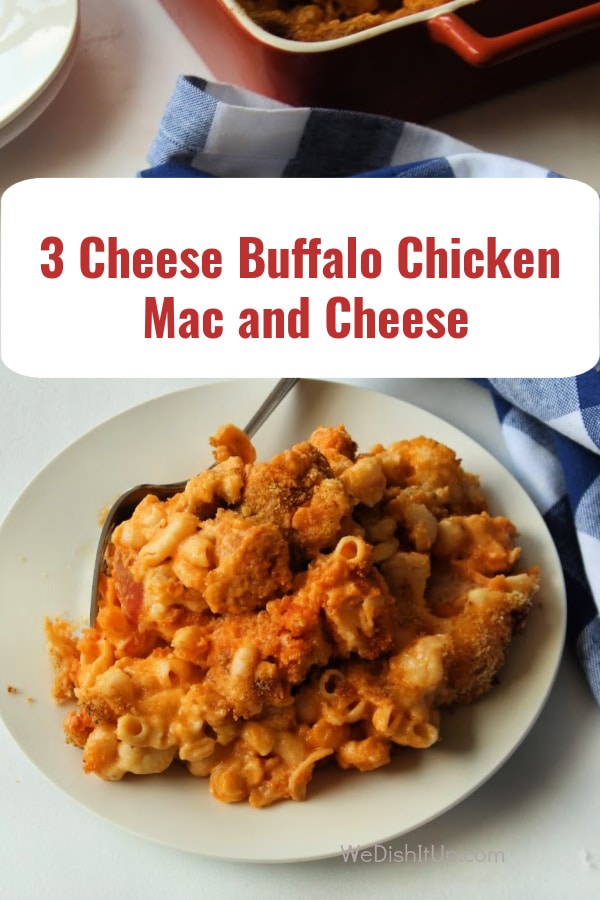 This mac and cheese recipe is different than my Extra Creamy Instant Pot Mac and Cheese. It is made in the oven with 3 different kinds of cheese-White sharp cheddar, orange cheddar, and mozzarella. Both recipes are delicious for sure. However, this one is more of a meal versus a side dish. By adding crispy chicken strips dipped in buffalo sauce and baking in the oven, you will have your meat and pasta all in one. Just add a Classic Wedge Salad or The Best 1 WW Point Asparagus and your meal will be complete.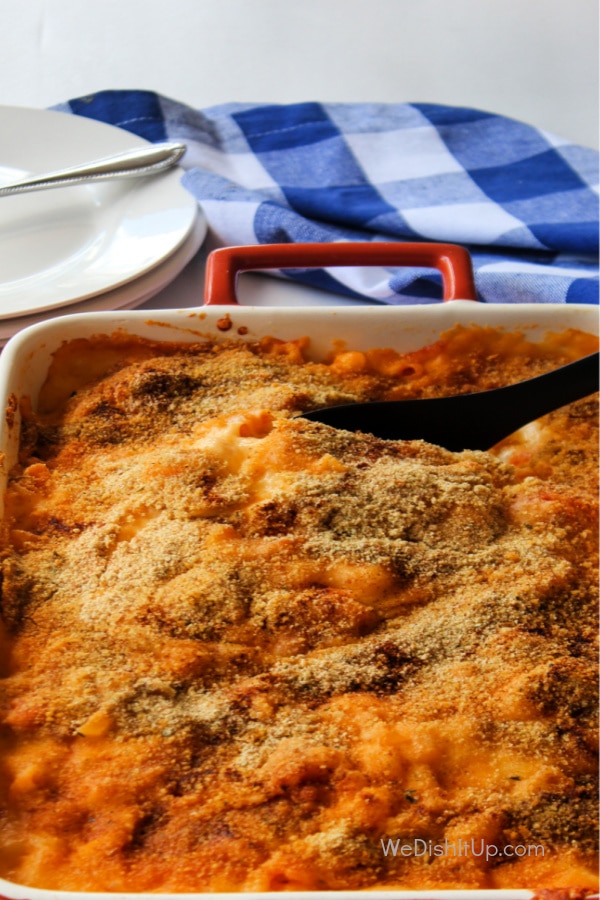 Recently I took this dish to a family get together and it was a huge hit. Creamy cheesy macaroni along with the spicy crispy chicken. Could there be a better combo? I think not.
Mac and Cheese on Fork
So let me share with you how I made this delicious dish.
How to Make Buffalo Chicken Mac and Cheese :
INGREDIENTS NEEDED :
Elbow Macaroni
Chicken Strips - I used (http://TYSON.com )
Buffalo Sauce - I used Sweet Baby Rays Buffalo Sauce
Milk
Heavy Cream
Garlic Powder
Butter
Flour
White Sharp Cheddar Cheese
Orange Cheddar Cheese
Mozzarella Cheese
Bread Crumbs
INSTRUCTIONS :
Cook and drain macaroni (cook al dente because it will cook more in the oven)
Cook Chicken in the oven for 15 minutes remove and chop into bite-size pieces
Coat chicken in buffalo sauce
Make Cheese sauce-
In a medium saucepan over medium heat, melt butter, using a whisk to swirl it to ensure the butter melts completely
Whisk in Flour
While whisking, slowly pour the milk in the saucepan.
Bring the sauce to a boil, then reduce the heat to low and season with garlic powder and salt and pepper.
Continue to whisk until sauce thickens and is smooth
Slowly whisk in cheeses
Stir macaroni and chicken together and pour into baking dish
Pour cheese sauce over macaroni
Top with bread crumbs
Bake
Let stand - serve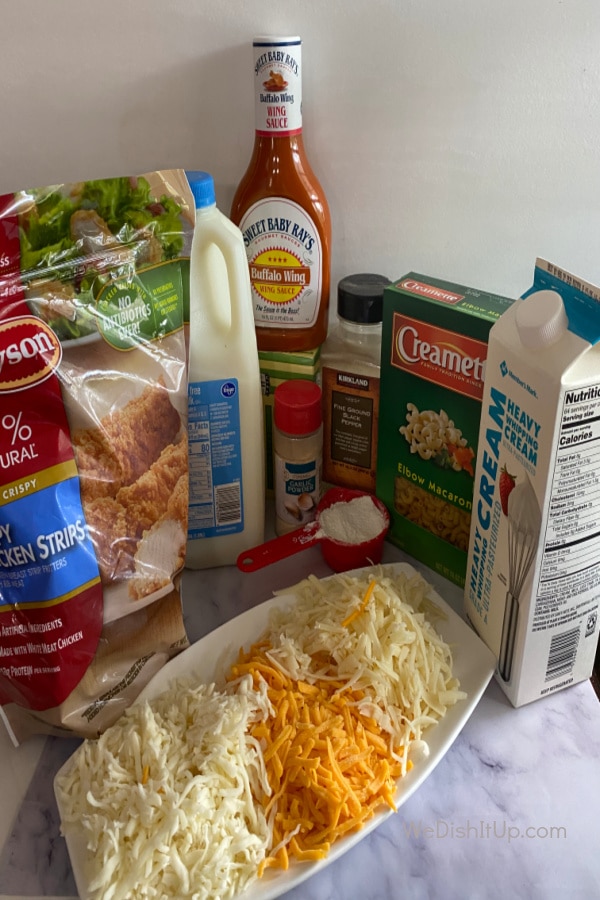 Mac and Cheese Ingredients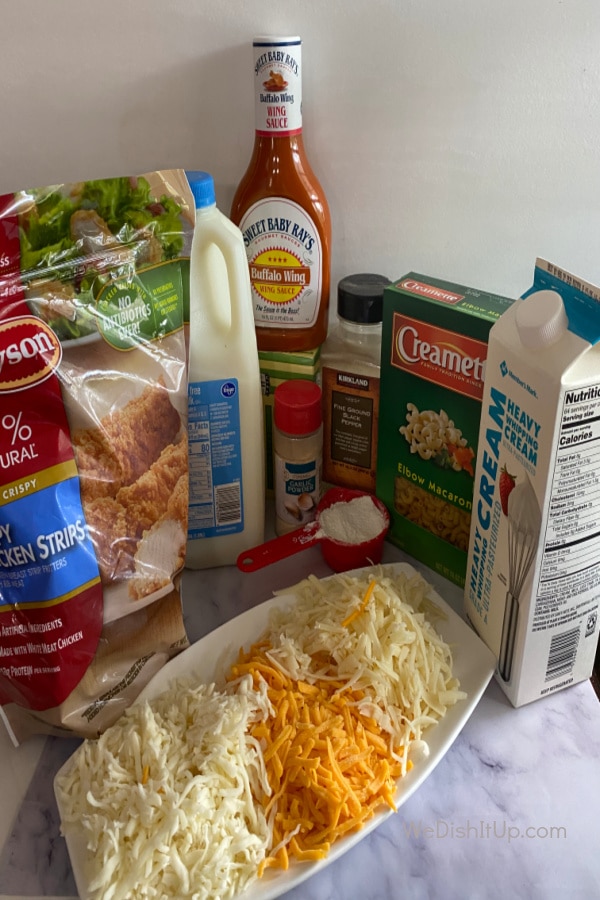 Ingredients for Mac and Cheese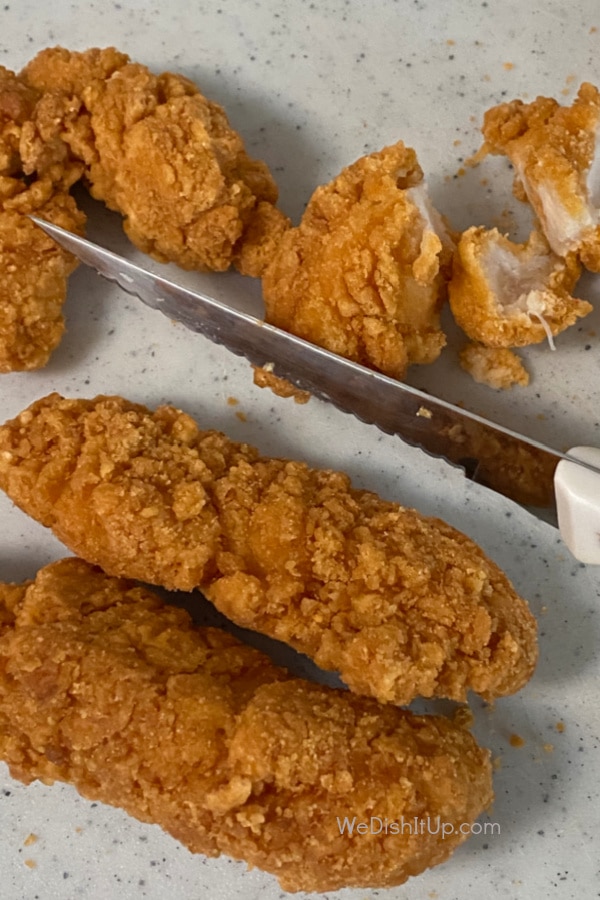 Cutting the Chicken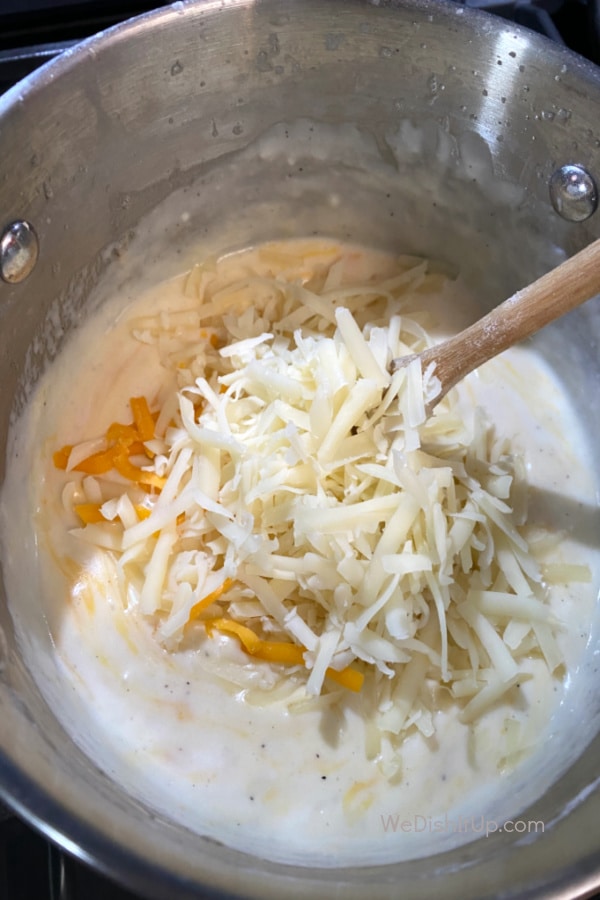 Cheese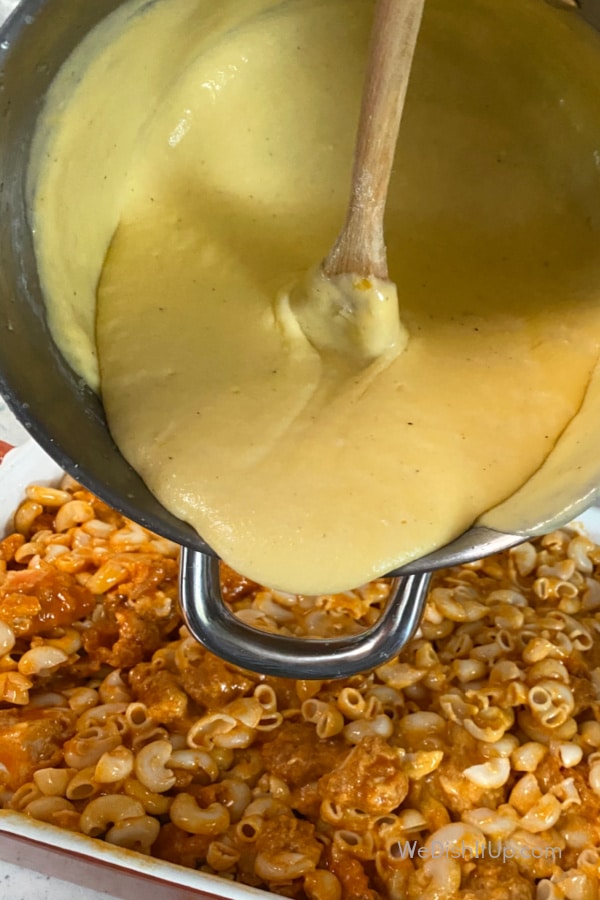 Pouring the Cheese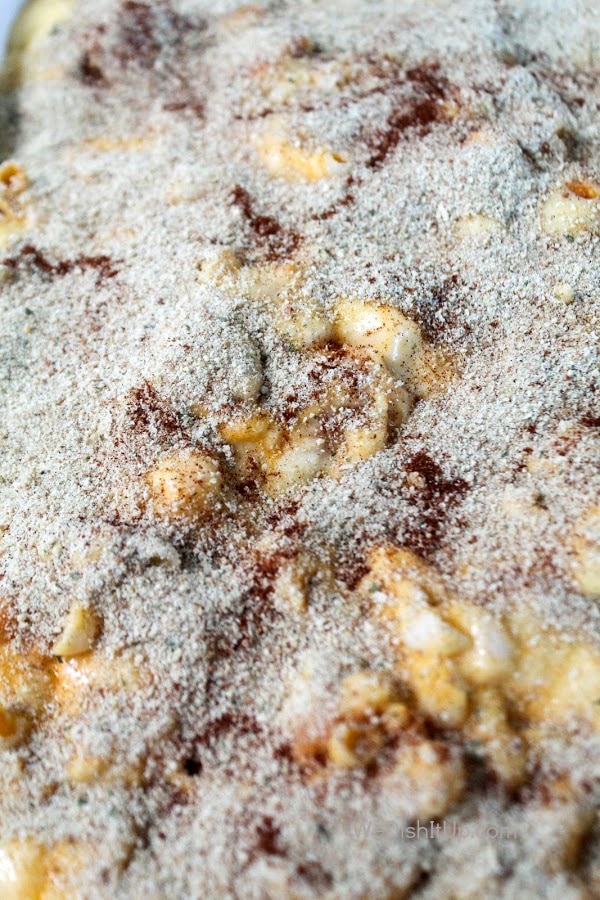 Going in the Oven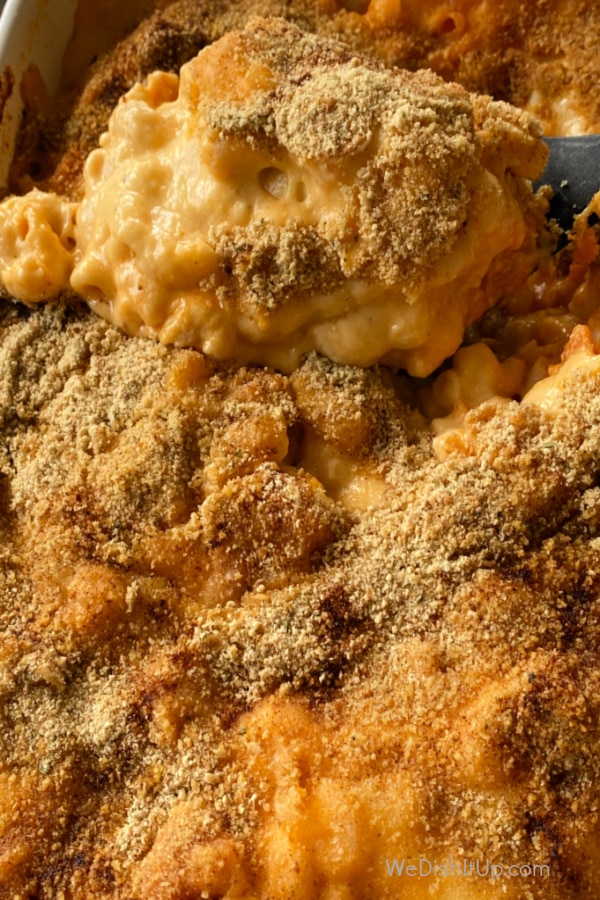 Ready to Serve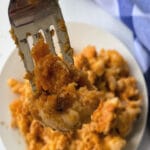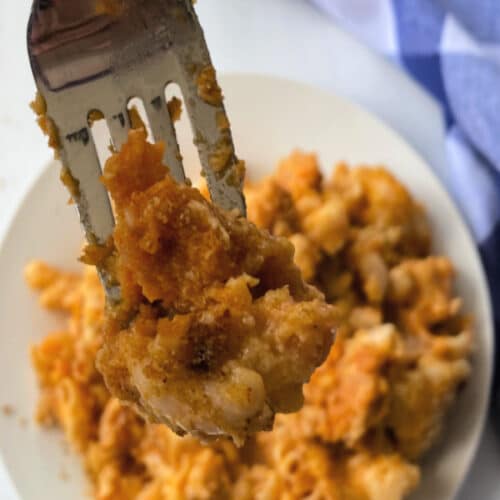 Print
3 Cheese Mac and Cheese
Macaroni. buffalo chicken strips, white cheddar, orange cheddar, and mozzarella
Equipment
OVEN

stove, large pan, knife, cutting board
Ingredients
1

lb

Elbow Macaroni

½

cup

Butter

6-8

Chicken Strips

Chopped

2.5

cups

Milk

½

cup

Heavy Cream

½

cup

All Purpose Flour

1

cup

Buffalo Sauce

½

teaspoon

Garlic Powder

1

teaspoon

Black Pepper

2

cups

Shredded White Sharp Cheddar

2

cups

Shredded Orange Cheddar

1

cup

Shredded Mozzarella

¾

cup

Bread Crumbs
Instructions
Cook Macaroni until al-dente (it will cook more in the oven) drain

Cook Chicken Strips as directed on the package (chop chicken into bite size or slightly larger pieces

Coat Chicken in Buffalo Sauce

In a medium saucepan over medium heat, melt the butter, using a whisk to swirl it to ensure the butter melts completely and does not burn .

While whisking, sprinkle in the flour.

While whisking, slowly pour the milk and heavy cream in the saucepan.

Bring the sauce to a boil, then reduce the heat to low and season with garlic powder and pepper.

Remove the sauce from the heat.

Slowly Stir in Cheeses Until Smooth

Combine Macaroni and Chicken - Pour in Baking Dish

Pour Cheese Sauce over Macaroni and Chicken

Bake for 30-40 Minutes if you want it to be extra Crispy put under broiler for 5-10 minutes